Android 4.4 KitKat Update: Galaxy Note 3 Rollout Continues As Samsung Admits Fault With Third-Party Accessory Incompatibility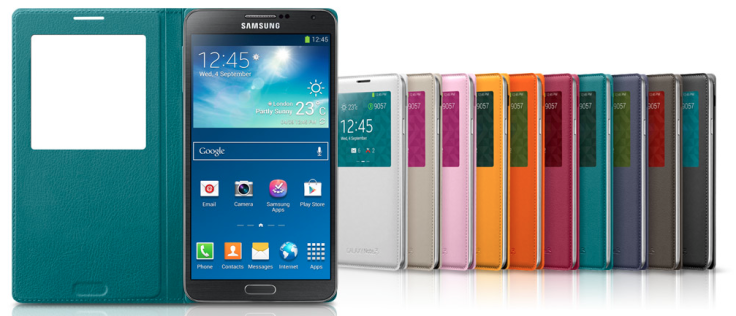 Despite the hot water Samsung has been in lately, many Samsung Galaxy Note 3 owners are eagerly awaiting the Android 4.4 KitKat update, which has continued rolling out on SM-N9005 and SM-N900 models in India, Korea, Singapore as well as several other European countries.
Several Galaxy Note 3 owners have reported via social media and on forums that their handsets have begun to receive the Android 4.4 KitKat over-the-air update. Various screen screenshots indicate that the update is in fact coming to other Galaxy Note 3 models, in the aforementioned India, Korea, Singapore, in addition to more handsets in Poland, the Netherlands, Switzerland and Hungary. Firmware websites also report that the Galaxy Note 3 Android 4.4 update is available in Estonia, Latvia, Lithuania, Belgium/Luxemburg, Germany, Ireland, the Czech Republic, Slovenia, Italy, Bulgaria Spain, the Baltic, Malaysia and Thailand.
Update information and downloads can be found here for most countries.
A few weeks prior, the Android 4.4 KitKat update hit the Galaxy Note 3 SM-N9005 model in Poland, and then the SM-N900 model in Russia. Notably, some countries – such as Poland sell multiple models of the Galaxy Note 3, which feature either the Samsung Exynos 5420 chipset (SM-N900) or the Qualcomm Snapdragon 800 chipset (SM-N9005). This could account for why such countries may see different models update at different times.
Third-Party Accessory Incompatibility Issue To Be Fixed With Software Update
Meanwhile, Samsung is also dealing with the aftermath of the Galaxy Note 3 Android 4.4 KitKat update rendering various third-party accessories non-functional. Several early adopters of the Android 4.4 update for the Galaxy Note 3 quickly discovered that their third-party smart covers no longer worked after handsets were updated to the latest Android system.
At first Samsung claimed there was "no correlation" between the non-functioning accessories and the Android 4.4 update. Though previous reports indicated that Samsung had planned to outfit various accessories as smart covers and wireless chargers with authentication chips, which would make Samsung devices only compatible with Samsung brand accessories -- while third party smart accessories without the chip would fail to function with Samsung devices. Now Samsung is addressing the issue and states that a software fix will be provided. Whether the incompatibility issue was intentional on Samsung's part or an Android 4.4 KitKat glitch is not known.
We have currently identified a software compatibility issue with the Galaxy Note 3 update to Android 4.4 (KitKat) and select 3rd party accessories. A software update will be available shortly. We are committed to offering a diverse and reliable mobile experience for all customers, providing continued support and solutions for any issues that arise with product updates for both Samsung manufactured and third-party accessories.
Samsung Galaxy Note 3 models that have already updated to Android 4.4 KitKat should receive a fix in a future software update, as said, while models that have not yet updated should receive builds with the fix already implemented.
Samsung's Other Galaxy Note 3 Software Issue
This third-party accessory incompatibility issue is eerily similar to the region locking issue, which plagued the Samsung Galaxy Note 3 launch last year. Samsung explained that the region lock mechanism was intended to combat "grey market" importers. Instead it was preventing owners from properly accessing their devices even after being region unlocked. Owners complained, and the region lock even deterred prospective buyers from purchasing the Galaxy Note 3 to the point where Samsung officially admitted its misstep with the feature.
The Samsung Galaxy Note 3 has still seen impressive sales worldwide, having hit the 10 million-unit milestone in just two months on the market.
The Android 4.4 KitKat update includes such features and improvements as "immersive mode," an updated lock screen design, "always on" hands-free navigation, decreased fragmentation with Project Svelte, an updated dialer and caller ID, text message and Hangouts integration, a complete emoji keyboard, updated NFC powered features, cloud printing and storage, TV and Bluetooth compatibility as well as screen recording.
Are you glad to know that the continually rolling out Android 4.4 KitKat update should soon see its accessory incompatibility issue fixed? Let us know in the comments below.
Follow me on Twitter, FionnaatIBT.
© Copyright IBTimes 2023. All rights reserved.
FOLLOW MORE IBT NEWS ON THE BELOW CHANNELS