Android 4.4 KitKat Problems: Samsung Galaxy Note 3 Third Party Accessories Rendered Non-Functional By Update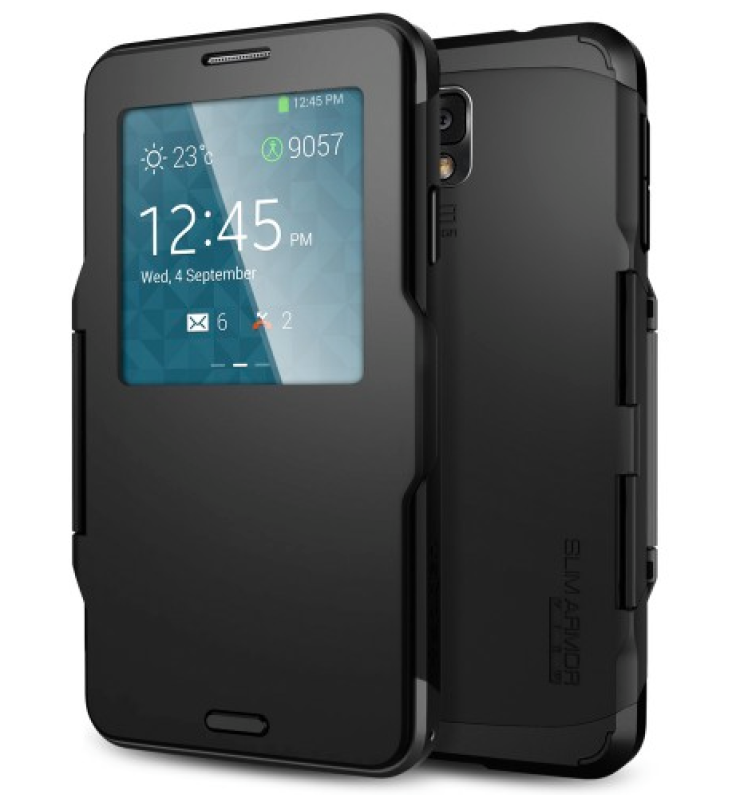 While many are rejoicing that the Android 4.4 KitKat update for the Samsung Galaxy Note 3 is officially underway, many early adopters are not quite as ecstatic about the issues that have come with it.
Android 4.4 began updating on the Galaxy Note 3 SM-N9005 model in Poland last week while the Galaxy Note 3 SM-N900 model in Russia began updating earlier this week. Thus far, only these two regions have seen updates for the Galaxy Note 3, but that has not stopped tech-savvy people from discovering a tricky flaw having to do with third-party accessories. Users at the XDA Developers forum report that since the Android 4.4 KitKat update has rolled out Galaxy Note 3 handsets, third-party accessories such as as smart covers are no longer working. The Spigen Slim Armor View smart cover, in particular, has been singled out as an accessory that does not work with the Android 4.4 updated Galaxy Note 3. It appears the origin of this problem is simple and may be deliberate on Samsung's part.
Korean outlets reported in October that Samsung planned to outfit various accessories as smart covers and wireless chargers with authentication chips, which would make Samsung devices only compatible with Samsung brand accessories. Third-party smart accessories without the chip would fail to function with Samsung devices. The manufacturer never indicated when it would implement such "IC" chips, but it appears that the time is now.
According to reports, Samsung claims it's trying to limit the number of accidents involving unauthorized accessories. Notably, there have been several instances of Samsung devices spontaneously combusting, many of which are blamed on owners using unauthorized third-party batteries with subpar manufacturing. However, consumers have long trusted manufacturers like Spigen to provide alternatives to Samsung accessories. Conversely, many sources note that Samsung could also be attempting to increase profits of its own accessories by making them solely compatible. A monopoly on the Samsung accessory market could drive prices up, but could also urge Samsung to increase the quality of its accessories to increase purchases.
Another option may be that Samsung might require outside accessory manufacturers to certify their products before they are able to function with Samsung devices once more. Thus far there has been no official word from Samsung or any third party accessory manufacturers on the matter, but many expect the Korean electronics giant to make a statement soon. Currently, the Android 4.4 KitKat rollout is limited, and the issue will likely not be a widespread problem for owners until more models begin to update.
Sources have already begun to compare this accessory compatibility issue to the region locking issue, which plagued the Samsung Galaxy Note 3 launch. Samsung explained that the region lock mechanism was intended to combat "grey market" importers, but instead was preventing owners from properly accessing their devices even after being unlocked. Owners complained, and the region lock deterred prospective buyers from purchasing the Galaxy Note 3 to the point where Samsung officially admitted its misstep with the feature.
Meanwhile, developers are already hard at work trying re-establish compatibility between the Galaxy Note 3 and third-party accessories. Some users have discovered a quick remedy: The IC chip from an official case can be put into a third-party case and made to work with the help of a phone earphone magnet. Developers have also created a fix, which works with rooted devices and the Xposed Framework mod. But users will want to proceed with caution and back up their device if they experiment with this mod.
Has your Samsung Galaxy Note 3 updated to Android 4.4 KitKat and killed your smart accessory compatibility? Let us know in the comments below.
Follow me on Twitter, FionnaatIBT.
© Copyright IBTimes 2023. All rights reserved.
FOLLOW MORE IBT NEWS ON THE BELOW CHANNELS