Android O Beta Release Date: 9 Features Announced At Google I/O 2017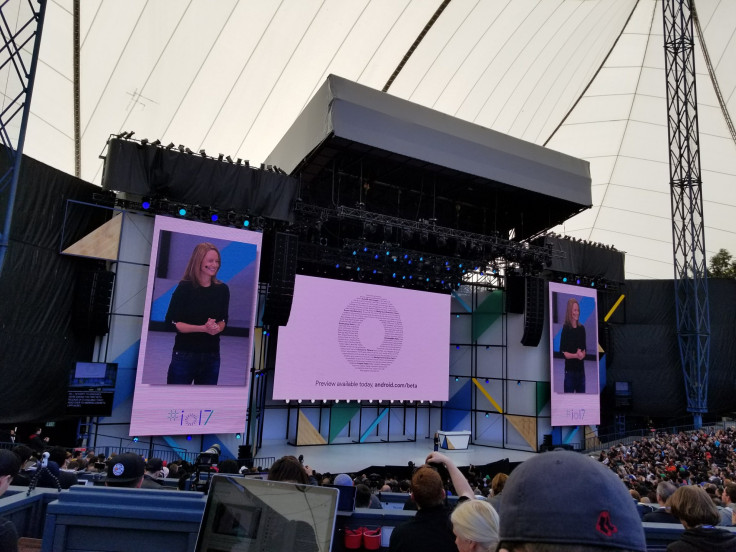 The first public beta software for the Android O is now available for download and will give developers and fans an in-depth look at what Google has in store for its upcoming software.
The tech giant also showcased several new and updated Android O features during Google I/O last week. Central themes of the update include battery improvement, increased compatibility, and simplification of tasks. Here's a rundown of what is coming to Google smartphones through Android O.
Project Treble Means Faster Updates
Once again, Google has made a public commitment to faster Android updates. The tech giant detailed ahead of Google I/O, its new initiative, called Project Treble, which will separate new stock Android from the customizations added by manufacturers. This will essentially make new software coming directly from Google and new software added by OEMs' separate updates. Android users will have faster access to vital updates such as bug fixes while manufacturers can spend less time and money implementing their brand specific details on top of Android for the sake of having one software roll out.
Battery Improvements
Another continuous theme of Android development is battery optimization. Battery settings within Android O will include details on how much battery power various applications are using, as well as and how much time it takes power heavy apps to sap battery life.
Faster Boot Times
Users can expect the boot time of devices to be cut in half. Currently, devices running Android 7.0 Nougat take 47 and 90 seconds to boot. Boot times on Android O may be around 23 seconds.
Updated Emoji
Android O emojis will receive a facelift to a rounded design after several years of the unusual, half-moon shaped emojis on previous Android versions. The emojis are still not as lifelike as they are on iOS or Samsung devices, for example, but users should see the change as an improvement.
Smart Text Selection
In previous Android versions, it is easy for a strange hand placement to end a highlight prematurely, which can be tedious for users. Android O will introduce a smart text selection feature, which will automatically continue highlighting important details such as an address or phone number. Users will also be able to execute a function in accordance with the highlight, such as pulling up a new email after highlighting an email address.
Picture-In-Picture
The picture-in-picture feature coming to Android O will allow users to view video-based applications such as Duo and YouTube in a small corner, which can float over a full-screen application in the back.
Home Screen Update
Android O is also coming to Android TV and will include a more organized home screen. The update supports Google Assistant, which will allow users to voice request videos, photos and data that will display on the connected Android TV screen.
Night Light Update
The Night Light feature introduced in Android 7.0 Nougat will receive an update to allow users to regulate the intensity of the blue light setting. Night Light is intended to help users see their displays better in the dark, but many have still found the setting too bright. Now users will be able to adjust the intensity to their preference with a slider.
Android Go
Android Go will be a software version optimized specifically for low-end devices to support the latest Google operating systems. Devices with specs as low as 512MB of RAM will be able to run Android O features. The applications will take up less space and require less processing power, compared to full versions of apps created for premium devices.
© Copyright IBTimes 2023. All rights reserved.
FOLLOW MORE IBT NEWS ON THE BELOW CHANNELS