Angelina Jolie-Brad Pitt Divorce Rumors: Actress Arrives In Los Angeles Without Pitt; Son Knox, Brother James Haven Give Her Company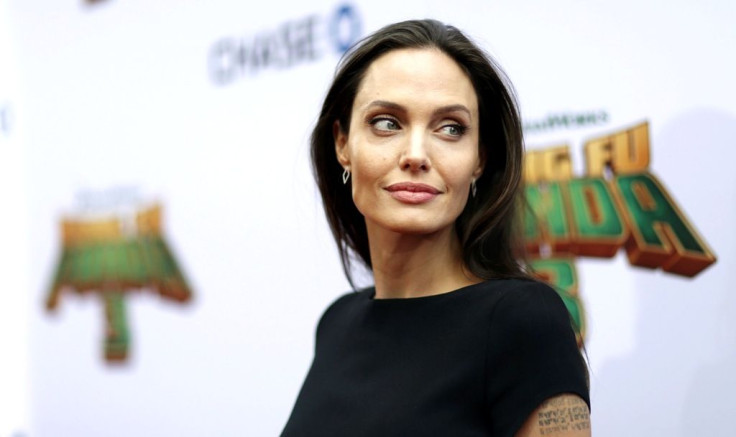 Angelina Jolie returned to Los Angeles from London Tuesday with her son Knox Jolie-Pitt and brother James Haven as reports continue to claim the actress and her husband Brad Pitt are heading toward divorce. Jolie arrived in the city without Pitt.
The 40-year-old actress was accompanied with one of her seven-year-old twins, Knox. She was dressed in a long white cotton dress, which she teamed it up with a black jacket, according to photos posted by Daily Mail. Jolie completed her look with black boots. Knox walked next to her carrying a Star Wars Stormtrooper helmet.
According to Daily Mail, Pitt is shooting for the World War II drama "Allied" in England.
Rumors about Jolie and Pitt's divorce have gained momentum. Several reports claim that the two are facing marriage troubles. However, Jolie and Pitt, who have been together for over 10 years, were recently spotted together on several occasions, dismissing reports about their marital troubles.
Jolie is also facing rumors related to health problems due to her weight loss. Gossip Cop, a celebrity rumor debunking website, dismissed a report by Life&Style magazine, which said the two have been "leading separate lives." The magazine had also reported that the two were "hanging on" and putting aside the rumored marriage troubles to focus on Jolie's health issues.
Recently, 52-year-old Pitt spent $33 million in an hour on antique.
"Brad turned up at one art and furniture show, spent $33 million in an hour, then just got back on his plane and left," Bill Ketterer, the owner of DIGSmodern vintage showroom, told Radar Online. "He kinda knew what he was looking for and he got it."
© Copyright IBTimes 2023. All rights reserved.