Angelina Jolie On Rediscovering Strength After Being 'Broken': 'Put Yourself Against The Elements'
KEY POINTS
Angelina Jolie was broken when her mom passed away after battling cancer
Jolie rediscovered her strength by trying something she never tried before
The "Maleficent" star said being a parent also helped her find her self-worth
Angelina Jolie admitted that there were times when she was "broken" and shared how she rediscovered her self-worth through her contributions to others.
Jolie, 45, is set to star in Taylor Sheridan's survival thriller "Those Who Wish Me Dead." In the movie, she plays the character of Hannah Faber, a smokejumper who is struggling with PTSD after a tragedy on the job but ultimately finds the strength to overcome it. In her interview with Entertainment Tonight Monday, Jolie opened up about her personal experiences when she also felt "broken" and how she managed to rediscover her strength.
"We all have times in our lives where we feel broken, and I was in a period like that," Jolie told ET. "I've had my share of things that made me feel... you know, hard to speak too much about it, but just overwhelming or broken. So to have an opportunity, I feel very lucky. I wish all women could have this at times in their lives."
The "Maleficent" star cited her mom's death as one of the times when she was broken and got candid about it. She went on and shared some tips on how she rediscovered her strength.
"I've had this many times in my life. When my mom passed away [from cancer in 2007] I did want it, you know? It's apart of something when you feel you just want to kind of hide under the covers or you're not sure what you got left in you," Jolie continued.
"You get an opportunity and I would encourage anybody to do it. You're not a film actor, doesn't matter. Go somewhere, see what you got in you. Put yourself against the elements, or try something you've never tried and kind of try to rediscover that strength within."
Another thing that helped her anchor her self-worth is by reflecting on her "use to others." For Jolie, she feels better by contributing to others, and now that she's a mother of six, being a parent is another thing that anchors her. She also encourages her children to do the same.
"It's you can try a bit of this, you can do this with your life, but at the end of the day, what's your contribution? What's your contribution to others, you know?" Brad Pitt's ex-wife said.
Jolie is a hands-on mom and her custody and divorce battle with Pitt has never held her back from enjoying the outdoors with her children. In fact, she has been spotted out and about with them.
Two weeks ago, she took Pax and Zahara to West Hollywood and they dined at Sushi Park on Sunset Boulevard. She was also spotted during another public outing with daughter Vivienne. The mother and daughter were inseparable, with Vivienne's arm around Jolie's shoulder at the time.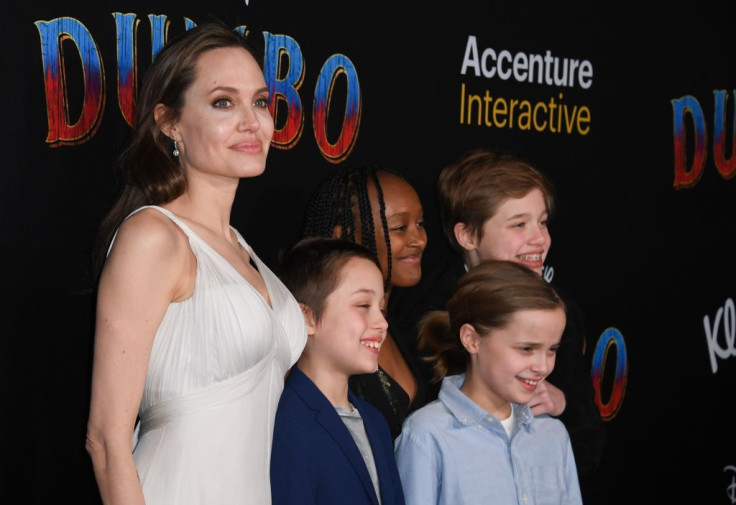 © Copyright IBTimes 2023. All rights reserved.