Angelina Jolie Spotted In NYC Amid Drake Attempting To Ask Her Out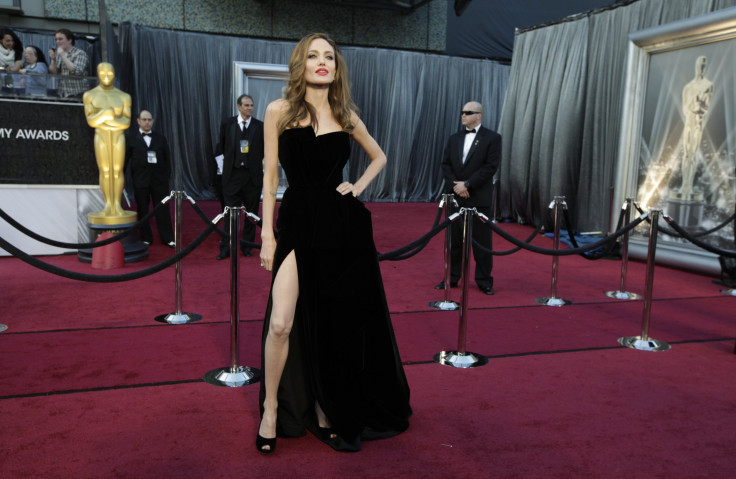 Angelina Jolie was in New York hanging out with fans when Drake tried to ask her out on a date.
On Thursday, the "Maleficent" star was all smiles as she met and greeted her fans in NYC. Jolie stunned in her long, plush black coat, which she paired with towering black heels. She styled her shoulder-length brunette locks in loose waves and put on glossy red lipstick and mascara. She carried a black handbag with a long chain.
On the same day, Drake took to Instagram and tried to score a date with Jolie. The "Hotline Bling" rapper shared a snap of himself sitting alone at a table, looking sad. He wrote in the caption, "Stood Me Up."
According to People, Drake tried to tag Jolie in the post. However, he ended up tagging a fan site instead of the actress' account.
Jolie remains single following her split from her estranged husband, Brad Pitt. Earlier this week, rumors surfaced that the exes could be getting back together as Pitt wanted his family back in his life.
"The holidays make Brad really sentimental about family but especially about their kids — he's still obsessed with spoiling them and still treats them like princesses and princes, and Angelina never had a problem with him spoiling them when he felt like it," one source said.
"Brad has changed a lot in the time since he and Angelina separated, and he definitely wants his big family back, but this is entirely Angelina's decision," the insider added.
However, Gossip Cop debunked the reports, clarifying that there is no evidence supporting the claims that the pair is "working out their differences" or that they are "getting close" again.
In a recent podcast, Jolie opened up about her relationship with Pitt. According to the "Changeling" star, she is still open to starring in a project with him again because they work well together.
"We had met working together and we worked together well," Jolie said. "I wanted us to do some serious work together, I thought it would be a good way for us to communicate. In some ways it was, and in some ways we learned some things. But there was a heaviness probably during that situation that carried on and it wasn't because of the film."
When do you think will Jolie get back into the dating game? Drop a comment below.
© Copyright IBTimes 2023. All rights reserved.