Anheuser-Busch, CoverGirl Release Statements Critical Of NFL, But Talk Is Cheap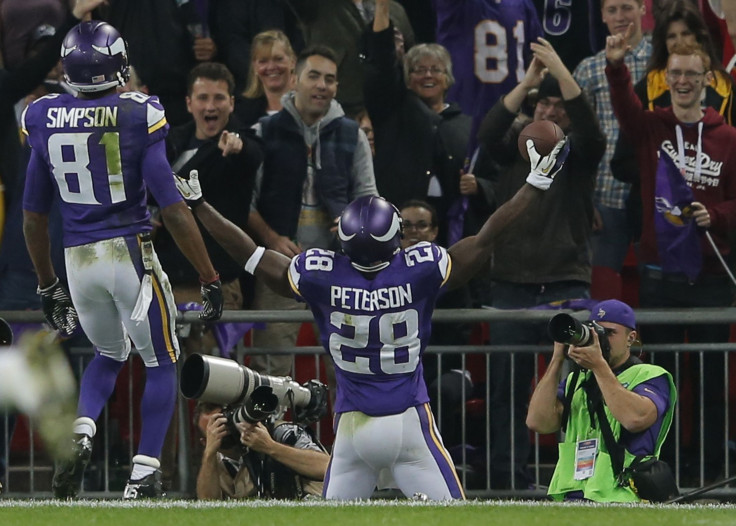 Another major NFL sponsor has released a prepared statement in response to the recent domestic abuse allegations against NFL players, but few advertisers seem willing to make a truly meaningful statement -- by pulling their sponsorship.
Anheuser-Busch, which makes Budweiser beer and is the NFL's primary beer sponsor, issued a statement Tuesday that criticized the NFL for its response to multiple abuse allegations, but did not indicate the brand was considering severing ties with the league.
"We are disappointed and increasingly concerned by the recent incidents that have overshadowed this NFL season," the statement reads. "We are not yet satisfied with the league's handling of behaviors that clearly go against our own company culture and moral code. We have shared our concerns and expectations with the league."
While Anheuser-Busch's statement could be interpreted as a bit stronger than the statement CoverGirl -- the NFL's "official beauty sponsor" -- released on Monday, the beer brand's statement notably omits any words like "abuse" or "violence." A spokesperson for Anheuser-Busch confirmed that the "recent incidents" the statement refers to are indeed the video of Baltimore Ravens' Ray Rice knocking his fiancee unconscious and the Minnesota Vikings' Adrian Peterson's indictment for reckless or negligent injury to a child after he allegedly hit his 4-year-old son with a tree branch. The spokesperson did not offer an explanation why the terms were omitted, and did not respond to questions about whether Anheuser-Busch might be reconsidering its sponsorship of the NFL.
CoverGirl's statement, which drew plenty of criticism for what many saw as having gone too easy on the NFL, reinforced the cosmetic brand's intolerance of domestic violence and said the company has "encouraged the NFL to take swift action on their path forward to address the issue of domestic violence."
Asked why CoverGirl would address the domestic violence issue head-on while Anheuser-Busch avoided it, Darin White, chair of the American Marketing Association Sports Marketing Academic Society (SIG), said,"Budweiser has a different target audience from CoverGirl, so that's going to be factored in to their decisions."
Radisson is the only NFL sponsor so far to cut ties with a team in the wake of the domestic abuse charges: The hotel chain temporarily suspended its sponsorship of the Vikings after Peterson was reinstated to the team in spite of the arrest and indictment. The cereal brand Wheaties has also removed Peterson's name and image from its website, yet a spokesperson told NBC that it was "a contractual matter" and that Peterson had not been under contract with Wheaties "for a number of months."
With two high-profile players facing domestic violence allegations back-to-back, NFL's favor with the general public has reached perhaps unprecedented lows. So why are sponsors reluctant to end their relationship with the embattled league?
Money and visibility are key factors. Anheuser-Busch has been an NFL sponsor for nearly three decades, and is in many ways synonymous with the uniquely American sport. In January of this year, Budweiser Vice President Brian Perkins told IBTimes that Anheuser-Busch's Super Bowl campaigns were essential to its brand. "The month following [the 2013] Super Bowl marked the strongest Budweiser sales in more than a year," Perkins said.
Logistic are another issue. As White pointed out, advertising campaigns aren't created overnight, and companies like Anheuser-Busch invest tremendous resources into their campaigns.
"It's a really, really hard decision to make, when you've got millions and months and months of time invested in campaigns," White said. "So they'd prefer, if possible, to hold off and not pull the sponsorship." In White's view, pulling a sponsorship too hastily carries its own risks.
"If [CoverGirl] were to pull their brand and then as time goes on no one else does, or you come to find out that things are handled the way that people hope they are going to be handled, you can have negative backlash for that as well," White said.
Still, while White acknowledged the difficulties of abruptly ending a high-profile sponsorship, he said he is confident that advertisers will cut ties with the NFL and that the league will be forced to more seriously address the issue of violence among its players -- assuming the controversy continues to dominate the headlines.
"I think a lot will depend on if this story stays at the top of the food chain," White said. "If it doesn't get swept under the rug."
"If the investigation continues on and Roger Goodell is seen as the villain and this goes on for week after week after week," he said, "we might have an opportunity to see the NFL take a serious stand against domestic violence."
© Copyright IBTimes 2023. All rights reserved.