Annabelle Doll Did Not Escape From Warren Occult Museum, Tony Spera Provides Evidence
KEY POINTS
Tony Spera, the caretaker of Annabelle, confirmed in a YouTube video that the doll hasn't escaped
Warren's Occult Museum is currently closed due to a zoning violation
The doll was previously owned by two women
Tony Spera, the caretaker of Annabelle, has confirmed that the doll has not escaped from the Warren's Occult Museum in Monroe, Connecticut.
Rumors about Annabelle's escape from the occult museum surfaced last week after the doll's Wikipedia page was changed by an internet user who claimed that it escaped on Aug. 14 at 3 a.m.
Following this, Twitter was flooded with jokes and memes suggesting that the infamous doll had taken a first-class trip to meet her boyfriend, Brahms.
Annabelle's caretaker, Tony Spera, who is also the son-in-law of demonologists Edward and Lorraine Warren, took to YouTube to put the rumors to rest.
"I'm in here, in the museum, because of the rumors that Annabelle has escaped. I gotta tell you something. I don't know if you're gonna wanna hear this or not, but Annabelle did not escape. Annabelle's here. She didn't go anywhere. She didn't take a trip. She didn't fly first class and she didn't go out to visit her boyfriend," he said in the video.
Spera then panned toward the glass enclosure and said, "So here she is. Let's put the rumors to rest, guys. I appreciate all the concern. I'd be concerned if Annabelle really did leave because she's nothing to play with."
The museum, which has high-tech security, is currently closed due to a zoning violation.
"Remember, I have high-tech security here. If she had left the museum I'd have instantly know if something happened or somebody broke in. I have good alarm systems here and the police are good to respond. They respond within a couple of minutes, maybe, if that," he added.
Two women, who previously owned the doll, consulted a psychic after they noticed it moving through their home and leaving written notes. The doll was turned over to the Warrens after paranormal experts claimed it was possessed by a demonic spirit, pretending to be a child.
Movies including "Annabelle," "Annabelle: Creation" and "Annabelle Comes Home" were inspired by the doll.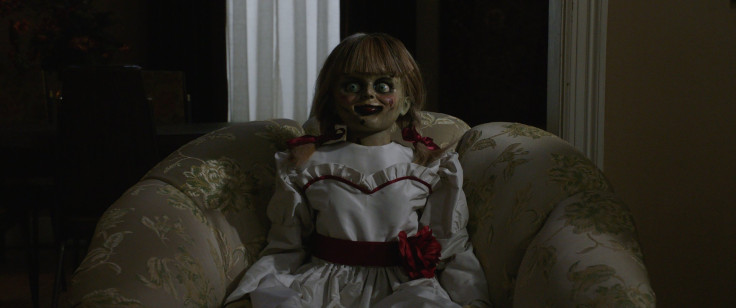 © Copyright IBTimes 2022. All rights reserved.
FOLLOW MORE IBT NEWS ON THE BELOW CHANNELS