Anthony Kiedis Super Bowl 2014 Leggings: Red Hot Chili Peppers Singer Wears Internet 'Meggings' For Halftime Show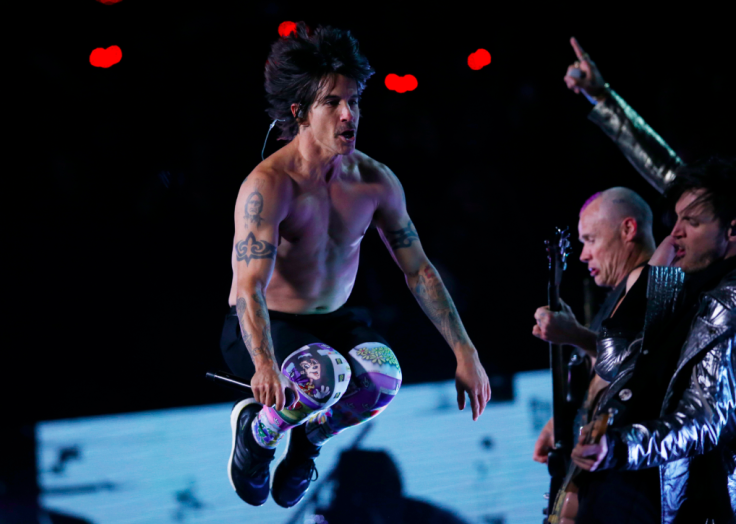 The Red Hot Chili Peppers joined Bruno Mars on the stage at MetLife stadium on Sunday for the halftime performance at Super Bowl 2014. While many were talking about Mars' classy show-stealing performance, they also were wondering what the lead singer of RHCP was wearing. The answer, according to MTV, was Internet leggings.
While Mars seemed to be channeling Elvis Presley with his metallic gold smoking jacket, MTV writer Gaby Wilson wrote that it was RHCP front man Anthony Kiedis, 51, who stole the show with his "meggings," or man leggings. Kiedis, who many would be shocked to know is over 50, performed the band's hit 90s song "Give It Away" just like it was 1991. Fans were impressed with Kiedis' physique, mainly his abs, but many were still wondering what was going on with his legs.
For those who are unfamiliar with the "meggings" trend, it's a fashion statement that has been around for more than a year, but was certainly brought to the forefront when Kiedis was daring enough to wear leggings in the Northeast, without a shirt, in the beginning of February.
Some celebrity men have been daring with their fashion choices as of late. Kanye West has been known to wear a skirt (or kilt) from time to time when he's on stage-- most notably (for many) when he performed at the "12.12.12" Sandy Relief concert. It wasn't the first time the rapper donned the clothing items usually reserved for women, but during that performance people who normally don't see West perform got a glimpse of his style.
For those who are interested in donning meggings just like Kiedis, MTV wrote he rocked a pair of Jeremy Scott leggings from his digitally conscious Fall/Winter 2012 collection. Kiedis might have helped make the meggings trend a little more attainable for daring men since he wore the item under his shorts, giving him a little more modesty for his unmentionables.
Follow me on Twitter @mariamzzarella
© Copyright IBTimes 2023. All rights reserved.