Anti-Vaxxer Changes His Mind After Barely Surviving COVID-19
KEY POINTS
Brent Whalen believed the vaccines were a part of a 'conspiracy'
The Maryland patient was put on oxygen during his battle against COVID-19
Whalen is now encouraging anti-vaxxers to protect themselves from the virus
A person who had initially opposed COVID-19 vaccinations changed his mind and got vaccinated after he barely survived an infection.
Brent Whalen, 54, is an anti-vaxxer from Maryland who previously believed the vaccine shots were some kind of a conspiracy and that they would cause the deaths of millions of Americans in a decade.
"I thought it was like some kind of conspiracy; that 10 years from now a hundred million Americans are going to die of some kind of rare disease because of the long-term studies haven't been there as far as what the vaccine was going to do," Whalen told KCRG.
Despite being opposed to the vaccines, Whalen received a shot of the J&J vaccine after he was offered free concert tickets. He developed symptoms a day later that he associated as side effects of the vaccine shot. However, he was rushed to the hospital after he found it difficult to breathe.
Whalen was later diagnosed with COVID-19. He was put into a prone position and on oxygen. Officials at the hospital also called his sister to make sure he had a will. The 54-year-old spent more than a month at Carroll Hospital Center, six days of which were in the critical care unit.
The Maryland resident has now recovered from COVID-19 and is undergoing respiratory therapy at home after the virus left permanent scars in his lungs. Whalen is now encouraging people who still refuse to get vaccinated or wear face masks to protect themselves from the virus for the sake of their loved ones.
"Learn the facts, weigh the consequences because the thing I tell people is maybe there are some long-term effects down the road, but I know that this virus will kill you now and you won't have down the road," Whalen added.
As of Tuesday, only 67.9% of residents in Maryland had been fully vaccinated against COVID-19 and only 77.2% received at least one dose, according to data from Maryland government.
Despite the high number of vaccinations, Maryland is still seeing more than a hundred new cases of COVID-19 daily, with 443 new infections added Monday. This brings the state's total to 971,175 cases since the beginning of the pandemic.
Over the past 24 hours, Maryland health officials also registered 13 additional deaths, bringing the state's total death toll to 13,679. The statewide positivity rate also increased by 0.01% Tuesday and reached 3.78%. However, the positivity rate is 87% lower compared to last month's 30%.
Hospitalizations across Maryland have continued to show signs of decline, falling by 36 over the past day. There are currently 715 patients admitted with COVID-19 across the state.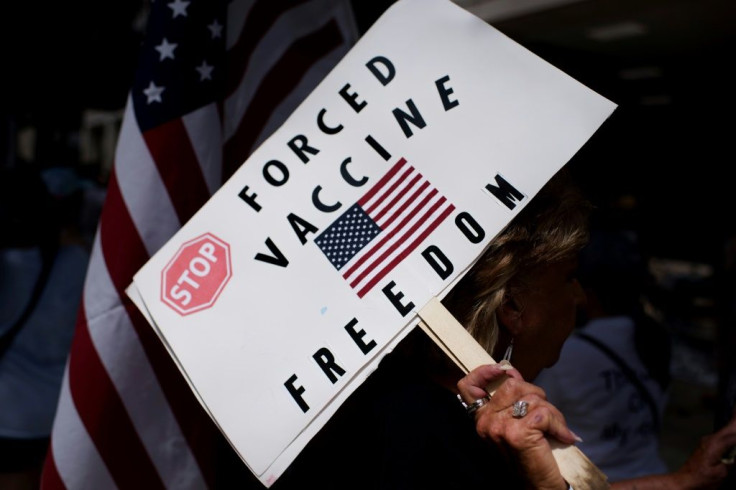 © Copyright IBTimes 2023. All rights reserved.