Apple (AAPL) Products Now Officially Sold In Myanmar, But The Black Market Has Been Selling Them Long Before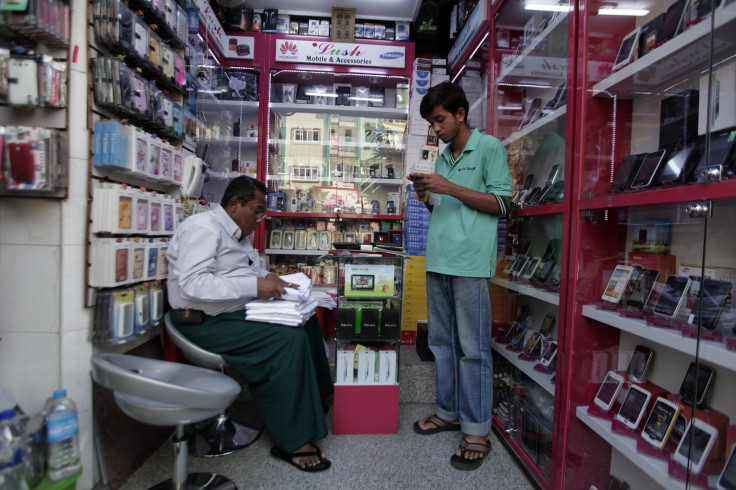 Apple Inc. may be just getting into Myanmar, but its products, along with those of other world famous electronics brands, are already available in the Southeast Asian nation. Often, those electronics are sold in the black market, at prices far below the prices authorized resellers can offer.
Retailers smuggle electronics and other goods into Myanmar from low-tax regions like Hong Kong, and do not declare them at customs, according to the Irrawaddy, a Myanmar news outlet.
"There's no commercial tax that they pay, there is no import tax that they pay, and there is no VAT that they pay as well," said Myat Htoo, president and CEO of Make It Happen International, which is opening an authorized reseller of Apple's laptop and desktop computers, mDrive, later this month in Myanmar's commercial center of Yangon. "So with these three taxes, if you miss it, if you can go around it, it will be very cheap."
That's a problem for authorized retailers like mDrive that are just now beginning to carry Apple products, because they have to pay all applicable taxes, which combined with importing costs can amount to between 10 to 12 percent of the cost of the product, Myat Htoo said.
Prices of mDrive's Apple products will only be 1 to 2 percent higher than Apple goods sold in Thailand or Singapore, and a little more expensive compared with black market products.
"I think people will find it more expensive, about $10 more expensive than what we call the black market," said Myat Htoo, according to the Irrawaddy. "The problem is, if you go and buy from the black market, there's no warranty."
But $10 is a big difference for a nation where GDP per capita stands just over $800. Unfortunately for mDrive and Futureworld Myanamar, another authorized regional Apple retailer, cheaper Apple products will likely be available in Myanmar for another year or two. The government is aware of its loss in tax revenue, however, and has set up teams at customs checkpoints to tackle the problem.
"Let's say, in the past, if you carry 10 iPads into the country, the customs wouldn't say much to you," Myat Htoo said, the Irrawaddy reported. "Now, these guys go to chase them at customs, so they start to tighten it up."
The checkpoints will only do part of the work, however, and Myanmar will need to work on ironing out its intellectual property regulations over all.
"As foreign companies arrive in Myanmar, and with that, the pressure will increase to introduce legal protections for intellectual property," said Christian Lewis, an analyst on Southeast Asia for the Eurasia Group, a political and economic consulting firm, in an email interview with the International Business Times. "However, as in China where regulations exist, enforcement will continue to be a significant problem."
But Myanmar is taking steps in the right direction, Lewis said, by agreeing to be bound to several international protection agreements, including the basic World Intellectual Property Organization agreement and the World Trade Organization guidelines. Ultimately, however, it is up to Myanmar's government to show how serious they are with enforcing these regulations.
"In the end, no number of signatures or acronyms can replace the rule of law in cracking down on intellectual property theft," Lewis told the International Business Times.
© Copyright IBTimes 2023. All rights reserved.