Apple AirPods Latest Problems: Phone Calls Dropped, Lose Connection With New Bluetooth Headphones, Users Say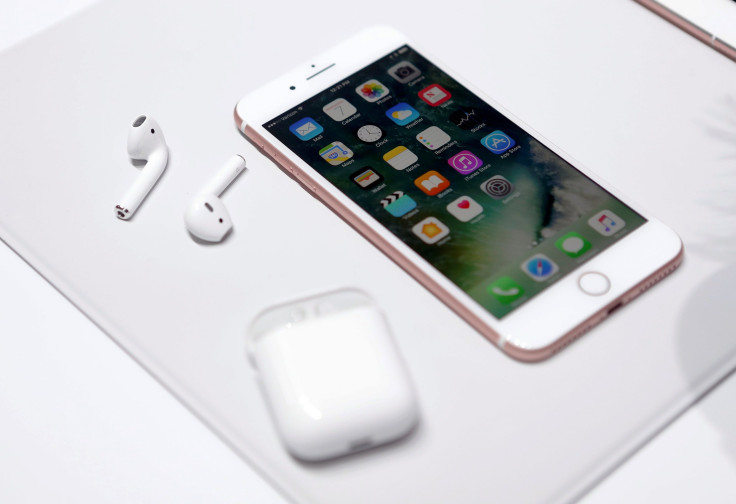 Apple's decision to make its ultra-successful and revolutionary iPhone completely wireless has hit a bit of a snag. The Northern California-based company was reportedly investigating customers' complaints about the new AirPods, or headphones, disconnecting from their phones while making a phone call, MacRumors reported Monday.
Citing posts on a MacRumors forum thread as well as on Apple's Support Communities website, the report indicated customers have claimed their AirPods were losing connection with the phones only while making a phone call but not with any other function.
One forum user wrote: "I've had this happen on two phone calls today. I am talking and suddenly the audio switches to the phone, I hear the Airpod connect tones and the audio switches back. This will repeat itself a few times, which is quite distracting during a phone call. "
However, it appeared the disconnection problem was mostly affecting iPhone 6s and iPhone 6s plus models. Those who upgraded to the new iPhone 7 were not having the same issue, according to MacRumors.
Some blamed the pairing of the Apple Watch and their iPhone – and simultaneously with the AirPods – as the reason. However, MacRumors claimed it was able to connect to a non-Apple product, the FitBit Blaze, and was able to disprove that claim.
The wireless headphones, which connect to iPhones via Bluetooth technology, were released Dec. 13 last year amid much fanfare, which typically follows a new Apple product launch. They were designed specifically to pair with the iPhone 7, the latest in the long line of Apple's dominant communication device but the first that does not have a headphone jack for the now old, white, stringy headphones or any others that require a jack for use.
But since the release, customers and consumer groups have found a number of issues with the AirPods, with the connection issue being just the latest. Due to the AirPods' small size, users were losing them and a third-party app was developed in order to track them. Apple removed it from its App Store earlier this month, but no reason why was given by Apple.
And a little more than a week after their release, Reuters reported that the batteries inside the AirPods were capable of exploding if recycled the same way as the old stringy version.
© Copyright IBTimes 2023. All rights reserved.