Apple Fifth In Chinese Smartphone Market, Shipment Volumes Continue Decline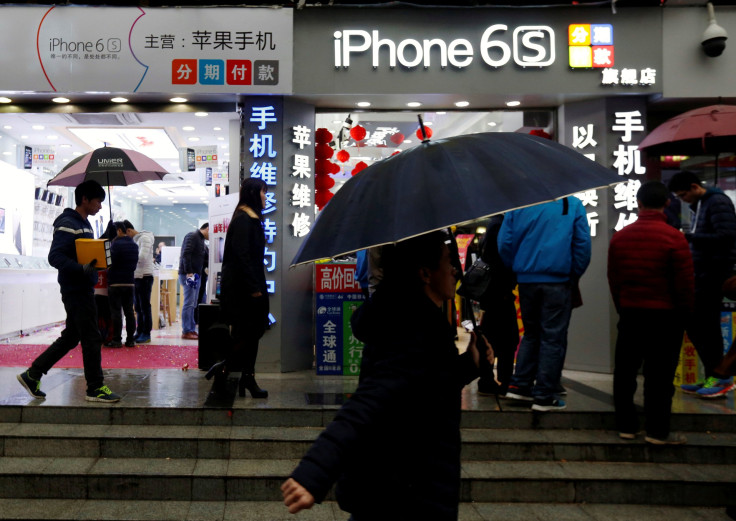 Apple Inc.'s iPhones may be the leader among smartphones in the United States, with over 40 percent of the market share, but the company is struggling to maintain a foothold in China, the world's most populous country and a big market for any technology company. According to an industry report, the Cupertino, California, company is trailing at the fifth spot when it comes to smartphone sales in China, with only 7.8 percent of the total market.
A "Quarterly Mobile Phone Tracker" report released this week by International Data Corporation showed sales of iPhones in the second quarter of 2016 falling 31.7 percent behind their sales in the April-June quarter in 2015, when they controlled 11.9 percent of China's mobile market share. According to IDC, "the iPhone SE was not a hit in China, where consumers prefer larger screen-sized phones. In 2016Q2, close to 90% of phones shipped in China had screen sizes that were 5 inches and above."
The report held out some hope for Apple though, saying its "fans are holding out for the new iPhones to be launched in 2016Q3, which could likely give Apple a boost in China."
Apple is also focusing on the next big market of India for driving its flagging sales.
Samsung, the world's largest smartphone maker by market share and shipments, is not even in the top five in China, where domestic companies rule the roost.
Huawei, which is barely a couple of years old in the smartphone business, has already become the most popular brand in its domestic market and despite running into trouble with U.S. authorities, is also pushing abroad aggressively.
© Copyright IBTimes 2023. All rights reserved.