Apple Gaming: New Apple TV Gets Remote Controller, Casual Games Like 'Crossy Road' With Multiplayer Mode
It's official: Apple TV is becoming a gaming device. And Nintendo should be worried. During Apple's live event on Wednesday, the tech giant announced that its App Store is coming to Apple TV -- this includes the Game Center -- as well as announcing a new remote that can be used for gaming and a number of games.
This is a huge change for mobile gaming, and not only because it's a bigger screen. Because of the multiplayer capabilities, it is perfect for families that don't want to shell out for a console, or really want to play their favorite mobile games together on their television.
A key feature of Game Center on Apple TV is that you can purchase and start a game on your iPhone or iPad and then continue where you left off on your Apple TV.
<iframe width="720" height="400" src="https://www.youtube.com/embed/9_7v_mzky6A" frameborder="0" allowfullscreen></iframe>
To play the games, you just turn the new Bluetooth remote (which has a glass touch surface on the top of the controller) horizontally. From the demo, it looks like you can use the buttons or touch surface, and some of the demos even used it like a Wii Remote, by moving it around.
Games that will be playable through the Apple TV include "Disney Infinity," "Rayman Adventures" and "Crossy Road."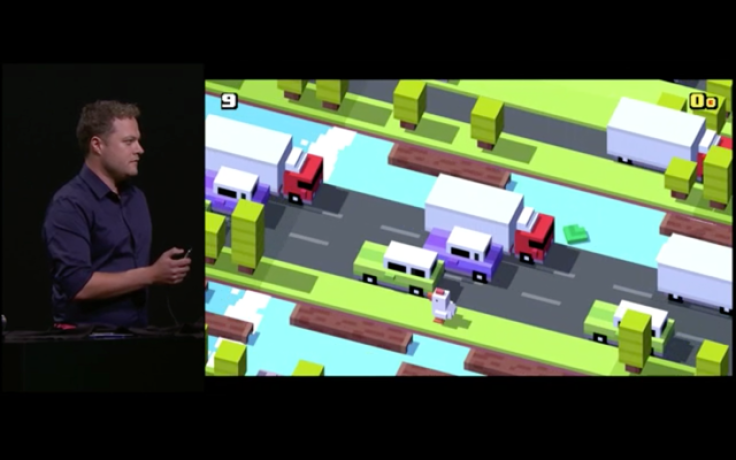 For the first time ever, "Crossy Road" -- which is similar to the classic "Frogger" game in that you have to cross a number of roads, rivers, train tracks and other obstacles without dying -- is going multiplayer.
"Now you can truly play with family and friends," said Andy Sum, of "Crossy Road" developer and publisher Hipster Whale, on the Apple event stage.
With the collaborative play style, the team continues to gain points as long as one player is still alive.
Game developer Harmonix (think the "Rock Band" franchise) is also releasing a new mobile game that will be available on Apple TV, called Beat Sports, which"combines the joy of hitting balls with the joy of hitting notes," says the promo material. Beat Sports will also have a multiplayer mode that can accommodate up to four players at once.
Apple announced that the new Apple TV will be available in late October.
© Copyright IBTimes 2023. All rights reserved.
FOLLOW MORE IBT NEWS ON THE BELOW CHANNELS