Apple HomePod vs. Google Home vs. Amazon Echo: Siri Speaker Revealed At WWDC 2017
At Apple's Worldwide Developers Conference Monday, Apple unveiled the HomePod, its latest home device. The compact speaker, which is built to be a hybrid high-end music speaker and home assistant, will be priced at $349 and is slated to come out in December in white or space gray finishes.
Apple leaned heavily into the speaker's audio quality and specifications during its WWDC reveal. The cylindrical speaker will be around 7 inches tall and features specifications including a seven-tweeter array for directional audio and a 4-inch upward facing woofer for low-end definition.
Read: Alleged Apple Insider Says Apple's Siri Speaker, Glasses In The Works
Internally, the speaker will be powered by an Apple A8 chip, which was previously used in the iPhone 6 series and the current-generation Apple TV. The speaker will feature native support for Apple Music, but Apple didn't reveal more of the technical details about what music playback support will be available for the HomePod.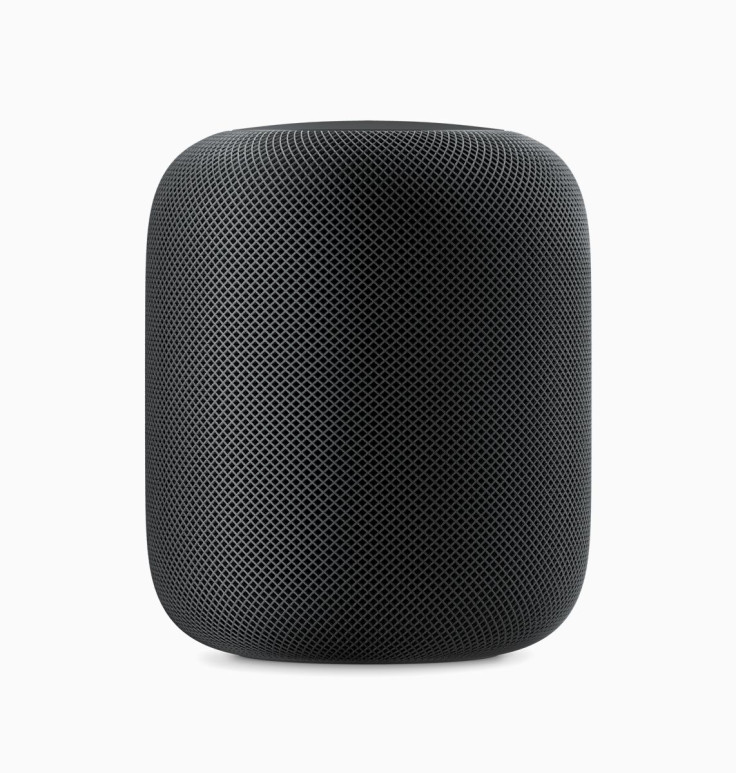 Amid the pre-WWDC speculation that pegged the potential Siri speaker as Apple's answer to assistants like the Amazon Echo, Apple made a curious move to lead explicitly with the HomePod as a higher-end audio speaker that's powered by its Siri virtual assistant. During its onstage announcement, Siri wasn't even mentioned until halfway through the HomePod's unveiling.
Still, the HomePod will be built with standard home assistant functionality. Through the Siri-powered speaker, you'll be able to ask questions about things like basic reminders and local news along with being able to control music and audio playback. The speaker also will support Apple's HomeKit that will let you control compatible smart home devices.
Against other smart home assistants, the HomePod's targets are different from ostensible competitors like the Amazon Echo. At price point alone, Amazon offers a broad selection of options from the $49.99 Echo Dot to the upcoming $229 touchscreen-powered Echo Show. It remains to be seen whether the HomePod's audio quality is as good as advertised, but at least among the Echo product family, sound quality is definitely a secondary feature.
As for Google Home, the compact speaker benefits from an aggressive price point. At $109, the full speaker costs less than Amazon's standard Echo, which is priced at $179. In terms of audio quality and music curation, the Home isn't a bad performer, but audio fidelity takes a backseat to other features as with the Amazon Echo series.
Read: Apple's Siri Is More Popular Than Amazon Alexa For Virtual Assistant Users, Report Says
For smart home users, the three speakers will take a similarly narrow split for compatible devices. Apple's HomePod will rely on its own HomeKit for support while Google Home has various partners for smart home hardware that include Samsung, Nest and Philips. In contrast, Amazon has benefited from its existing Amazon network since it's easy to make purchases from Amazon through an Echo and have all your information available in one consolidated place. Amazon has also emphasized bringing Alexa to other devices outside of the Echo like home TVs and appliances.
On paper, Apple's choice to present the HomePod a Sonos-esque high-end audio speaker that's powered by Siri compared to a Siri-powered home assistant is deliberate and a concession. At the moment, Siri lacks the ability and ecosystem needed to go head to head with Alexa in a way that would meet Apple's ambitions. But at the same time, the HomePod still looks to be Apple's way to crack into the home assistant market while avoiding the logjam of new entries from companies like Microsoft and Essential.
For Apple, the HomePod is supposed to be a great speaker that'll double as a way to introduce more people to Siri in the home. And depending on the HomePod's traction, it'll be a way for Apple to see if the device will become another iPod Hi-Fi or the next big move for Apple in the home device space.
© Copyright IBTimes 2023. All rights reserved.