Apple Inc.'s Stand On Privacy Might Give An Edge To Google's Android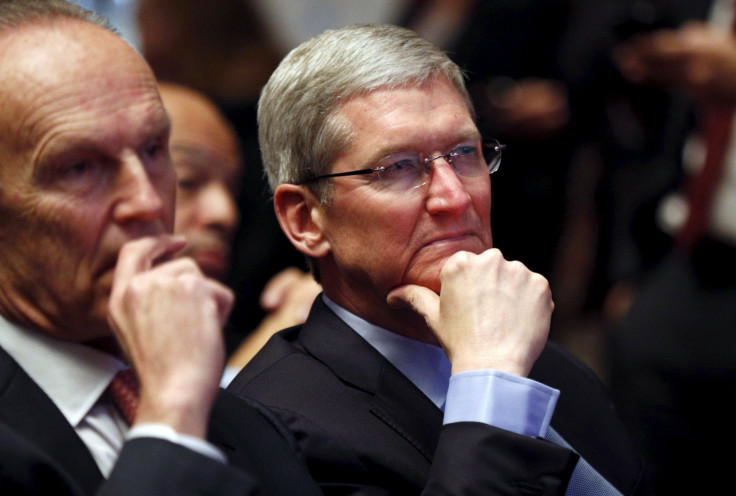 Apple is trying to turn privacy into a competitive advantage against Google. CEO Tim Cook has repeated that Apple "doesn't want your data" several times in the past year, and although he rarely names Apple's main smartphone rival, the implication is always that Google is watching you and Apple isn't.
But if Apple's trying to proactively predict what its users want, maybe it should be watching its users. At Apple's keynote event on Monday, it announced a "proactive and predictive" assistant for the iPhone -- a Google Now clone -- while software chief Craig Federighi stood in front of this slide: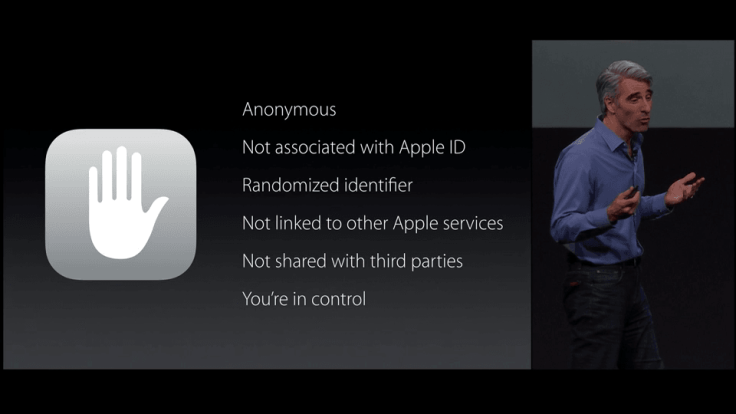 Google Now is made possible by two things: machine learning and a ton of data. Apple's predictive assistant won't be in consumer hands until this fall, but there's the distinct possibility it may turn out to be inferior to Google Now because of the simple reason that Apple doesn't collect as much data as Google.
"The trick for Apple will be how can they deliver a smart experience while maintaining privacy," IHS technology analyst Ian Fogg said. "Essentially what Apple is aspiring to do is deliver an experience as smart as the opposition while having one hand tied behind their back."
Apple's public stance on privacy threatens its ability to find the next killer smartphone (or smartwatch) feature -- which will likely be based on artificial intelligence, an area on which Google is doubling down.
"Apple is going to realize very soon that it has made a grave mistake by positioning itself as a bastion of privacy against Google, the evil invader of everyone's secrets. The truth is that collecting information about people allows you to make significantly better products, and the more information you collect, the better products you can build," developer Dustin Curtis wrote last fall, predicting that with new artificial intelligence techniques, the advantages of information collection will only become more clear.
Does data lead to better products? It's starting to, especially for Google. At Google's I/O conference, held earlier this month, it launched several smartphone apps that directly take advantage of Google's artificial intelligence expertise.
Google Photos has features that border on magic: simply search for a word like "cat" and it will serve all photos in your library with cats in them, no tagging needed. Google Photos is fast and simple. It's a superior photo management service to anything Apple's put out in over a decade with iPhoto, and it's all made possible by machine learning and data -- and Google's willingness to scan your entire photo collection.
Google Now isn't standing still either. Google announced Now On Tap at the same conference, which uses the context of your phone's data and screen as well as machine learning techniques to serve up exactly the information you need when you need it -- for instance, movie listings or info when you're chatting about catching a flick with a friend.
This kind of prediction is significantly more extensive than the proactive assistant Apple's baking into Siri with the arrival of iOS 9. One of Apple's new Siri features is that it will play workout music if you go running at the same time every day.
Apple is aware that more data leads to better services and that artificial intellegence can add to a user experience, especially for the smartwatch. "With wearable devices you need super-focused experiences, and you need intelligence to deliver them. The Apple Watch is what's driving Apple to do this project now," Fogg said of the company's new predictive assistant.
Siri, Apple's voice assistant, uses an artificial intelligence technique known as neural networks. Apple bragged on Monday that Siri handles (and logs) a billion queries per week, which has led to significantly faster and more accurate Siri searches. If Apple understands the combination of data and artificial intelligence can improve Siri, why is it drawing a line in the sand when it comes to photo or personal data?
Next-generation artificial intelligence applications are starting to trickle down to consumers. Microsoft's amazing on-the-fly Skype translator is built on machine learning technology which has access to a large subset of messages and calls made on the service. Without that corpus of messages, the potentially revolutionary software wouldn't exist. On the other hand, Apple's iMessage handles a similar volume of text communications as Skype, but its encryption keys are set up so it can't read messages in transit. Ultimately, it's a win for user privacy, but a loss for Apple's technological potential.
It's not like you won't be able to install apps that rely on data and artificial intelligence on your iPhone. You can download Google Photos from the App Store now, and Skype may well be working on an iPhone version of its translator now. But those apps won't be made by Apple.
While this seems minor now, with the rise of the smart home and the Internet of Things, Apple's blindness towards your data could become a very big deal. Proactives services are based on the same kind of technology that will learn that you like to turn your air conditioning down when you leave home or can sense what kind of stuff you want to see on your smartwatch. The gulf between services and devices that intelligently serve you and those that are dumb will only grow wider -- and Apple's quixotic stand on privacy might hurt it in the long run.
Still, consumers may be willing to settle for less-than-perfect products in exchange for some privacy protections. 91 percent of adult respondents to a recent Pew survey said they felt consumers have lost control over how companies collect and use personal information. Apple is betting that such fears will ultimately work in its favor.
© Copyright IBTimes 2023. All rights reserved.
FOLLOW MORE IBT NEWS ON THE BELOW CHANNELS