Google Hopes 'Super App' Google Now Can Salvage Its Mobile Future (Too Little, Too Late?)
Each morning when media pro Marsha Collier wakes up, she opens her tablet and checks the weather, news and her schedule on Google Now. The personal virtual concierge Google has built is the key to the future of the company's mobile advertising business. "That's a great way to start a morning," said Collier, a Los Angeles resident, adding that the Google Now tidbits she receives are "relevant because Google knows."
Google hopes one day millions more will use Google Now the way Collier does. Though the Mountain View, California, company is one of the most powerful, profitable and influential players in Silicon Valley, it is at a crucial point in its history. Google dominates search on desktop, but the company has failed to attain a similar level of supremacy on mobile, which grows more important every day.
Google Now is the company's silver bullet for capturing ad dollars on users' smartphones at a rate similar to its desktop business. The service works on Android and iPhone and is designed to deliver information users need before they search it. It's a young and promising technology, but it is also extremely invasive. That's why Google is being careful building it out. If Google Now succeeds, it will extend the company's dynasty of digital advertising dominance, but if it doesn't catch on, Google may never be able to take over mobile advertising.
"Google Now is incredibly important to Google," said Johnny Won, founder of Hyperstop, a tech consultancy firm. "Now gets in your face to tell you things about what you want to do rather than users seeking such behavior out. This is great, in theory, if it works."
Google Now's importance was elevated earlier this month after the company announced that for the first time in the U.S. and nine other countries it now receives more search queries from mobile devices than from desktops. That's a tectonic shift for Google and helps explain why it has missed forecasts in seven of its last nine quarters.
Google Search accounts for the bulk of Google's revenue, but the business has been decelerating the past few years. That's due to the use of desktop search declining and Google's inability to dominate the mobile advertising market. Google is king of mobile search with 88 percent market share, according to StatCounter, but the problem is search doesn't dominate users' mobile behavior.
Google's Big Worry? Facebook
On desktops, users start most of their tasks by going to Google, searching, getting results and ads, and then clicking a link -- it's why Google is the Internet's most popular website, according to Alexa Internet. But on mobile, users often skip Google and head straight into mobile apps.
This behavior is why Facebook's business is exploding. Not only is Facebook the most popular mobile app in the U.S., with more than 115 million users, according to comScore, it's also the most popular app in terms of usage, with users spending 10 percent of their mobile time in the app, according to Forrester Research. Google's search app by comparison has just 70 million users and gets just 1 percent of usage time.
As a result, Facebook's share of the $43 billion global mobile advertising market grew from 16.4 percent in 2013 to 17.4 percent last year while Google's fell from 46 percent to 38.2 percent during the same time, according to eMarketer.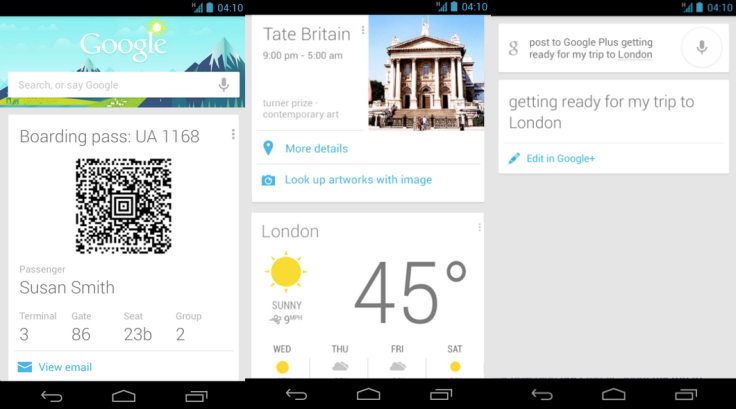 And this is why Google Now is pivotal. If Google wants to get revenue growth pointing in the right direction, it has to build out Google Now into a home page for the smartphone from which users start all their mobile activities.
Google finally began building earlier this year, announcing it had begun working with select partners to integrate their apps with Google Now, meaning the service will be able to deliver information from numerous apps, not just Google's. Late last month, Google also announced it would be working with more than 100 app developers, and eventually Google hopes to give all developers the ability to integrate their apps with Google Now.
"As people increasingly search on mobile devices, they want answers that take into account their context -- what they're doing, where they are -- and help getting things done. We also want to help you without you having to ask -- with Google Now cards in the Google app," a company spokeswoman told International Business Times, adding that the service is an important initiative for Google's search business. Google has not released Google Now usage numbers, so no one knows how many people have become active users since it launched in 2012.
It's All About Mobile
If carried out properly, Google Now will be able to send users relevant information from Google and third-party apps through notifications and when they open the Google app. "Google wants to be the mothership app and have all their little applings in them," said Jamie Hill, CEO of adMarketplace.
Google has yet to monetize the service, but if it gains a massive following, Google could be able to deliver targeted, context-based advertisements to users. "How many times do you leave your office in the middle of the day, you're heading out for lunch, you're riding the elevator downstairs trying to figure out where you want to go? That's a perfect opportunity for Google and its advertisers to try and nab you and make recommendations for you," said Wesley MacLaggan, senior vice president of products for Marin Software, a digital advertising technology provider.
The biggest challenge Google faces will be dealing with privacy. To work properly, Google Now needs access to a large portion of a user's data. For example, many Google Now users like receiving weather information, sports updates, traffic updates and information about their flights. To deliver that information, Google requires access to a user's Gmail account, their GPS location, the addresses of the places they frequent and knowledge of their interests. Though receiving that information may be convenient, many users could be scared off by the amount of privacy they have to give up or creeped out by the results they get.
"The line between relevant and creepy is a very thin line, and it's really easy to cross," said Maribel Lopez, founder of San Francisco market research and consulting company Lopez Research LLC. "Let's just say they knew everything about me and they could tell me really amazing things. I'm not sure they want to start there because that's too much too fast. They have to get me used to a couple of things."
Google isn't too vocal about the importance of Google Now, but for the company to continue dominating in the digital advertising market the way it does today, the company will have to ensure that Google Now becomes a success. Otherwise its growth could be severely crimped as more and more computing shifts away from PCs and onto mobile devices.
"Advertisers are going to go to where the users are. If you've got the eyeballs, people are going to want to put their messages in front of them," MacLaggan said.
© Copyright IBTimes 2022. All rights reserved.
FOLLOW MORE IBT NEWS ON THE BELOW CHANNELS