10 Ways The Google Now 'Super App' Can Make Your Life Easier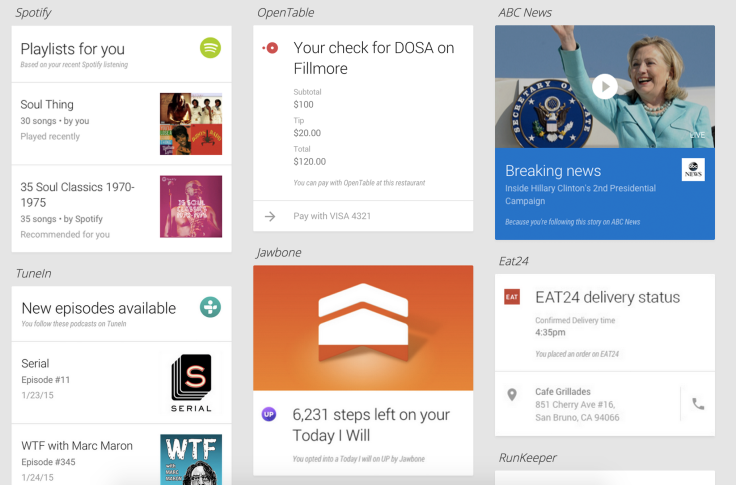 The ironic thing about Google's future is that it's called Google Now. This virtual concierge is a smartphone feature designed to bring you the information you need before you go search for it, and although it stands to get significantly better in the years to come, there's already some great value to using it.
For Google, Now is its way of reinventing search on smartphones and key to dominating the mobile advertising game, which has been a struggle for the company in recent years since so many smartphone users spend much of their mobile time in apps other than Google's. For smartphone users, meanwhile, using Now unfortunately requires giving Google access to more of your information, but the results can be quite useful.
Google Now works best on Android devices where it is baked straight into the gadget's operating system and already works with about 100 apps. On the iPhone, Google Now is tucked away inside Google's app and does not yet work with third-party apps, but despite those limitations, Google Now can also be an asset for Apple users as long they enable notifications on the Google app.
There are numerous ways Google Now can get you helpful information, but here's a quick guide to the 10 best parts of Google Now along with the scoop on what privacy information you'll have to give up to use them.
If you're on Android, you can access and opt into Google Now by either opening the Google app, tapping on your device's search box or by swiping up from the bottom of the screen (these options vary on Android devices). Apple users can get started by downloading the Google app, opening it and signing into their Gmail account and then swiping up from the bottom of the screen.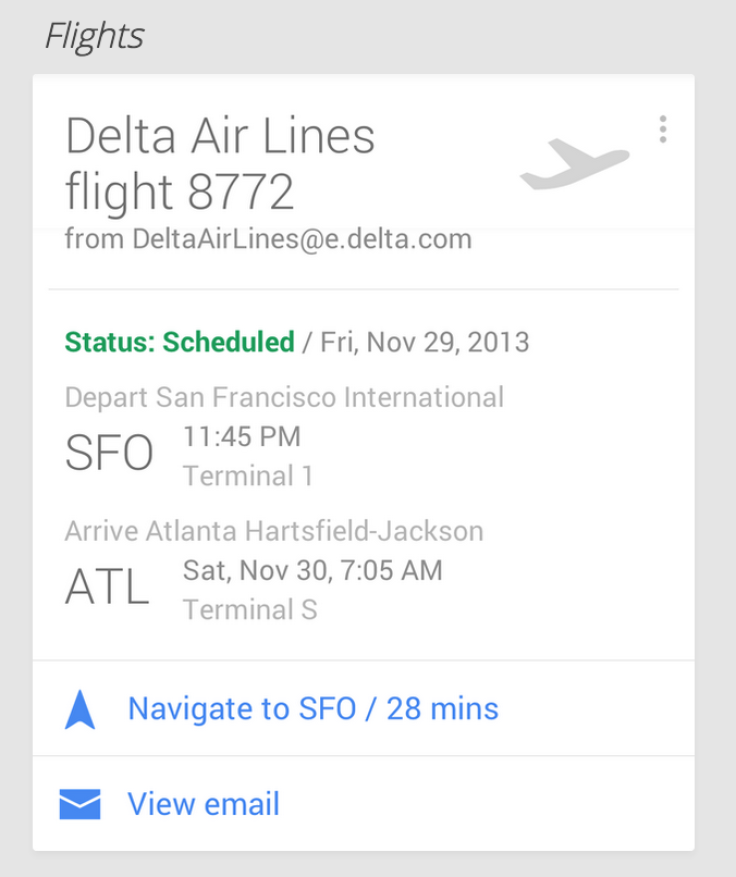 1. Flight Information
Without a doubt, the most useful part of Google Now is serving up flight information. Google Now automatically gets access to users' Gmail accounts, and any time you receive an email receipt for a flight you book, Google Now will take note of the flight number. Once the flight comes around, Now will store information regarding the time of the flight, when boarding starts, what terminal and gate the flight is at and it will notify you if there are delays. The service will even send you a notification when it is time to leave for the airport.
If you give Google access to your GPS and location, Google Now will also detect when you've flown abroad and provide you with information on currency conversion, helpful language translations, the low down on nearby attractions and give you the time back home.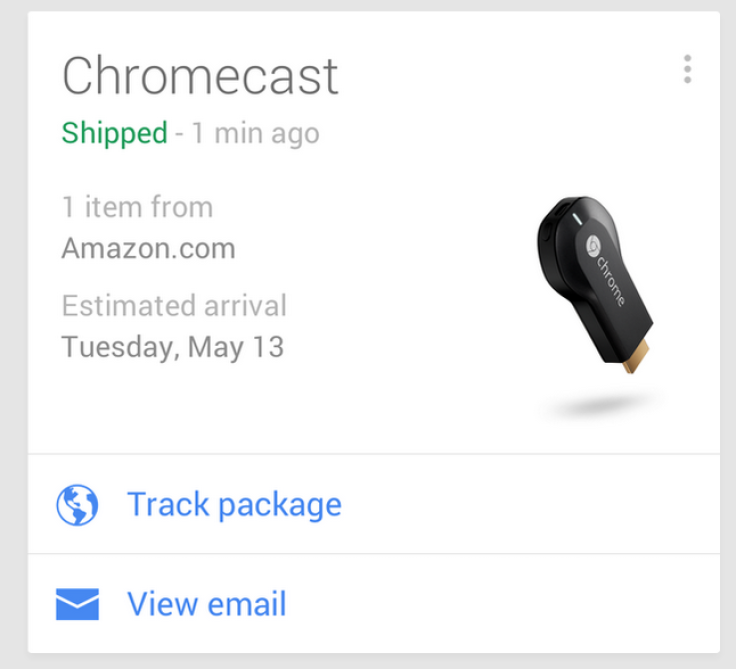 2. Track packages
As with flights, Google Now will also scan your Gmail account for the receipts of any online orders that you place. Google Now will then show you when your orders are expected to arrive and provide a quick link to more detailed tracking.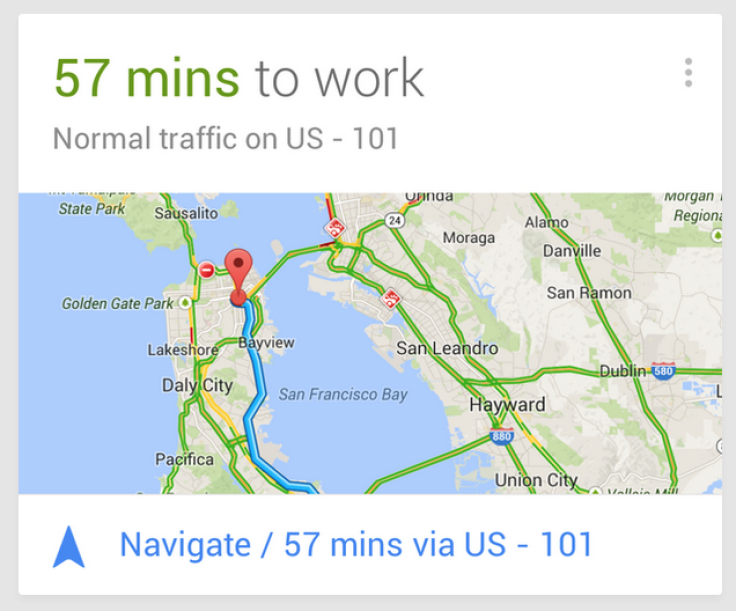 3. Traffic
By giving Google Maps your home and work addresses, providing Google Calendar with your schedule and address of any meetings or events you have and giving Google Now access to your GPS and location, the service can give you great advice on traffic. Any time you open the app, Google Now will show you a picture of what traffic looks like, give you an estimate on how long it will take to get to your next destination and suggest the most efficient route to get there. The service will also shoot you a notification when it is time to leave your current location so you can arrive on time to your next event.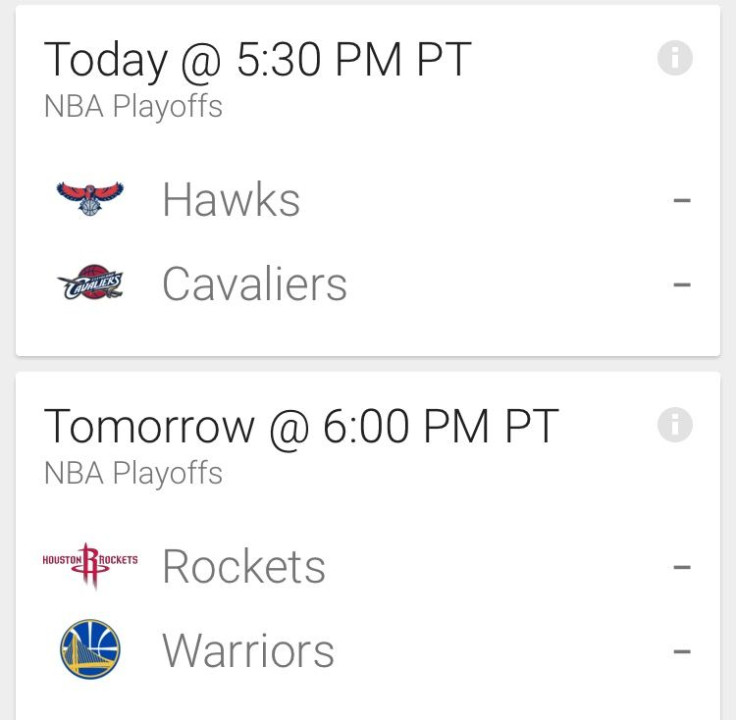 4. Sports
Google Now is great if you're a sports fan as it will send you a reminder every time one of your favorite teams has a game coming up and it will provide you with scores when you open up the app. Google will send you information on certain teams and games based on your location and your searches. If it hounds you about a team you don't want to hear about you can simply turn off alerts for that club by tapping on the small "i" icon at the top left of the score window and adjust the settings there.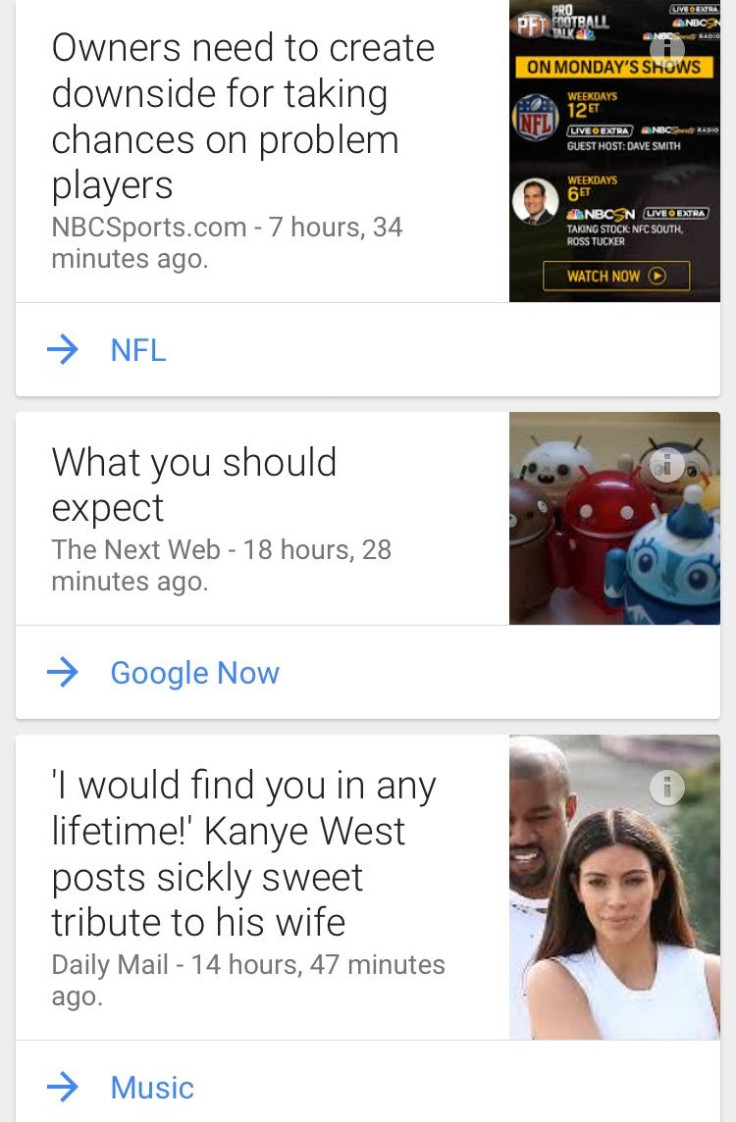 5. News
When you open Google Now, the service will show you a handful of news articles it believes you might find interesting. These news updates are based on your Google searches, and they can easily be adjusted. If Google Now gives you a story about a topic you don't care about, simply tap the icon and then tap "I'm not interested." Conversely, you can also search for topics and then tap on the "Get updates" option to indicate to Google Now this is something you want more information about going forward.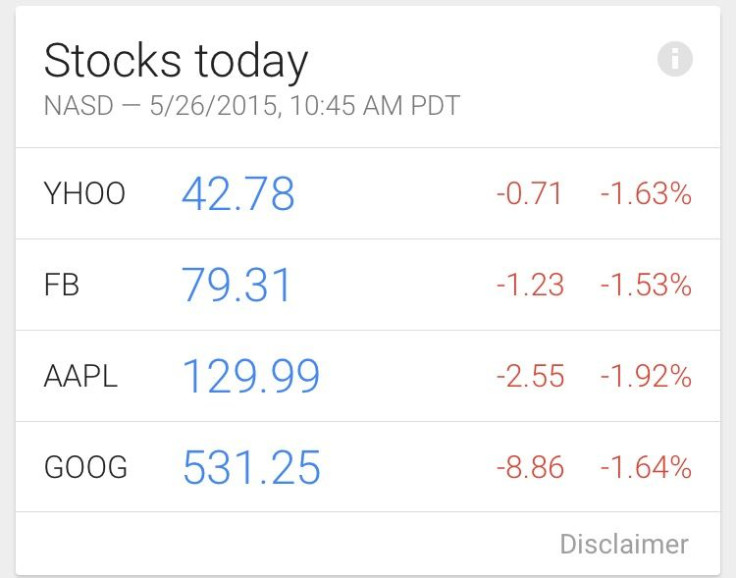 6. Stocks
If following Wall Street is your thing, Google Now can serve as a great little hub where you can check the status of the stocks you care about. All you have to do is enter a stock symbol, such as "NYSE TWTR" for Twitter, and on the results page, tap on the star icon. This will tell Google Now to show you information on that stock the next time you open the app.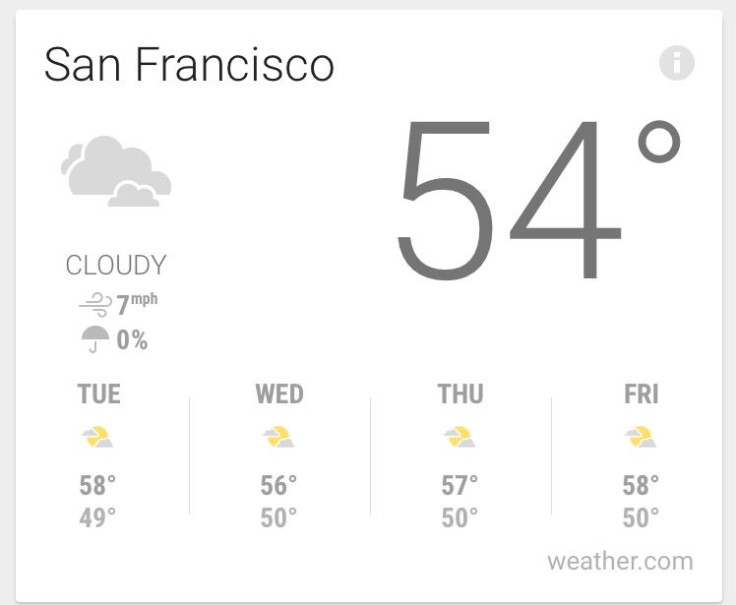 7. Weather
If you live in a place with unpredictable weather like San Francisco, Google Now can also be helpful by giving you weather information. Every morning you can open the app and Google Now will serve as your weatherman with information on the week's lows and highs, if the day will be overcast or sunny and how strong of a wind you can expect.
Android Only
As mentioned above, Google has begun to integrate Google Now with third-party apps, making the service more useful by drawing data from non-Google entities. Already, Google works with more than 100 app developers, but unfortunately, this feature is not yet available for iPhone users. One day it may be, but for now, the tips below apply only to Android users who have downloaded the respective apps.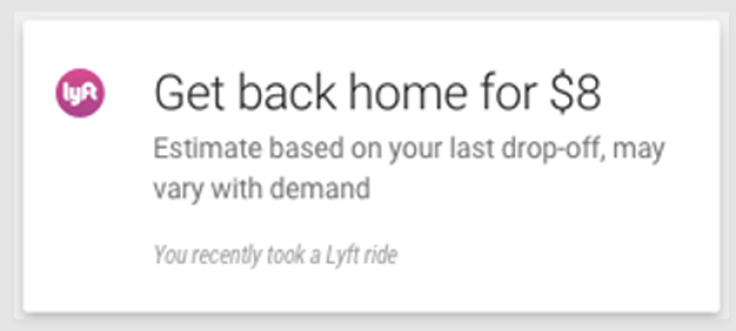 8. Lyft
If you're into ridesharing, Google Now can be very useful by providing you data on how much a ride home from your current location will cost you using Lyft. If you're okay with the price, tap the Lyft card and you can begin requesting a ride. Unfortunately for Uber aficionados, Google Now does not currently work with Lyft's rival.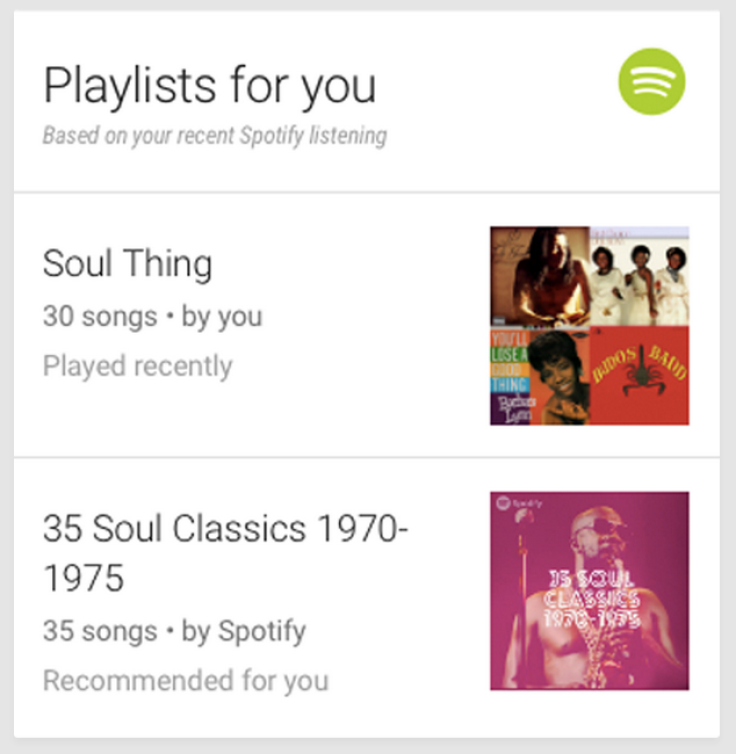 9. Spotify and Pandora
Music nuts can improve their Spotify and Pandora experiences by using Google Now. Spotify users can get quick suggestions on new playlists they might enjoy, with each suggestion being based on the recent music you've been listening to within the service. Similarly, Pandora users can find station suggestions based on their listening habits when they open up Google Now. As for Apple Beats Music and Jay Z Tidal users, Google Now does not support those services.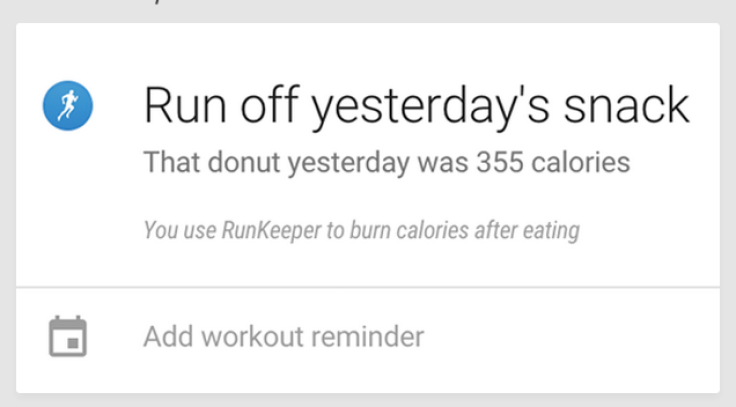 10. Fitness apps
Google Now has also integrated with a handful of fitness apps to give you exercise information every time you open the Google app. These fitness apps include Jawbone, Adidas, RunKeeper and others and can provide you with data regarding how many steps you've taken that day or your workout progress (it varies from app to app).
***
Google is still improving Google Now with the goal of turning the service into the main hub from which you launch all your mobile activities. Google isn't close to reaching that goal yet, but already the service can be pretty useful by providing information like the ones listed above as well as much more. Try it out!
© Copyright IBTimes 2022. All rights reserved.
FOLLOW MORE IBT NEWS ON THE BELOW CHANNELS