Apple iOS 8 Rumors: iWatch integration, Possible Release Date And 3 Features That Will Change The Way You Use Your iPhone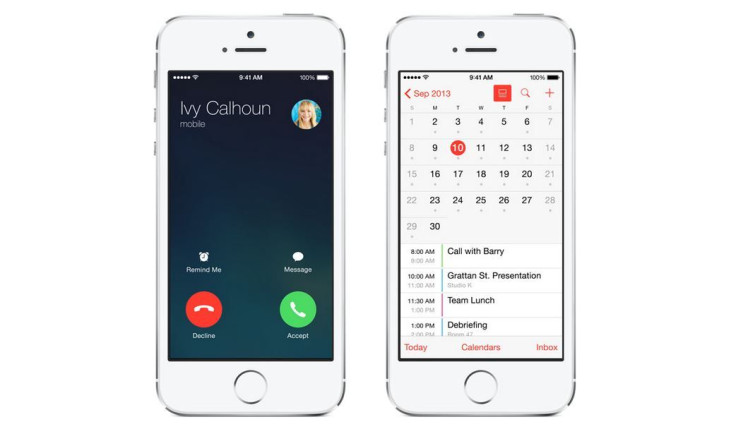 Apple released a major update to its current mobile operating system, iOS 7.1, on Monday, offering user-experience tweaks and speed improvements along with bug and crash fixes to iPhone and iPad users. Major problems like the springboard crashes that caused many iPhone 5s owners to experience random rebooting devices has fallen by the wayside with this update, and the Touch ID system has gotten a bit of an overhaul. So customers should no longer experience failed logins when scanning a fingerprint. However, important these fixes are, the update has many clamoring for the next iOS version and asking when iOS 8 will debut and what it will include.
If history is a good predictor, and it usually is, it stands to reason that iOS 8 will launch alongside a product offering like the iPhone 6 sometime in the fall. iOS 7 launched with the iPhone 5s on Sep 21. The previous two versions of Apple's mobile operation system iOS 6 and iOS 5 were released on the same days as the iPhone 5 and the iPhone 4s, respectively, on the third Friday of September. Since CarPlay was just included with the update to iOS 7.1, the Apple integrated vehicles that were announced at the Geneva Auto Show shouldn't have an effect on when iOS 8 drops, leaving September as the most likely date of launch.
But what new features will the next iteration bring? iOS 7's release brought several new designs and features to mobile users. Animated transitions reminiscent to the genie effect on Mac computers appeared, Airdrop improved communication between devices and iTunes Radio launched within the music player. iOS 6 saw improvements to Siri, Apple's personal assistant, Facebook integration for better connectivity with the social network, and Apple Maps became the default program in the iOS. In the next major release customers can expect improvements and changes on current apps as well as new features completely. Here are three big changes that are most likely slated for iOS 8.
Apple Maps
Apple Maps is one of the biggest flubs Apple has on its record. But despite criticism they are sticking with their efforts. It was reported earlier this week that Apple has made big strives to update their mapping offering. Readwrite outlined the huge numbers of acquisitions that Apple made specifically toward mapping companies in 2013, stating that "at least one-third of Apple's 15 acquisitions in 2013 were for mapping companies."
One of the biggest failings of the mapping program is the lack of public transit or bike route options. In major metropolitan areas like Chicago, San Francisco or New York City, commuters rely on these options to get around, which explains why Google Maps was reintroduced on the App Store after iOS 6 eliminated it. In addition to giving bike directions and public transit options, Apple is rumored to be working on ways to include indoor mapping directions with iOS 8. CarPlay will inevitably rely on Apple Maps for directions, so the Apple will make this a primary focus for the next upgrade.
iTunes Radio
Since iTunes Radio launched with iOS 7 in September it has seen high adoption with Apple users, surpassing streaming services like Spotify in the first six months of its life. The service allows listeners to skip commercials and pair the radio with iTunes Match. But it has been recently suggested by 9to5Mac that Apple may bump the service out of the music app and onto the home screen in a standalone app update. This move would be concurrent with other standalone apps like Podcasts or Videos app, both native to iOS. This change would make it a direct competitor with other apps like Pandora or iHeartRadio.
Healthbook
While this feature is probably the most rumor driven idea, reports suggest that Apple is developing a program to help its customers stay on track with their personal health goals. The app will most likely work as a standalone fitness tracker and in conjunction with the highly rumored iWatch. Coupling sensors like a heart rate monitor and a pedometer with Healthbook could allow it to better monitor user's exercise levels and caloric burn. Take that data and add a comprehensive food guide that gives the calories in everyday food, and Apple may have an easy to use and ubiquitous health focused device. We already know that Apple has hired engineers with histories in biosensor and sleep experts.
© Copyright IBTimes 2022. All rights reserved.
FOLLOW MORE IBT NEWS ON THE BELOW CHANNELS