Apple iPad '5' Air Review: 3 Major Disappointments In The New Fifth-Generation iPad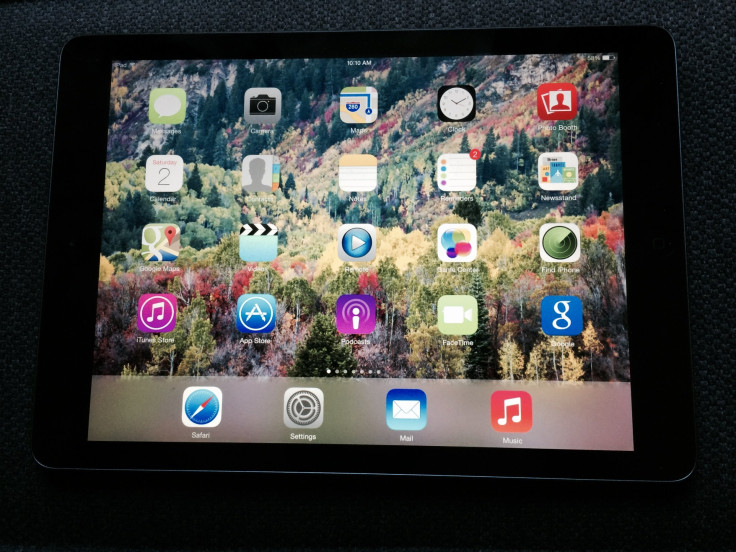 It's been one day since the release of the iPad Air, and customers have been flocking to Apple Stores to try, and perhaps purchase, Apple's fifth-generation iPad, which Apple SVP Phil Schiller called the lightest and thinnest full-size tablet available on the market.
I stood in line at the Apple Store in New York's Grand Central Terminal on Friday morning, and there were hundreds of people around me eager to shell out at least $500 to own the iPad as light as Air. I even declined when Apple Store employees asked if I wanted to hold an iPad Air while still in line, as I wanted to feel the iPad Air for myself when I unboxed my own device later in the day. I should've taken the Apple Store employees up on their offer to hold the tablet, because if I knew then what I'd later discover, I may not have dropped $750 on this purchase.
As with any product release, customers hold certain expectations with regards to speed, lightness, portability, and the whole package. Unfortunately, when I unboxed my own iPad Air on Friday, I felt a wave of regret wash over me; I had pangs of guilt for shelling out so much on a tablet I didn't really like. I knew certain features like Touch ID were left out to begin with, but I didn't know how much I'd really miss them until I finally picked up the iPad Air and used it. After spending more time with the iPad Air, I've been able to sort out more clearly my displeasure with the fifth-generation Apple tablet. So here is a review of the disappointing features.
1. It's not "light," it's lighter. I can't stress this issue enough. Apple labeled its newest iPad with the "Air" moniker, which is almost a misnomer, considering the device is "lighter" but certainly not surprisingly light. For instance, when I unboxed my iPhone 5, I was shocked how light it was compared to the iPhone 4s. Similarly, the MacBook Air was a shockingly thin and light laptop compared to the MacBook and MacBook Pro when it was initially released. The iPad Air, on the other hand, is truly undeserving of the "Air" name. It is lighter than its predecessors, but it is not "light" -- it's certainly no pencil. It's also not that comfortable to hold with one hand and type with the other, which adds to the lightness issue. Using the iPad Air with one hand is okay if you're resting your elbow on your knee or something, but otherwise it's not ready for extended one-handed use. I handed my iPad Air around the IBTimes newsroom and almost everyone I handed it to seemed disappointed by its weight. If it weren't called the "Air," this criticism might be unfair, but the name "Air" creates certain expectations for consumers, and Apple violates those expectations with the release of the iPad Air. You'll need to hold the iPad Air for yourself to understand what I mean, but try to hold it before you purchase it, if you can.
2. No Touch ID. When Apple unveiled the iPad Air, I couldn't believe Apple included an A7 chip, the same one that powers the iPhone 5s, and didn't include the best new technology in the iPhone 5s made possible by that A7 chip, Touch ID. The Touch ID fingerprint sensor is embedded into the iPhone 5s home button, which allows users to register up to five fingerprints that may unlock the device in just seconds by touching the home button. It's not only efficient, but it's an important security feature considering the rate at which Apple devices tend to get stolen or lost. I was disappointed Apple opted not to include Touch ID, but I figured I'd give iPad Air a try anyway. But within minutes of unboxing and setting up my iPad Air, my thumb instinctually went to the home button and stayed there, as if it was expecting the tablet to magically unlock. When it didn't, I realized Apple actually had a missing feature for a change. I missed Touch ID. The only other time I felt this disappointed was for last year's iPad mini, in which I wrote that the one missing feature it desperately needed was a Retina display. I got my wish one year later with the iPad mini with Retina display, and I'll bet my entire life savings Apple embeds a fingerprint sensor in the 2014 iPad. But in my opinion, those are superficial strategic moves to ensure each new iPad release has enough "new" features, not a genuine effort to push the technology forward. Apple has this technology in Touch ID, and in my experience with the iPhone 5s, it's been nearly perfected, which makes its presence truly lacking on the iPad Air. Its absence feels like a major slap in the face: "We care about your device's safety and security, but we care more about increasing our profit margins each year," is what leaving out Touch ID says to me.
3. Minimal speed improvements. Benchmarks may tell one story, but I know what I've experienced in my brief time with the iPad Air. It's fast, but not a leaps-and-bounds improvement over its predecessors. I still own an iPad 3, and when opening apps next to each other side by side, the iPad Air launches apps about two seconds quicker than my iPad 3. Once apps are open, they look about the same on both devices. There is no meaningful graphics upgrade, although the iPad Air tends to handle movements within graphics-heavy games better than the iPad 3. Apple advertises the iPad Air as having up to 2x the CPU and 2x the graphics performance of the previous iPad 4, but you barely feel the difference. Considering the other incremental changes in this iPad, the speed results in the iPad Air simply adds to the list of disappointments in this device.
I'll be writing a full review of the iPad Air in the coming days, but these complaints will no doubt be a big part of my review. Advertising this device as an "Air" feels like false advertising, and its lack of "newness," which was a concern for me going into this review, turned out to be totally justified, as its speed changes are barely noticeable and its lack of Touch ID is bewildering and mildly upsetting. Remember, the iPad Air in 2014 will almost certainly feature Touch ID, and a year isn't a very long time in the world of consumer electronics. If you haven't purchased an iPad Air yet, consider these shortcomings before you make a financial decision. Also important to remember: The iPad mini with Retina display, which features the same processor, screen resolution and form factor as the iPad Air, will be released by the end of this month (likely Nov. 22), and that device is certainly smaller and lighter than the iPad Air (and cheaper, too).
More About The iPad Air
The 9.7-inch iPad Air brings the first major design change to the iPad since the March 2011 release of the iPad 2. The new iPad Air better resembles its "mini" counterpart, with its thinner side bezels, symmetrical speaker grilles, aluminum unibody and less-tapered back for a better grip. As we mentioned, this form factor weighs just 1 pound.
Besides the A7 chip, which runs up to twice as fast as last year's A6X chip featured in the 2012 release of the iPad 4, Apple also chose to release the iPad Air with the company's new M7 co-processor, which helps offload motion-based sensors from the A7 but is likely featured to give the chip a test-run before it powers Apple's upcoming iWatch.
The iPad Air also comes with two new cameras: While the iPad 4 featured a 1.2-megapixel FaceTime HD camera with 720p HD video and a 5-megapixel rear-side camera with 1080p HD video, Apple tweaked both cameras in the iPad Air, opting to release the iPad Air with the same 5-megapixel camera with larger pixels (similar to the iPhone 5s) and a slightly improved 1.2-megapixel FaceTime HD camera with 720p HD video.
The iPad Air from Apple also comes with faster Wi-Fi and more LTE bands on the cellular model, but both iPad Air models (Wi-Fi and Wi-Fi + cellular) will come in two color options: white with silver, and space grey with black. The basic iPad Air with Wi-Fi starts at $499 for 16 GB and ranges up to $799 for 128 GB. For an iPad Air with Wi-Fi and LTE, models start at $629 for 16 GB and range up to $929 for 128 GB.
What do you think of the iPad Air? Do you believe the iPad Air lives up to its moniker, or do you believe Apple should've called it iPad 5 until it can release an iPad that weighs less than a pound? Sound off in the comments section below.
© Copyright IBTimes 2023. All rights reserved.