Apple iPad Air Review: Don't Believe The Hype, A.K.A. The Unpopular Opinion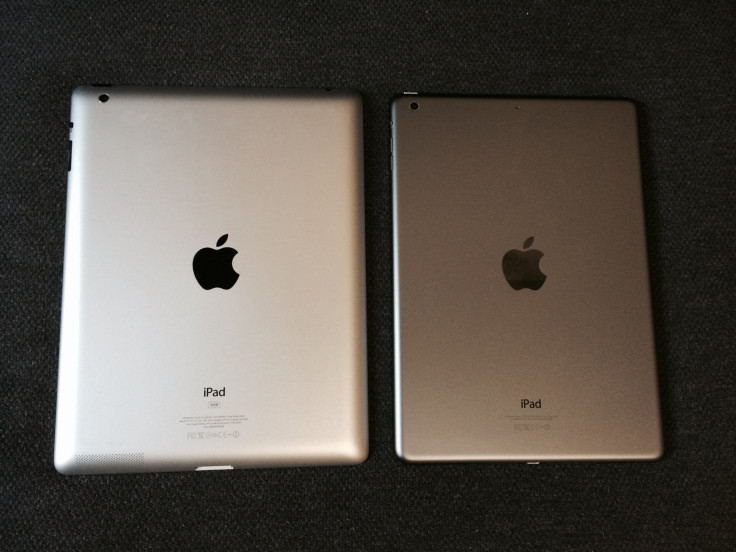 If all that we'd done was take the original iPad and just reduce it, all that you would be aware of was everything that was just missing. That there is inherent loss in just reducing a product in size. What we did was we went back to the very beginning and we took the time to design product that was a concentration of, not a reduction of, the original." -- Apple lead designer Jony Ive, on the 2012 iPad mini, not the 2013 iPad Air
The unveiling and release of the iPad Air felt like 2012 all over again. Just like the first-generation iPad mini unveiled last October, Apple this year found a way to again reduce its full-size iPad -- this time in form factor, not screen size -- to make it similarly portable but even more powerful. The result, the iPad Air, is a great product by almost any standard -- it's just not new, or special, or different from any other iPad.
The iPad Air has four things going for it: It is lighter, it is thinner and easier to hold, it is faster, and its cameras are improved compared to previous iPad releases. But every single one of those iPad advancements is slight. Comparing this fifth-generation iPad Air to the third-generation iPad from nearly two years ago, the iPad Air is slightly lighter (it's really not that noticeable), slightly thinner and easier to hold, slightly faster (about two seconds difference in Web browsing, eight seconds difference in launching graphics-intensive apps), and its cameras are slightly improved. See a pattern here?
The iPad Air, in all honesty, is Apple's most modest iPad release yet.
What The iPad Air Does Right
If you don't own an iPad, or you own an iPad without a Retina display, the iPad Air is going to feel like a major step up in every department. Powered by the powerful and efficient A7 chip, the iPad Air easily handles navigation and animations within iOS 7, and Web browsing is faster thanks to the tablet's new MIMO technology, which is the multiple-input, multiple-output design that uses multiple antennas to improve Internet connectivity. And if for some reason you actually want to use your tablet for picture-taking, the iPad Air is even better at that, too, with its improved 5-megapixel camera.
The new form of the full-size iPad, which was borrowed from last year's iPad mini, is also a welcome addition to the iPad Air. It's just as thin as the iPad mini, and its identical unibody shell was also designed to be easier to hold compared to previous full-size iPads. Shaving some of the real estate around the perimeter certainly helped with that too, as the iPad Air is a bit shorter and less wide than its predecessors. All of this adds up to a form factor that's thinner and lighter than previous iPad releases; however, it's important to note once again that these changes are slight.
However, I can't end this section without noting the virtues of all iPads. The iPad Air, like its predecessors, is an exceedingly simple and rewarding experience. Compared to other tablets on the market, the iPad is far and away the best in its class, and the iPad Air only makes the tablet decision even easier to make for consumers. With its intuitive operating system, solid 10 hours of battery life, portable form factor, bountiful app marketplace and its bright and crisp display, the iPad has everything you could possibly want in a tablet. When paired with an equally powerful accessory, such as Logitech's Ultrathin Keyboard for iPad, the iPad becomes a thin, light and incredibly cheap alternative to a laptop, with its ability to handle any app you need to work or play. There's no other tablet I could recommend as much as I can heartily recommend the iPad.
Why The iPad Air Falls Short
The iPad Air works great on a day-to-day basis. I love using the iPad Air for games, it's really fast on the Web (though it won't work with my Wi-Fi ac network, which is a bummer), and it can do everything any other iPad can do. But it can't do more than any other iPad. This iPad, while it looks and feels a bit different, offers nothing new.
As I mentioned before, the iPad Air does four things slightly better: It's slightly thinner, slightly easier to hold, slightly faster, and its cameras are slightly better. In my opinion, owners of the iPad 3 or 4 are wise to save their money. Really. Unless you plan on giving your old iPad to a friend or relative or someone in need of a device, the iPad Air does not offer enough "newness" to justify an extra $500-plus purchase. Seriously, wait until next year when Apple releases the same tablet with Touch ID.
And speaking of Touch ID, let me get into my biggest gripe with this product.
I've sent numerous emails to Apple's media division over the past two weeks, but nobody will answer the question: "Why does the iPad Air include the A7 chip, but not Touch ID?" The A7 chip was built specifically for Touch ID, as its partitioned design creates a secure ecosystem that could never divulge the critical information about one's fingerprints. And given how consistently well Touch ID works inside the new iPhone 5s, and Apple's considerable investment in the technology, it bewilders me that Touch ID was not included in the final build of this device.
There's only one reason Touch ID was not included in the iPad Air: Apple needs a hook to sell next year's iPad. That's great for Apple's bottom line, but it really sucks for consumers, especially since Apple knows theft of iOS devices is an increasingly common issue, hence the reason it created Touch ID.
When you couple Touch ID with the lack of Wi-Fi ac -- two technologies Apple could have included but didn't -- the iPad Air feels like the first iPad release with missing features. And believe me, I really do miss these features. In my first hands-on review of the iPad Air, I mentioned how disappointed I was when "my thumb instinctively went to the home button and stayed there, as if it was expecting the tablet to magically unlock." I would feel so much more comfortable bringing my iPad into work if it had Touch ID. As for Wi-Fi ac, I assume it was left out to help the iPad Air achieve its standard 10 hours of battery life, but I wish Apple pushed itself a little more to include faster Wi-Fi, which next year's model will almost certainly include.
When you boil it all down, the iPad Air is an improvement over its previous iPads, but I believe there is a significant gap between what Apple is advertising and the reality of this product. The iPad Air isn't light, it's lighter. It's not thin, it's thinner. It's not fast, it's faster. This is not a leaps-and-bounds iPad release, despite its upgrades across the board. Unfortunately, the iPad Air suffers from a bad case of cognitive dissonance, because almost every reviewer is praising this product like Apple reinvented the wheel, and consumers are in for a different experience. Apple did not reinvent the wheel, or even the iPad; the iPad Air is an evolutionary, not revolutionary, release.
Final Thoughts
I'll admit it: I'm a huge Apple fan. I've inherited some of that fanaticism from my dad, who was always a big fan of Steve Jobs, and who raised me on a Macintosh. To this day, most of my devices are Apple-made, including my phone, tablet, backup device, base station, TV set-top -- you get the picture.
I've owned an iPad for nearly two years and it's become one of my most-used devices. It can't do everything a laptop can do, but it's getting there, and it's my ultraportable weapon of choice alternative for writing, working, designing, browsing the Web, watching movies and playing games at home or on the road. The iPad can do so many things, and the available applications are endless.
When Apple announced the iPad Air last month, it sounded like the iPad we all know and love got better. And the iPad Air is better, but not by as much as you'd hope, and not nearly as much as Apple would have you think.
The iPad Air is beautiful to look at and use, don't get me wrong. But the iPad Air offers no new technologies or innovations that set it apart from previous iPads. The iPad Air is the iPad equivalent of a haircut: It's the same person underneath, just more shapely.
The iPad Air doesn't feel substantially lighter than its predecessor, even with its smaller form factor -- it just feels condensed. The iPad Air weighs one pound, which is light, but surprisingly not as impressive when you hold the iPad Air in one hand and a previous-generation iPad in the other. Its lightness doesn't have the same "wow" factor as the iPhone 5 had compared to the iPhone 4s, or the MacBook Air had compared to the MacBook or MacBook Pro.
The iPad Air feels like it's in between stages. The iPad Air is essentially a big iPad mini with Retina display, and it doesn't feel like Apple really pushed itself with this product. Besides a slightly reduced form factor, the iPad Air doesn't feel very new, or different. It's a great product, sure, but where's the love? The iPad Air offers no new technologies, no surprises, and no pioneering technology like Wi-Fi ac or Touch ID, which is extremely frustrating given how the built-in A7 chip is practically screaming for a fingerprint sensor. Instead, Apple felt it could sell the iPad Air based on its new form factor alone, but the effort feels incomplete. Why release a tablet that isn't really new? Did Apple need to just release a new tablet for the sake of releasing a new tablet? Has Apple become that company, the kind that must live up to expectations rather than its own desires to innovate or create?
The iPad Air, if nothing else, is simply a concentration of what the iPad was always designed to be, rather than a "new" product. It's portable, it's fast, and it's user-friendly, but it's not noticeably better than its predecessors as Apple chose not to expand any of its functionality in terms of software or hardware. I can't use the iPad Air any differently from any other iPad.
Though the iPad Air is a great tablet, I can't recommend it wholeheartedly to just anyone. If you don't own an iPad, or you own an Android tablet (sorry), or an iPad 1 or 2, the iPad Air is worth your money, but not so if you own an iPad 3 or 4. The iPad Air doesn't live up to the expectations created by its own "Air" name, or Apple's marketing of the tablet. The iPad Air deserves to exist as a product, but it does not feel like a great exercise of what Apple is, or should be, as a technology company. The iPad Air feels like Apple was comfortable with a haircut and nothing more. The technologies are there, as they always have been, but the iPad Air is certainly Apple's most modest step forward yet.
Grade: B
If you absolutely need a tablet right now, the iPad Air is a great choice. But the iPad mini with Retina display, coming in late November, offers identical specs in a smaller and more portable device that's also $100 cheaper. And just remember: You're only 11 months away from Apple unveiling its next iPad Air, which will almost certainly include the missing features from this year's model.
© Copyright IBTimes 2022. All rights reserved.
FOLLOW MORE IBT NEWS ON THE BELOW CHANNELS