Apple iPad Mini: 3 Ways Amazon, Barnes & Noble Can Avoid The Death Knell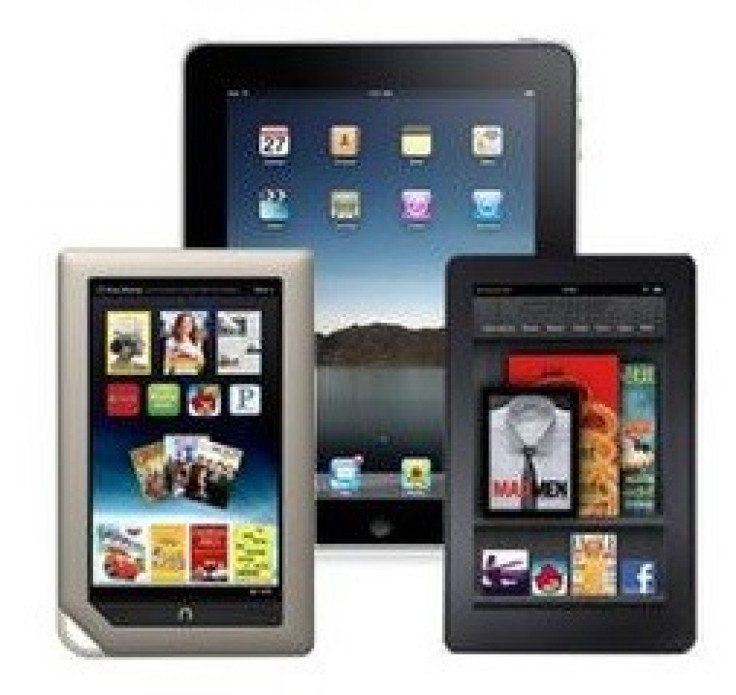 For about a year, Amazon.com and Barnes & Noble were almost completely alone in the 7-inch tablet market. It was nice while it lasted.
The past few months have seen Google and Microsoft unveil their tablet offerings -- the Google's 7-inch Nexus 7, and Microsoft's 10.6-inch Surface, respectively -- and it looks like Apple is about ready to expand its tablet line, too.
Confirming rumors that surfaced in January, Rene Ritchie, the deeply connected editor-in-chief at iMore, reported on July 30 that Apple plans to unveil the iPad Mini along with the company's next-generation iPhone, unofficially dubbed the iPhone 5, at a Sept. 12 media event.
"The iPad mini will be announced at the same September 12 event, as will the new iPod nano," Ritchie said. "We haven't heard a release date for the iPad mini yet, but it could be the same as the iPhone 5."
After Ritchie's initial report, The Verge, The Loop, Reuters, Bloomberg, the New York Times, and CNN all confirmed the iPad mini's unveiling date.
So if Apple releases its first iPad mini next month, what can Amazon and Barnes & Noble do to keep the Cupertino colossus at bay, as well as the other new competitors in the 7-inch tablet game? Even though the companies are not the traditional tech companies like Apple, Google, and Microsoft, Barnes & Noble and Amazon can both find ways to stay alive in this market, even though it's quickly becoming overcrowded.
The iPad Mini Cometh: 3 Ways Amazon, Barnes & Noble Can Survive
1. Lower The Price: Shortly after Amazon introduced the Kindle Fire in September of last year, preorders for the tablet exploded. Amazon reported 250,000 preorders for the Kindle Fire within the first week of availability, clocking an average of 50,000 preordered units per day. The main reason? Even though the Kindle Fire didn't have any cameras or microphones, the tablet cost only $199; for casual users, it's enough to boast their tablet cost $300 cheaper than the new iPad, or $200 than the cheapest iPad 2.
Barnes & Noble learned from Amazon when it came time to announce its first-ever tablet, the Nook Tablet two months later, in November. While the tablet featured similar specs and features, Barnes & Noble wisely decided to price its offering at $250, still far below Apple's iPad price tiers.
If and when Apple announces the iPad mini next month, the tablet will no doubt be cheaper than a typical iPad. The new iPad's pricing currently starts at $499: One may assume the price will shrink along with the form factor. If Apple can price the iPad mini at $250, all of its competitors -- including Google, Microsoft, Amazon, and Barnes & Noble -- are in trouble.
Most people want iPads; they just can't afford them. The iPad mini ought to change this. However, if Amazon and Barnes & Noble hope to survive this wave of 7-inch slates, they may want to reconsider pricing one more time.
Even though it allegedly costs more to produce a Kindle Fire than to sell one, Amazon and Barnes & Noble may need to lower the prices of their tablets to stay competitive with the big boys. Of the two tablet "newcomers," only Amazon is actively working on a sequel to its first tablet. There have been few to no rumors about the development of a Nook Tablet 2.
If Barnes & Noble or Amazon can't churn out another tablet each year, they will need to price their tablets very carefully. Too high, and they'll lose customers to similar competitors from bigger-name tech companies. Too low, and these companies won't make the profits they desperately need.
If Amazon and Barnes & Noble are smart, they will cut their respective tablets by $50, pricing the Kindle Fire at $149 and the Nook Tablet at $199.
2. Provide Discounted Services: Amazon and Barnes & Noble customers are constantly rewarded if they buy a Kindle Fire or Nook Tablet, respectively. For example, Amazon Prime members get to enjoy "unlimited, instant streaming on thousands of popular movies and TV shows," and they also get free two-day shipping on any Amazon products they purchase. Furthermore, Prime members can borrow books from Amazon's Lending Library "for free with no due dates."
It all sounds great, as long as you're already a member of Amazon Prime. Without the membership, Kindle Fire owners must buy their products like all the rest of us. Without a Prime membership, Kindle Fire owners essentially become "unspecial" in Amazon's eyes.
Amazon Prime isn't cheap, either: The service costs $79 a year (about $6.60 a month), so if you have Netflix, it's similar to owning two accounts. If you add that to what customers already pay for the Kindle Fire, Amazon tablet owners are paying roughly $278 for the first year of owning a Kindle Fire. Given the breakneck speed of technological advancement, many tablet owners may want to buy a new tablet after the first year or two.
If Amazon and Barnes & Noble are smart, they would find ways to incentivize customers to not only buy their products, but also buy into their systems. The Kindle Fire gives customers all kinds of reasons to rely on Amazon products and services: If these products and services were made somewhat cheaper to those who already purchased a Kindle Fire, Amazon would get more Prime customers -- and it would get more Kindle Fire owners, too. Right now, however, the cost of entry is just too high.
Barnes & Noble doesn't have any unique services on the Nook Tablet. However, it could offer its users discounts on products purchased on BN.com or in the company's physical stores. Since much of Barnes & Noble's appeal is still centered around the beauty of its physical stores, the tablet could give customers a reason to walk into the stores. Maybe if they hold their tablet up to a book they want, they can purchase the e-version of that book for a discounted price of 50 or 60 percent off, but only if they come to the store.
3. Reflect The Company Identity: The Nook Tablet and Kindle Fire are both great products in their own right, but they simply pale in comparison to the new iPad. Apple has more experience than both of these companies, and it shows in almost every user-interface aspect in the Kindle Fire and Nook Tablet.
Interestingly, the Nook Tablet has received more favorable reviews for its beauty and design than the Kindle Fire. That being said, both companies need to double down on the experience of using these tablets, and they need to focus on instilling what makes their companies great into their respective devices.
For instance, Barnes & Noble is great because of its tradition. Its bookstores have a look and feel to them that cannot be matched: the friendly wooden bookshelves, the green mats and signage, the quiet classical piano playing in the background. If Barnes & Noble wants a tablet that truly mirrors its brand image, it should think more about the design elements of its stores and find a way to establish these elements in the Nook Tablet.
The Nook Tablet is a nice device, but it doesn't scream "class" the way Barnes & Noble's physical stores do. Hopefully, if the company produces a follow-up slate, the Nook Tablet 2 would use different fonts that exude boldness but class, and give its user interface a cleaner, more professional look. The shape of the tablet is comfortable, but Barnes & Noble may even want to consider adding elements of its stores -- colors, textures, and visual cues -- into the Nook Tablet experience.
Amazon doesn't have any physical stores, but that doesn't mean it can't create a compelling tablet that truly reflects the wit and ingenuity of Amazon, its leaders, and the company.
The Kindle Fire's appearance -- a charcoal and orange color scheme -- is quite beautiful, but users have found innumerable issues with the device, which have underwhelmed customers to the point of disgruntlement. Customers have filed complaints about the lack of an external volume control, or how easy it is to hit the off switch by accident. Furthermore, users have said Web pages take too long to load on Amazon Silk and the browser lacks a privacy feature. Currently, any friend or family member can pick up an Amazon Kindle Fire and know exactly what its previous user was looking at.
In addition to the bugs and software issues, analysts and critics have serious concerns about the usability of the Kindle Fire going forward, especially in the reading experience. The search mode is outdated and lacks a real prioritization engine, headlines can't be clicked on, and "page" and "text" views are borderline unreadable. Furthermore, despite the Kindle Fire's lack of physical buttons, many reviewers say they actually prefer the buttons on the older Kindle design better, simply because the small touch-screen buttons on the Fire don't let you see what you're clicking on. This has led to "frequent tap errors and accidental activation," whether it's for inputting text or simply browsing through articles and magazines.
Amazon needs to tackle these specific issues with the reading experience. Before the Fire came along, the Kindle line was known for an incredible e-book reading experience. Amazon needs to get back to the basics of what made its e-reader line great in the first place, and apply them to the color, multi-touch experience on the Fire.
Amazon will likely correct many of these issues in the Kindle Fire 2, which may be unveiled as early as next week, but Amazon really needs to embrace itself as a multimedia library for movies, TV shows, and books, specifically. With the exception of a few nice features, including the smooth Silk browser, the Kindle Fire doesn't feel like it was built by the world's biggest online retailer. Multimedia needs to be more predominantly featured on the tablet -- and Amazon needs to find a better way to have its tablet experience complement its online experience, either visually or from a price perspective.
What Do You Think?
With the iPad Mini quickly approaching, what do you think Barnes & Noble and Amazon should do to stay competitive? Do you think these companies should worry more about Microsoft and Google, instead? Share your thoughts and impressions with us in the comments section below.
© Copyright IBTimes 2023. All rights reserved.
FOLLOW MORE IBT NEWS ON THE BELOW CHANNELS