Apple iPhone 4S in Stores: Can Siri Unlock iPhone 5 Mystery?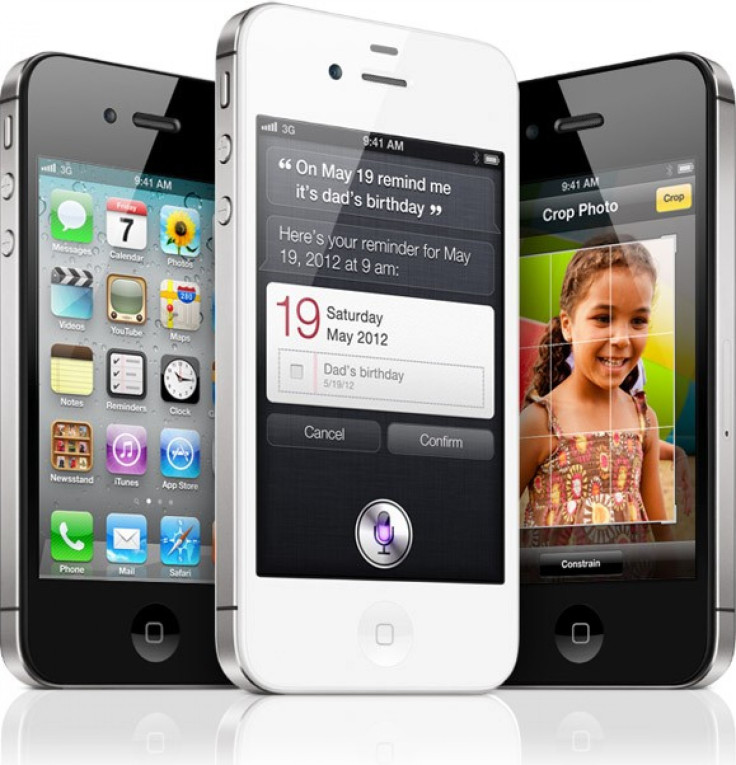 Apple Inc.'s iPhone 4S is in the stores Friday, but the iPhone 5 remained a mystery after all. Analysts are expecting Apple to release a 4G LTE iPhone 5 in 2012.
The features of Apple's iPhone 4S include the latest iOS 5 operating system, iCloud, an A5 dual-core processor found in the iPad 2, a much-improved 8-megapixel LED flash camera with 1080p HD video recording, secondary VGA camera for video chat, alternating antennae for better call reception, world phone with CDMA and GSM support, retina display, a smart personal assistant called Siri, and Bluetooth 4.0 wireless technology.
There has been speculation that after getting the iPhone 4S some Apple fans are going to ask the smart personal assistant called Siri when iPhone 5 will be released.
Siri is a voice-controlled artificial-intelligence system that answers the users' questions in a natural language. The technology is so intelligent that it understands colloquial phrasing and context of the input information too. Users can literally talk to Siri as a person.
Meanwhile, Wedbush Securities analyst Scott Sutherland expects the 4G iPhone 5 and the iPad 3 to arrive next year. Jefferies analyst Peter Misek also expects an iPad 3 launch in calendar first quarter and an LTE iPhone in the first half of calendar 2012.
Analyst Keith Bachman of BMO Capital Markets said in June that the all-new iPhone 5 would arrive only in 2012. We believe the iPhone 5 will launch in mid-2012, Bachman had written in a note.
Apple is saving the iPhone 5 brand for the LTE version, and the new model won't arrive until the 4G LTE technology is ready to be used in smartphones, which won't be out until next spring, Will Strauss, president of market research firm Forward Concepts, told CNET.
Take a look at the rumored iPhone 5 features:
Design: Apple, which is best known for their beautiful design, is anticipated to adopt a teardrop design for iPhone 5 that is supposed to be slimmer and lighter than previous iPhone models. Rather than the current glass backing, iPhone 5 is rumored to come with an aluminum plate casing.
It is expected that Apple is adopting a more uniform design across all of its mobile devices than ever before. For this, aluminum would be a consistent material that will also be used in the upcoming iPad 3 and iPod lineups as well.
Display: Apple's iPhone 4S is just an upgrade of its previous versions with 3.5-inch multi-touch retina display. With major smartphone manufacturers opting for 4.3 inches as the ideal screen for their phones, it is expected that iPhone 5 will have a larger edge-to-edge display, possibly with 3.7-inch to 4.0-inch screen.
The recent legal battle between Apple and Samsung has dimmed the hopeful speculation that they were collaborating to introduce the AMOLED screen technology onto iPhone 5.
The Quantum Dot LED technology could be a possible delivery for the iPhone 5. The new technology needs less power consumption while delivering the same quality of an OLED screen. It does not degrade the quality like OLED thanks to how its nanoparticles emit light.
Rumors of a curved glass display on iPhone 5 have been doing the rounds ever since DigiTimes reported in May that Apple had placed an order for glass cutting machines which are capable of making curved glass covers. It would be interesting to see what comes out on the new iPhone 5.
Operating System: Apple's iPhone 4S has iOS 5, which was announced at the WWDC 2011 keynote address on June 6. The iOS 5 comes with 200 new features that will include Improved Notifications System, Newsstand and iMessage. It will also feature new applications, such as the Reminders app and Newsstand, an application resembling Folders and iBooks.
It is still not known whether Apple will bring out its next OS, presumably called iOS 6, at the WWDC in June 2012 along with iPhone 5. But Misek expects that Apple is looking to merge iOS (iPhone/iPad) and OS X (Macintosh) into a single platform for apps and cloud services starting in 2012-13 and complete in 2016.
Users will be willing to pick up any iPhone, iPad, or Mac (or turn on their iTV) and have content move seamlessly between them and be optimized for the user and the device currently being used. Misek believes this will be difficult to implement if iOS and OS X are kept separate.
Hardware: iPhone 4S comes with iPad 2's A5 chipset. The phone is powered by 1 GHz dual-core ARM Cortex-A9 CPUwith NEON SIMD accelerator and a dual core PowerVR SGX543MP2 GPU. The A5 package contains 512 MB of low-power DDR2 RAM clocked at 533 MHz.
According to a DigiTimes report, Taiwan Semiconductor Manufacturing Co., Ltd. (TSMC) is expected to quietly secure Apple's contract, and even succeeded in extending the deal to cover the manufacture for the A6's successor. But Jefferies analyst Robert Lea cautioned that this is an unconfirmed story and that DigiTimes has in the past been inaccurate.
Apple's next iPad will be faster and more power-efficient thanks to its new, quad-core A6 processor, but the new tablet may not be ready to ship until next June, Linley Gwennap, founder and principal analyst at The Linley Group told PCWorld.
The A6 should bring more performance to Apple devices while preserving battery life. Many of the improvements will come from TSMC's 28-nanometer manufacturing process, said Gwennap. The process will shrink the circuitry compared to the A5, which is manufactured on a 40-nanometer process, making the A6 smaller and faster.
The A6 will likely be based on ARM's Cortex-A9 processor, which is the same design used in the A5. ARM has announced an upcoming Cortex-A15 processor, but the first devices based on that design won't ship until late next year or early 2013, says Gwennap.
It is expected that the iPhone 5 will integrate a fast 1.2-to-1.5 GHz quad-core A6 chip, with probably 1GB or more of RAM.
Camera: iPhone 4S comes with an 8-megapixel LED flash camera and a secondary VGA one for video chat. It is rumored that iPhone 5 will come with 12-megapixel or more. Added to that, iPhone 5 is expected to have a dual-LED flash and the flash unit will be separated from the camera sensor. Along with the rear-facing, speculation suggests that iPhone 5 will have a 2-megapixel front-facing camera for video chatting.
Another rumor indicated that iPhone 5 will have a 3D camera. Apple has filed a patent application related to 3D picture taking to the U.S. Patent and Trademark Office later in March, according to an AppleInsider report. The filing described a system that would be capable of capturing, processing and rendering 3D images with the additional dual-camera hardware.
iCloud: iPhone 4S is featuring the new iCloud service for operating iTunes, providing wireless remote access of music from all computers and mobile devices. The iCloud will also store photos, apps, calendars and documents without using the phone's memory storage capacity.
The cloud will form the center of Apple's strategy, allowing users to effectively keep their identity and content profiles in the cloud, Misek believes. Users will log on to a device where the profile, content and apps will be customized and optimized for the device.
A preview of a beta version of iCloud shows the merger of iOS and OS X is happening with syncing across platforms. Misek said his preliminary view was that Apple could use a 32-bit ARM architecture to address the vast majority of the OS X ecosystem's needs in 2012-13 except for high-end professional devices.
It is expected that Apple will upgrade its iCloud service next year and iPhone 5 will also feature a better service.
4G: Apple's iPhone 4S does not feature 4G LTE technology, but analysts believe Apple has saved LTE for iPhone 5. LTE, which stands for Long-Term Evolution, provides significantly faster download and upload speeds compared to 3G technologies.
Apple's Chief Executive Tim Cook said in April that the first generation LTE chipsets forced a lot of design compromises with the handset and that the company was not willing to make those compromises.
Luckily, Qualcomm is reportedly developing a new, thinner LTE chipset. The chip, dubbed the MDM9615, will likely be a 28-nanometer process, which is considerably smaller than current LTE chipsets' 45nm designs. The new LTE chip is expected to debut in the second or third quarter next year.
Misek stated that Apple will likely launch the LTE iPhone in the summer of 2012, though it could come earlier. This is because Qualcomm's LTE chipsets, which Apple would have used, were not reaching the yields that Apple expects for its iPhone 4S.
Scott Sutherland said consumers could expect an LTE iPhone in with a materially improved user interface in 2012, without explaining any further. If 4G is included, iPhone may be physically larger. 4G requires a large amount of battery power and Apple has always been careful about battery life.
Near Field Communication: NFC allows for simplified transactions, data exchange, and connections with a touch. A smartphone or tablet with an NFC chip could make a credit card payment or serve as keycard or ID card. Globally, 100 million people use mobile payment outside the U.S., but only 3.5 million use the technology in the U.S. It is expected that iPhone 5 will have NFC capabilities.
Wireless Charging: A revolutionary way of charging mobile devices may see iPhone 5 gain mass appeal. The inductive wireless charging technology for the iPhone could juice up its battery without the use of cables or plugs. By utilizing a charging dock, the iPhone can charge its battery as well as share, sync or back up data at the same time.
The Wall Street Journal reported in July that Apple was experimenting with a new way of charging the 2012 iPhone. It is unclear exactly what charging mechanisms Apple is exploring, but it is possible that the company is considering using induction charging or some other similar wireless system that would obviate the need to plug in a cable. Combined with wireless syncing coming in iOS 5, wireless charging could truly make the iPhone a cable-free device.
Fire-proof iPhone: Another rumor is that iPhone 5 will be a fire-proof phone. Apple has filed a patent application for an advanced halogen-free flame retardant material which could be used in future Apple products.
Rumors suggested that the new material will be integrated into the manufacturing of Apple products like keyboards, mouse, iPods, the iPad, cabling and more. Apple's invention provides for a halogen free resin composition that includes at least one thermoplastic polymer, an inorganic filler and a flame retardant additive that is described as being self-fire extinguishable.
Battery: iPhone 4S, which has a Li-Po 1420 mAh battery, gets up to 8 hours of talk time on 3G and up to 14 hours on 2G (GSM). The latest iPhone also has a standby time of up to 200 hours, much lower than iPhone 4's 300 hours standby.
It is expected that iPhone 5 will come with a better battery matching Samsung Galaxy S2 Epic 4G Touch's Li-Ion 1800 mAh, which is not the best on the face of the planet but at least it easily lasts a day or two with good use.
READ MORE: iPhone 4S Goes on Sale Today: How, When, Where and Why You Should Buy Apple's Best Ever Smartphone (PHOTOS)
© Copyright IBTimes 2023. All rights reserved.