Apple iPhone 5s Release: Hands-On With The Seventh-Generation iPhone [PHOTOS + VIDEO]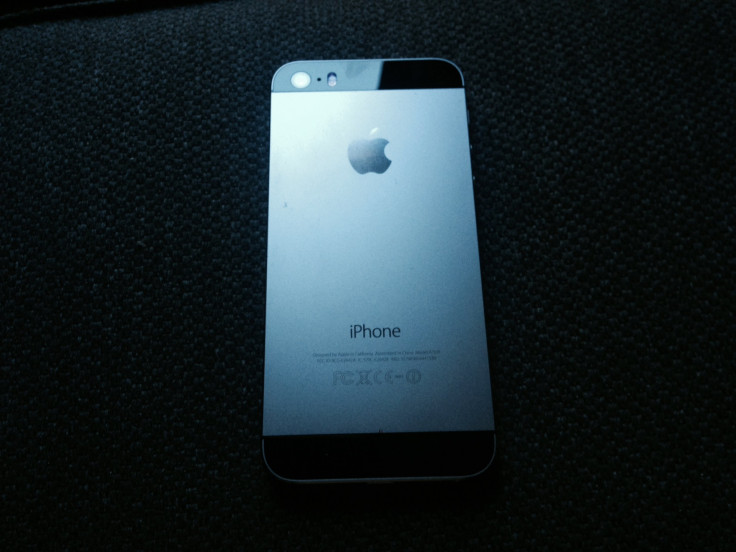 The iPhone 5s is all about polish.
The phone looks identical to last year's iPhone 5, which was the first major iPhone redesign thanks to its thinner and lighter form factor and larger 4-inch screen. This year's "S" upgrade isn't about looks, although the new color options are driving some customers insane; with the 5s, Apple paid special attention to the phone's insides -- cranking up the processor power, adding 64-bit support to make it future-proof, and even implementing a couple of brilliantly subtle features to make it stand out. Paired with iOS 7, the iPhone 5s is the nimble next-generation iPhone experience fans were hoping for (though the iPhone 5c is no slouch, either).
But despite these changes and a new camera system and fingerprint sensor (more on those two features later), the iPhone 5s doesn't sound too much improved from the iPhone 5. But how well does the iPhone 5s perform in practice? We went hands-on with the iPhone 5s, which we purchased on Friday's release date, and we believe we have some answers for you. If you'd like a full review of the seventh-generation iPhone, we'll be publishing our comprehensive review in the coming days (though it won't be as detailed as this review).
iPhone 5s hands-on: Design
If you own an iPhone 5, the 5s is nothing new. It's less than one-third of an inch thick and weighs just 112 grams; compared to an iPhone 4S, MG Siegler said the iPhone 5 "almost feels fake."
"If, like me, you carry your iPhone in the front pocket of your pants, both the trimness and the weight of the iPhone 5 are most welcome additions (subtractions?)," Siegler said in his iPhone 5 review.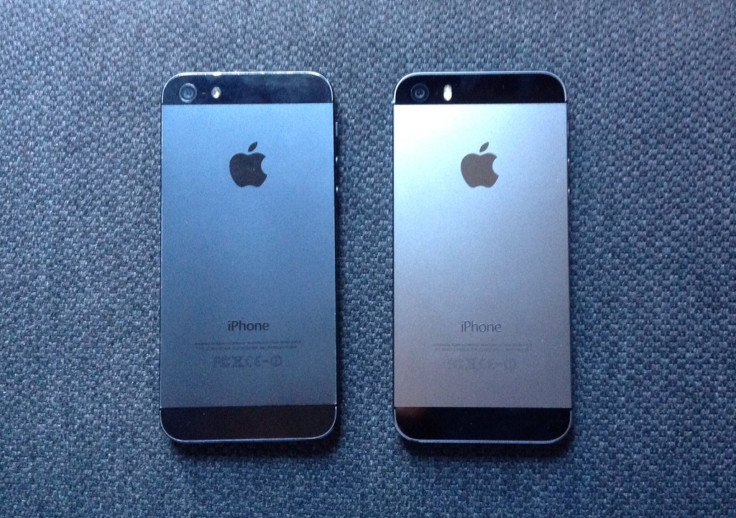 There are two major cosmetic differences with the iPhone 5s: The single, circular flash from the iPhone 5 is now a pill-shaped dual-LED flash, which is built with white and amber LEDs for greater color accuracy, especially for skin tones; and the iPhone 5s is also sold in three colors, including the same silver-on-white theme as the iPhone 5, as well as white-on-gold and space grey-on-black, which replaces the easily scratchable slate-on-black option from the iPhone 5.
All three options are attractive, but I personally dig space grey, which looks slick and much less muted than last year's slate iPhone 5.
iPhone 5s hands-on: Performance
The iPhone 5s is powered by Apple's new dual-core A7 SoC, which boasts speeds up to two times faster than the iPhone 5 in both computational and graphics performance. But even more impressive than its architecture, which is built on "billions of transistors," is the fact that iPhone 5s is the world's first smartphone built for 64-bit. It may not mean much right now, but the A7 chip provides opportunities for developers to build desktop-class applications for iPhone, which can be a real game-changer.
We hope to play around with some 64-bit optimized apps in the coming months, but for now, all other applications run silky smooth on the iPhone 5s. In particular, I played around with Infinity Blade II and Simpsons Tapped Out, which has especially long loading times, even on the iPhone 5. For the latter game, I noticed initial loading times drop from 20 to 30 seconds on the iPhone 5 to about 10 to 15 seconds on the iPhone 5s. Infinity Blade II ran perfectly without a hiccup; I closed and opened the application several times, multitasking between the game and other applications, and I wasn't met with any resistance at all.
When I was just navigating the phone, browsing and multitasking felt just as fast as it did on the iPhone 5, but it never felt like I was encumbering the phone with too much work. The iPhone 5s never got excessively hot to touch, which is a common problem with many Apple devices operating several apps simultaneously. Users should be very pleased with the improvements brought about by the A7 chip (which is helped by the new M7 chip, but users won't notice this new motion-sensing co-processor in any capacity).
iPhone 5s hands-on: iSight Camera
Besides the fingerprint sensor (it's coming, I promise), the new iSight camera is the star of the show on the iPhone 5s. Apple has made substantial improvements to the camera thanks to a 15 percent larger sensor and wider f/2.2 aperture to let in more light. The iPhone 5s features the same 8-megapixels, but thanks to the new dual-LED solution, the iPhone 5s can adjust its flash intensity and color temperature based on subjects in the picture, using more than 1,000 combinations to ensure near-perfect lighting for every photo. Photos look much clearer and more accurate than those taken with an iPhone 5.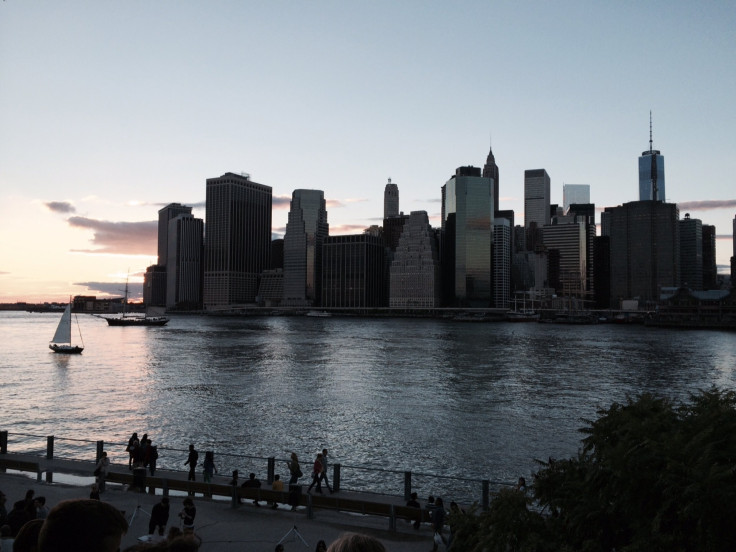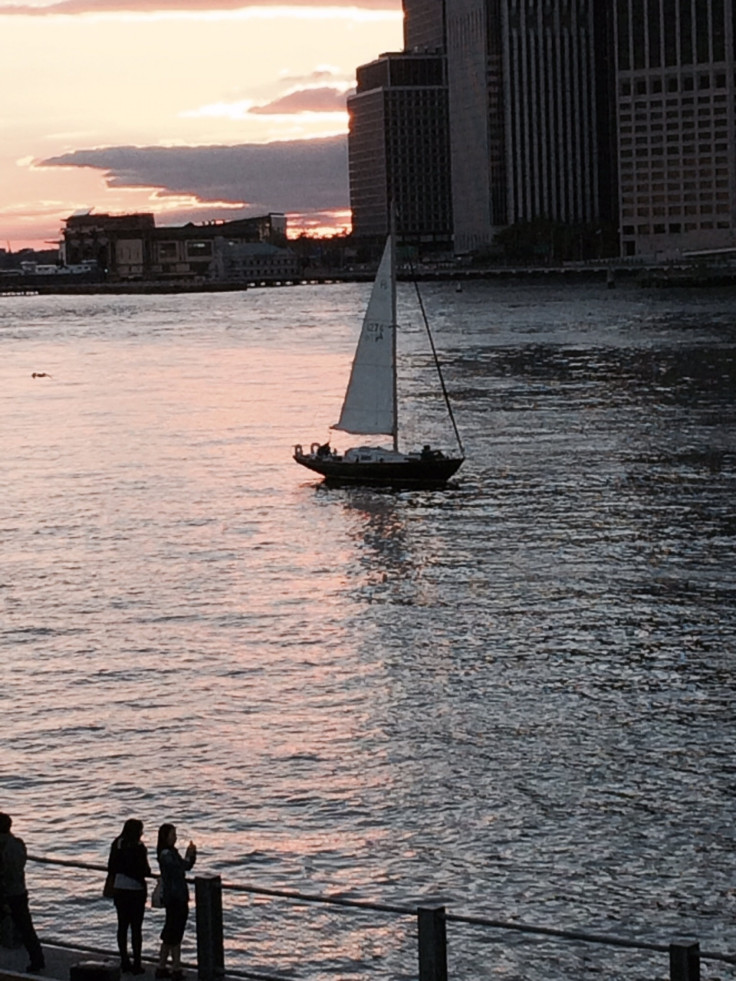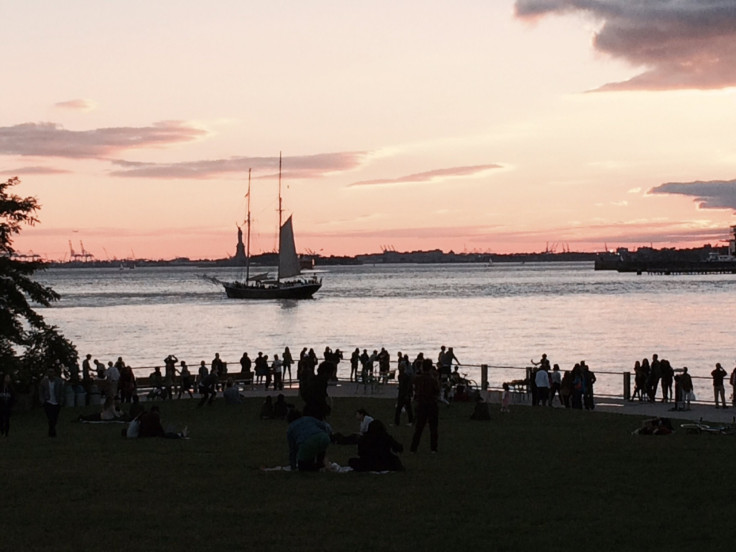 The new iSight camera is good at photos, especially with the 5s-exclusive "burst mode" that captures 10 photos per second and intelligently chooses the best individual shots, but it's even better at video. Auto image stabilization and live video zoom (up to 3x) would be enough for most smartphones, but Apple also introduced a fun slow-motion video setting, which records video at a hyperrealistic 120 frames per second at 720p to make the final video – slowed down at quarter speed – look particularly dramatic. Users will have a lot of fun with this slow-motion video camera; we've uploaded two videos we shot here at IBTimes HQ in New York, and we've also attached a fun co-worker feud shot in slow-mo.
iPhone 5s hands-on: Touch ID
For quite some time, it was rumored that the "S" in "iPhone 5s" would stand for security since Apple urgently acquired Florida-based AuthenTec last July. Everyone believed Apple was after the company's tiny "Smart Sensor," and sure enough, the feature showed up at the iPhone 5s debut as the new "Touch ID."
Touch ID is 170 microns thin, senses 550 ppi, and can scan one's sub-epidermal skin layers with 360-degree readability. The entire apparatus within the iPhone 5s contains a tactile switch, Touch ID sensor, a stainless-steel detection ring and a laser-cut sapphire crystal, which makes it unscratchable. Touch ID can also handle multiple fingerprints too -- up to five individual prints -- so you can grant access to your iPhone 5S to only certain people.
It's simple to set up: Under one's Settings, users can program any finger or thumb (or other appendage, we're not judging) by repeatedly lifting and placing their print on the home button; the iPhone 5s vibrates when it's time to lift your finger. As the iPhone 5s Touch ID reads your fingerprint, a fingerprint graphic on the iPhone progressively changes to red. And once Touch ID is all set up, users can purchase iTunes or App Store content, as well as unlock their iPhone 5s units without a passcode, simply by touching the home button.
Most consumers need not worry about their fingerprints being stolen from their phone. The iPhone 5s physically can't communicate the fingerprint data to other parts of the device or the cloud; the section responsible for housing the fingerprint data in the iPhone 5s simply tells the other half of the processor "yes" or "no" depending on whether or not the sensor could authenticate one's identity. The system is secure, and it also works incredibly fast: By pressing the home button to activate the phone and holding your thumb in place, Touch ID works almost instantly; it's tough to go back to the old "Swipe to Unlock" after experiencing Touch ID.
iPhone 5s hands-on: Final Thoughts
The iPhone 5s is a fantastic smartphone, and easily one of the best of 2013. But the iPhone 5s shouldn't be measured against other smartphones, but rather past iPhones.
Two years ago, the iPhone 4S felt like a major "S" upgrade, mostly thanks to Siri, Apple's virtual personal assistant that promised to make our lives easier. As it turned out, Siri wasn't all that, and users had more fun poking fun at her unhelpful and confused responses rather than heeding her advice.
The iPhone 5s doesn't have one killer feature like Siri, but it does have a few great under-the-hood additions like Touch ID and slow-mo video. If those features, plus enhanced specs, aren't enough for stingy consumers to consider the iPhone 5s, Apple was wise enough to change something on the outside, since so many people continue to judge phones by their cover. For those individuals, Apple released a gold (and purposefully rare) iPhone 5s, which certainly made the phone seem more desirable on its busy release date.
My full thoughts on the iPhone 5s will be featured in an upcoming review, but the iPhone 5s has proven to be a reliable, high-quality smartphone that's a can't-miss product for those looking to upgrade. For more on the iPhone 5s, plus the iPhone 5c and iOS 7, check out my video interview with IBTimes TV's Marisa Krystian, which is embedded below.
FOR FREE to continue reading
✔️ Unlock the full content of International Business Times UK for free
offer available for a limited time only
✔️ Easily manage your Newsletters subscriptions and save your favourite articles
✔️ No payment method required
Already have an account?
Log in
© Copyright IBTimes 2023. All rights reserved.