Apple iPhone 5s Vs. 5c: China Mobile Pre-Orders Start Thursday, Release Date Imminent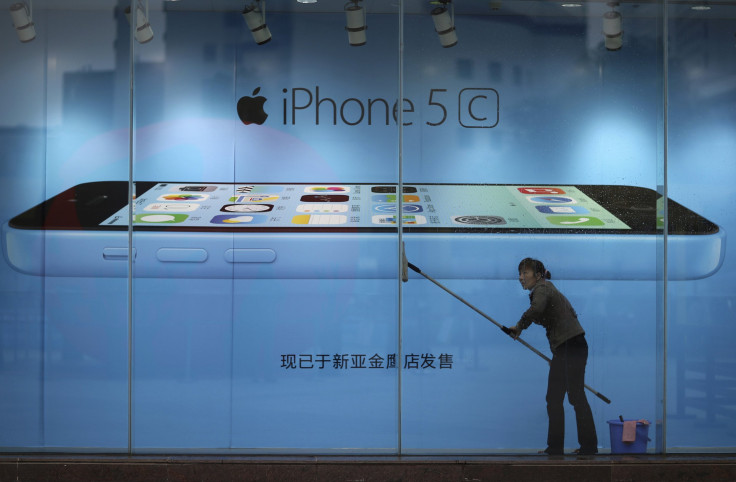 It's a big week for Apple Inc. (NASDAQ:AAPL) and China Mobile Ltd. (NYSE:CHL), as the latter company, which is the largest telecommunications carrier in the world, plans to finally introduce the iPhone onto its mobile service for the first time this month. According to The Wall Street Journal, China Mobile will begin taking iPhone 5s and iPhone 5c pre-orders this Thursday, Dec. 12, through its website and a number of its retail locations in Shanghai.
Apple was unable to sell its iPhones in China until Chinese regulators approved the phone for a network access license in late 2012, which allowed Apple to release its iPhone 5 in the country. One year later, Apple currently sells its iPhone 5s and iPhone 5c via China Telecom and China Unicom, two of the biggest Chinese service providers, but China Mobile is the cash cow with its 740 million subscribers, which is more subscribers than AT&T, Verizon and Sprint combined.
China Mobile may begin iPhone pre-orders Thursday, but the iPhone 5s and iPhone 5c likely won't officially release on the carrier until after Dec. 18, which is when China Mobile will be able to finally roll out its new 4G service. China Mobile initially said it wouldn't sell the iPhone until the company introduced its own 4G platform, but did announce in late November its intentions to release a "new brand" for its mobile service on Dec. 18, which is when its new 4G license goes into effect.
China Mobile currently operates a GSM network and a TD-SCDMA standard that the company helped develop back in 2010. Earlier this year, following multiple visits by Apple CEO Tim Cook to China Mobile headquarters, it was rumored that Apple had plans to build and release special versions of its iPhone 5s and iPhone 5c for China Mobile's TD-LTE standard.
"A deal with China Mobile would give Apple a big boost in the China market as the largest local carrier has the most wealthy subscriber base," Hong Kong-based Mizuho Securities analyst Marvin Lo told The Wall Street Journal. "I estimate that among China Mobile's more than 700 million mobile subscribers, at least 10% or 70 million wealthier ones would be potential customers for iPhones."
China remains an enormous opportunity for Apple. Over the last three months alone, Apple generated $5.7 billion in revenue from sales in the country, up 24 percent from the previous quarter, and that number will only increase as Apple introduces more retail stores and products in China. If Apple can effectively sell its popular iPhone in China, specifically on China Mobile, the company could drastically improve its global market share, especially since fewer than half of Chinese consumers own smartphones. Apple's own global smartphone market share shrank in the third quarter from 14.4 percent in the same quarter a year ago to 13.1 percent this year, while Samsung's market share has risen from 31 percent a year ago to 31.4 percent, according to IDC.
The release rollout of the iPhone 5s and iPhone 5c will continue through December, as Apple says more than 100 countries will release the two new iPhones by the end of 2013. According to Apple, every new iPhone 5s or iPhone 5c customer "will be offered free Personal Setup service, helping them customize their iPhone by setting up email, showing them new apps from the App Store and more," which will give customers a chance to get their new iPhone purchases up and running before they leave the store. Apple and its authorized resellers and retailers will also help customers learn more about the release of iOS 7, which is built into every iPhone 5s and 5c.
About The iPhone 5C
The new iPhone 5c either replicates or improves upon the features in its predecessor, the iPhone 5, but there are a few noticeable differences. First, Apple has replaced the all-aluminum unibody enclosure of the iPhone 5 with a reinforced polycarbonate solution, and the iPhone 5c will also release in five different colors instead of two (black and white), including blue, green, yellow, pink and white.
Inside the shell of the new iPhone 5c, most of the specs look identical to those in the iPhone 5. Running on the same A6 chip, the iPhone 5c features the same 4-inch Retina display, the same 8-megapixel camera with 2.4 aperture and single-LED flash, and will also run iOS 7 upon its release. Apple has improved a few features in the iPhone 5c, including the front-facing FaceTime camera and the phone's battery, and the iPhone 5c also supports 13 LTE bands, which is more than any other current smartphone (besides its cousin, the iPhone 5s).
About The iPhone 5s
The new iPhone 5s is an impressive improvement over the iPhone 5, even though both phones feature the same form factor. The iPhone 5s features the same 4-inch Retina display and chamfered diamond-cut edges, but the phone also comes with a number of new innards. The iPhone 5s is powered by a new A7 processor -- with CPU performance 40 times faster and GPU performance 56 times faster than the original iPhone -- and Open GL, just like the new Nexus 7. To supplement the A7 chip, the release of the iPhone 5s also comes with Apple's new M7 chip, which contains all the motion-tracking hardware Apple needs to make its iWatch a reality. By packing so many components into the M7 motion co-processor, including an accelerometer, gyroscope and compass, the M7 can continuously measure motion data for the newest generation of health and fitness apps.
The iPhone 5s also features a slightly modified battery for greater life, a new and improved camera system packed with new features and technologies that make for better quality images and videos, and a fingerprint sensor called Touch ID, which lets users authenticate ownership and user passwords by simply holding their thumbs on the iPhone's signature home button. Apple chose to release the iPhone 5s in three color options -- white with silver, white with gold, and black with space grey -- but for more information on the new iPhone 5s, check out our review and hands-on with the seventh-generation iPhone, and learn more about why it's worth the price to upgrade.
What do you think of the iPhone 5s and iPhone 5c? Do you think Apple, the iPhone 5s and/or the iPhone 5c will benefit from the exposure provided by China Mobile? Let us know your thoughts in the comments section below.
© Copyright IBTimes 2023. All rights reserved.