Apple iPhone 6S Slammed In China By New Android Models And Pressure To Buy Local: 'I Guess I'll Buy One Eventually'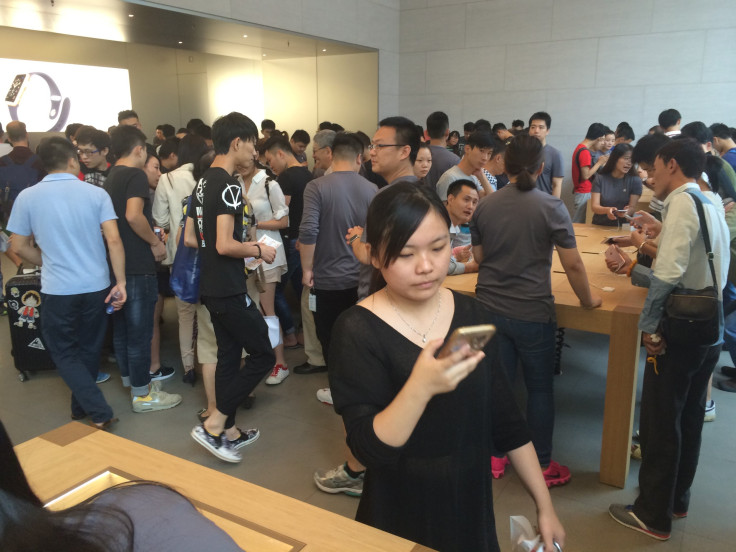 SHANGHAI -- At the Apple Store on Shanghai's Nanjing Road, crowds thronged around the tables to see the new iPhone 6S on Friday, but only those who'd prebooked online could actually buy one. After queuing in a separate area, they were cheered and applauded by Apple staff as they were ushered into the roped-off zone in small groups to pick up their purchases.
The warm welcome was hardly surprising: In the sluggish global economy, Apple needs to maintain its position in China. Since last year, the country has become the company's biggest market, and the iPhone even became China's biggest-selling phone for a few months earlier this year. But the challenges are increasing. In the first six months of the year, China's mobile phone sales were actually down -- by some 4 percent -- for the first time since the financial crisis in 2009. And there is stiffer competition ahead for Apple from Chinese brands like Xiaomi, along with calls for Chinese consumers to "buy local" to help boost the economy.
It all means that Apple is very keen to convince customers that they want a new iPhone, less than a year after the previous model was launched.
Lian Huiming would be just the kind of person Apple was hoping to see. As she stood outside the store clutching the iPhone 6 Plus she had spent $900 on less than a year ago, she said she was planning to buy the new model before long.
"It'll cost two months of my salary -- but I guess I'll buy one eventually," said the 25-year-old communications worker. She'd actually come to check out the new phone for a friend, but she'd been swayed.
"I really like the new functions," she said, adding that the new "rose-pink" color was an improvement on her original model, sheathed in what the Chinese call "nouveau riche gold."
Sean Li, an architect in his late 20s was equally impressed. "It's like something magic, out of Harry Potter," he said, as he inspected the new Live Photo function. "You have a picture, and then you click on it and you have a video and sound, too. You can keep those precious moments with precious friends. Chinese people," he added emphatically, "love new things."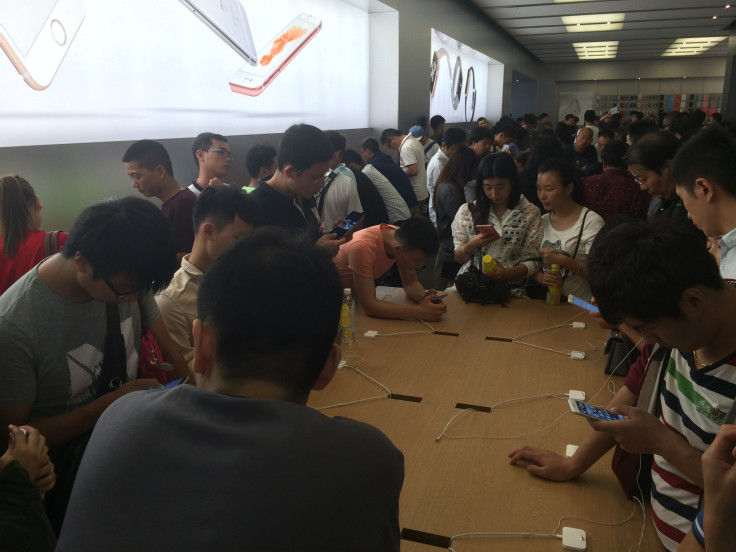 There are certainly plenty of those to choose from in China these days. This year, it seems that barely a week has passed without the launch of a new Chinese-brand smartphone, with companies from almost every technology sector pouring into the market. Computer giant Lenovo, e-commerce behemoth Alibaba, video streaming site LeTV: They've all gotten in on the action. Even anti-virus software manufacturer Qihoo 360's founder Zhou Hongyi has launched a new brand, Qiku.
And that's saying nothing of existing brands like Meizu. And while Xiaomi, which went from nothing to the No. 1 brand in China in two years, until Apple briefly knocked it off its perch, has cut prices and fought its way back while continuing to expand globally.
Established producers Huawei and ZTE, which used to primarily supply bundled phones for China's network providers, have also launched their own brands, which are fast becoming upmarket brands. Huawei's Mate S retails for more than $700, and the firm's sales were up 46 percent in the second quarter of the year. ZTE meanwhile, has climbed to No. 4 in the U.S. smartphone market this year and its high-end Axon model was prominently displayed by members of President Xi Jinping's delegation to the U.S. when they arrived in Seattle this week.
'Ocean Full Of Blood'
It's added to the pressure in a domestic market that Qiku's Zhou described as being like "an ocean full of blood." It's certainly getting nastier: LeTV, for example, reportedly said its aim was to "crush" Xiaomi and Apple. Qihoo is also gunning for Xiaomi, and several Chinese brands are suing each other for infringement of copyright.
And there are signs that even Apple, which has stayed above the fray, trading on its reputation for innovative software, is facing tougher challenges.
"I do get the impression that the Apple effect has faded a little," said Rupert Hoogewerf, CEO of Hurun Report, which specializes in trends among China's wealthy consumers and last year named Apple for the first time as the country's most valued luxury brand for gifting. "I've seen lots of leading Chinese entrepreneurs carrying Huaweis recently -- I'd say between 10 and 20 percent have them now," he added.
There's also been the added complication that state broadcaster CCTV criticized Apple -- and Samsung -- in a recent consumer program, which said some digital cameras in these products did not meet official Chinese standards.
Some analysts saw this as a further attempt to boost domestic players.
Yet it seems not everyone has been won over. "This is a foreign brand-name model. That one's domestically made," said a salesman in a China Mobile store close to the Apple shop, as he showed off a Taiwanese HTC smartphone and explained why many customers would prefer it to a Huawei.
Is Apple Fading?
There are signs that the loyalty of at least some of Apple's customers could be hard to shake.
Stephen Fu, a software designer in his early 20s, who visited the Apple store in Shanghai on Friday to see the new iPhone, acknowledged that domestic brands are improving: "The Huawei Mate S is pretty good," he said. "It's all metal, and the price is not bad." However, he added, "If I'm going to spend $600 on a Huawei then I might as well spend a bit more to buy an Apple. I just really like their products. I've used Android-based phones before and they didn't work so well."
Angela Du, a Shanghai-based editor, also noted that "Some of my friends who are in business really like Huawei, but most of my friends still love Apple,"
"For many people in China, Apple is still seen as the most fashionable brand, and that's very important," said Wang Jun, a mobile technology expert at Analysys International in Beijing. "Apple's core customer base -- the 'Apple Fans' as they're known in Chinese -- is still a large group, and they always want the latest Apple product."
Wang said the larger screen offered by the iPhone 6 Plus has helped the company in China -- where many had previously complained its phones were too small. Equally significant, he added, is the integration of various Apple products via the iCloud means that "for a lot of people, it's not so easy to change to other brands." As a result, he suggested, companies like Huawei and Xiaomi are still primarily competing to take a share of the Android market from established players like Samsung, whose market share fell 5 percent to 22 percent in the second quarter of 2015.
Some observers have predicted that the proliferation of new brands means there will inevitably be a cull soon of some of the players in the Chinese market.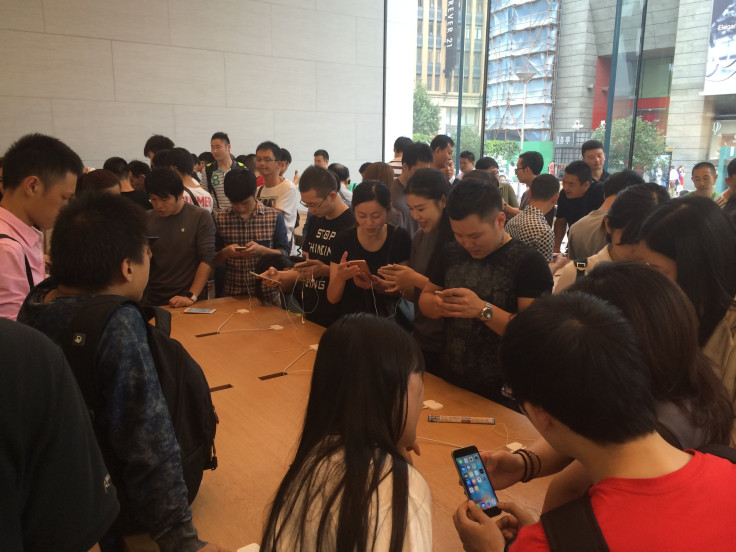 New Ecosystems
And Analysys' Wang said the brands that survive in China's crowded market will be the fittest -- those that can follow Apple's lead in offering more than just hardware:
"It's all about ecosystems," he said. "That's how companies like LeTV and Xiaomi want to build their brands. They won't just offer a handset. LeTV is providing content and it's buying the TV rights to a lot of sports; Xiaomi wants to offer a whole infrastructure linked to your home electronics, your television, your router, health products."
And Wang suggested it could be possible for such brands to coexist alongside Apple: "It's very common for people in China to have two phones," he noted, meaning they may have a high-end smartphone to impress business contacts and another for specific practical purposes.
Wang Jun added that, despite some signs that the slowdown in China is taking the gloss off the country's consumer spending boom, sales would remain basically stable this year. He predicted a stronger third quarter, traditionally a peak season for the Chinese market. And he argued there is still room for the high-end sector of the market to develop further:
"We are seeing some impact from the economy and demographic trends are having an effect, too, with the number of young adults increasing more slowly now," he said, "but wages are still growing, and the market is maturing, too. As more and more brands move into the high end sector, they're bringing customers with them. These people started using basic smartphones; now their spending power has improved and they want to move up to a better model."
Hot In Shanghai
There are still regional differences: Research from Chinese mapping app Gaode shows Apple doing particularly well in the Yangtze River Delta, the affluent region around Shanghai, with other brands more successful in other parts of the country.
And even for some in Shanghai, an iPhone is still out of reach:
"I wouldn't buy one. They're so expensive," said Vicky Zhang, a hotel worker waiting for her friend outside the Apple store. "I wouldn't know how to use one anyway," she added. "I only use phones for making calls and sending texts."
But for some Chinese consumers, they have simply become a part of life.
"It's just what it is," Jeff Zhu, a businessman in his 40s, said matter-of-factly, as he surveyed the gleaming iPhone 6S Plus he'd just taken out of its box after ordering it online. "It looks alright. It's not so different, but the camera's better. And iPhones are faster than other brands, and they don't freeze so much," he added. "If you're going to buy one, you might as well get it sooner rather than later."
In Cupertino, they'll be hoping such attitudes continue for a long time to come.
© Copyright IBTimes 2023. All rights reserved.