Apple To Live Stream iPad Air 2 Media Event Next Week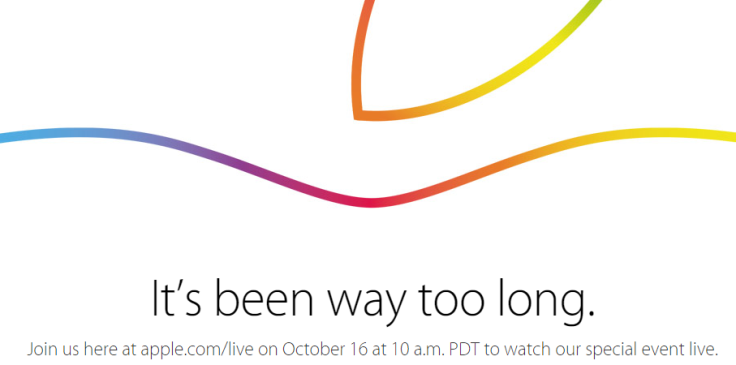 Maybe the second time's the charm. Apple updated its website on Friday, disclosing the company's plans to livestream its Oct. 16 media event.
The live page is much simpler this time, as it doesn't feature a countdown clock. Instead it simply says: "It's been way too long," and provides some details about the event.
For those looking to watch the event, the stream on Apple's website begins on Oct. 16 at 1 p.m. EDT/10 a.m. PDT. Users will be required to watch it from a Safari browser on OS X version 10.6.8 or later and Safari on iOS 6 or later. Apple TV owners can also stream the event if they own a second- or third-generation Apple TV model running 6.2 software or later.
Hopefully this time around, Apple's live stream will run smoother. Though there was much fanfare surrounding the launch of the company's iPhone 6 on Sept. 9, its announcement was marred with live stream problems and technical issues, such as a Chinese interpreter's voice being broadcast over the live stream audio.
Those using Microsoft Windows or other operating systems will likely only be able to follow the event through a live blog on Apple's website, which it used for its Sept. 9 event. While some were able to find unofficial ways of watching Apple's last live stream event, it's unknown if those methods will work this time around.
The media event, which will be held at Apple's Town Hall auditorium on its campus in Cupertino, California, is expected to be the launching point for several upgrades to the company's product lines, including the 9.7-inch iPad Air 2, the iPad Mini and a long overdue update to the Mac Mini.
Apple is expected to add Touch ID in the iPad Air 2 along with a number of upgrades, such as 2GB of RAM. This may also allow the company to add Apple Pay, its upcoming mobile and online payment system, to its tablet lineup. Though Apple is expected to announce the devices, it's unknown when they will be in stores.
© Copyright IBTimes 2023. All rights reserved.