Apple Siri 2.0 Might Have Machine Learning, Improved AI, Facial Recognition And More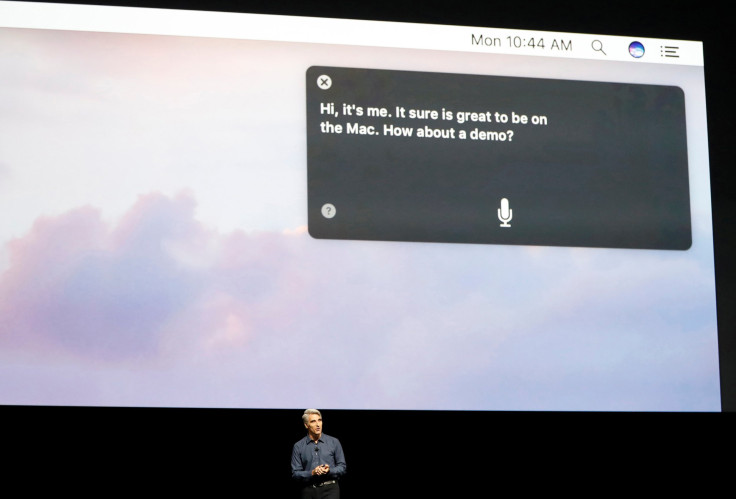 Apple might be ahead of most of its rivals in terms of sales and branding, but for the past few years, it has been lagging behind in terms of features. An important feature of Apple's iPhone is Siri -- the company's voice assistant.
Siri was the first conversational voice assistant on the scene in 2011. However, in the past year it has been left behind by artificial intelligence (AI) based voice assistants such as the Google Assistant and Samsung Bixby. While Siri has remained limited by its pre-recorded responses to queries, other AI-based voice assistants have developed the ability to evolve with usage. Unlike the current version of Siri, they are based on machine learning algorithms. This makes voice assistant less conversational.
Read: Tim Cook Talks iPhone 8, Siri, Home Automation, CarPlay In Apple Investor Call: Expected Product Developments in 2017
Apple has reportedly been working on improving Siri for a long time. At the World Wide Developers Conference 2017, it is finally expected to release a version of Siri, may be the Siri 2.0. Its expected features include:
Facial recognition: Apple acquired Israeli cyber technology start up RealFace in February. The company is expected to use RealFace's facial recognition software which replaces passwords with biometric login. Before being acquired, the company had launched an app called Pickeez which was capable of automatically sorting your best photos from any platform.
The technology is expected to be included in upcoming, improved version of Siri.
Machine learning: Machine learning is the major differentiator between Siri and other voice assistants. Currently, Siri doesn't evolve according to usage. But Apple did acquire two machine-learning startups, Turi and Perceptio, in the past two years. Perceptio's technology has machine learning algorithms to classify images on smartphone and calculates storage requirements without the need to store images on the cloud.
Turi offers advanced machine learning and data differentiation features. It lets developers build apps with machine learning and artificial intelligence which can be automated to scale and tune according to the app's requirements.
Text and image analysis: There has been a deluge of AI-based voice assistants in the market. Samsung's Bixby is the most advanced of all. While most of its features are quite the same as Google Assistant, what majorly differentiates it is Bixby Vision – a feature that lets the user get information by just pointing the Galaxy S8's camera at it. With its most recent acquisition Lattice Data, Apple is expected to endow Siri with a similar feature or even a more enhanced one. Lattice's technology uses large scale unstructured data from the internet such as text and images and puts it in a more structured, usable form. This opens up large-scale possibilities for Siri since the technology could make it more of a visual-based voice assistant than the current audio-based version.
Smart Home Integration: Siri has already been integrated to devices other than iPhone such as the company's laptops and tablets. A Siri-based smart speaker is reportedly in the works. The voice assistant is therefore expected to become a part of smart home technology. Apple has been working on the technology as indicated in the company's CEO Tim Cook's investor call in February.
Read: Microsoft's Amazon Echo-Like Cortana Speaker's Features Include MS-Word Integration, Conversational AI
Conversational AI: Since Siri-based smart speakers are expected to be in the works, it is expected to get more conversational i.e. it will be able to hold conversation back and forth like humans silimar to the recently launched Microsoft Cortana based Harman Kardon Invoke speaker.
Apple is yet to give out any hints about an improved version of Siri.
© Copyright IBTimes 2023. All rights reserved.