Apple WWDC 2011 iCloud and iOS 5: Biggest assault ever on rival Android?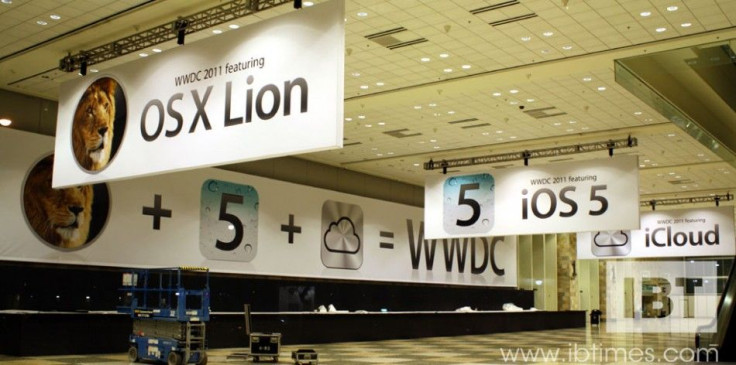 All eyes are on Apple iCloud and iOS 5, the technology giant's cloud-based photos, music, and video streaming service and next generation mobile operating system that are going to be the key attractions of Apple Worldwide Developers Conference (WWDC) 2011 as they could become Apple's most lethal weapons ever against rival Android.
According to many analysts, including JMP analyst Alex Gauna, Apple iCloud and iOS 5 can make or break the company, which is facing stiff competition from Android.
The success or failure of iOS 5 and iCloud can in fact provide a boost to or mar the sale of Apple's next generation iPhone (dubbed iPhone 5 and, sometimes iPhone 4S).
There are speculations that the next generation iPhone will be a smartphone on steroids compared to iPhone 4 as it is expected to feature 8 MP camera, A5 processor, a 4-inch display, 1080p output, curved glass screen, a SIM-less design, 3-4 internal antennas for both GSM and CDMA networks and 4G connectivity.
However, many, if not all, of these features are already present in top-end, comparatively priced Android smartphones, including Samsung Galaxy S II, HTC Thunderbolt, LG Optimus 2X and Motorola XPRT.
In other words, what could possibly set iPhone 5 (or iPhone 4S) apart from rival Android smartphones are iOS 5 and iCloud.
According to Gauna, with iOS 5 and iCloud, Apple is in a unique position to shock and awe the world with enhancements, extensions and harmonization and their release at the WWDC could be much more revolutionary than the launch of the fifth-generation iPhone itself.
What makes iCloud a game changer?
Analysts say Apple's new cloud-based photo, music and video streaming service that would allow users to store data on servers and access them from their devices on the go, could kill similar services offered by rivals like Google (Music Beta digital locker) and Amazon (Cloud Drive).
Unlike its rivals, Apple has already signed licensing deals with major music labels and is already in negotiations with film producers.
Moreover, unlike Google's and Amazon's services, which require users to upload their songs or data, Apple iCloud will be able to scan a user's library and make mirror copies available instantly.
In other words, iCloud users will be able to stream music to their devices, by matching the song's ID within Apple's archives, without having to upload their library onto Apple's servers.
This is in fact iCloud's biggest advantage over its rivals as it will not only boost iTunes sales but also could wean away customers from rival services, analysts say.
Apple's licensing relationships and 'controlled' platform may appeal to studios/publishers seeking to minimize piracy, while protecting their economics in a hosted model, RBC analyst Mike Abramsky said.
iCloud may also be differentiated via Apple's trademark user experience for convenience, simplicity, and discoverability, Abramsky said to his clients.
iCloud APIs may in time extend to developers, he added.
Agrees Sterne Agee analyst Shaw Wu.
According to Wu, iCloud has the potential to make Apple's iTunes even more powerful, making it tougher for rivals to keep up.
It looks like Apple will likely offer some base service for free, Wu said. Competitors, including RIM, Google, Amazon and Microsoft already have a hard time competing with iTunes as it is, but we believe will likely find it even tougher with iCloud enhancements.
According to Trip Chowdhry, managing director of Global Equities Research, iCloud could also enable the technology giant to design new devices around the service.
iCloud by itself will not be a billion dollar revenue opportunity, Chowdhry said. It is an enabling technology ... once you have things in the cloud, you can create new devices that (have not) been created right now.
Music industry analyst Bob Lefsetz also doesn't mince his words while weighing in his thought on the impact iCloud can make in the industry.
If Apple wins, everybody else dies. We learned it with the iPad. We learned it with the iPod, Lefsetz said.
And, it seems Apple doesn't care if others live or die.
In recent months, Apple has been giving final touches to its $1 billion data center in Maiden, North Carolina - billed as the largest data center in the world - and the half a million square feet center, which is expected to go live this spring, will give Apple massive computing power to achieve numerous things that were not possible before.
The data center expansion, analyst firm Zacks Equity Research feels will allow Apple to add more value-added features to the iPhone, while assigning the task of storing and processing applications to the cloud.
Transfer of the storage function to the cloud would also be beneficial for Apple, since this could lower hardware costs. Device speed would also increase, the company said in a blog.
What makes iOS 5 a game changer?
iOS 5, Apple's latest mobile operating system which has been billed revolutionary, is expected to have groundbreaking features that will help the next generation iPhone steal a march ahead of its rivals.
Though Apple, which is well-known for its corporate secrecy, has not yet announced its features, speculations are rife that it will offer better navigation system, automatic sync system that runs on background, easier file organizing system, near-field communication (NFC), and some widgets on the unlock screen.
Other expected iOS 5 features include genuine multitasking, faster over-the-air updates for apps, improved notifications capabilities, enhanced widget capabilities and better speech recognition features.
There are also reports that iOS 5 will have Twitter integration that goes beyond basic features like photo sharing and sending tweets. If that's true, it's going to give Apple a major boost as, with social network sharing already being a common feature that any smartphone should include, the addition of Twitter along with existing options such as auto complete of hashtags, previews of attached photos before posting, auto-shortening of urls, and showcase of latest trend topics, in iOS 5 can usher in an efficient and user friendly experience onto Apple devices for sharing text, links, photos, and videos.
Conclusion With iCloud and iOS 5 being the major focus of WWDC 2011, the new iPhone may not get launched at the event. However, Apple couldn't care less.
We believe reaching cloud music deals would be a great start and further distance AAPL from GOOG, AMZN, MSFT, and others, which in the last 10 years or so have failed to put even a minor dent to iTunes, Abramsky said.
Apple's WWDC will take place from June 6 to June 10.
© Copyright IBTimes 2023. All rights reserved.