Apple's iPhone 5 Release Shatters Sales Records, Called The 'Rolex Of Smartphones' By Analyst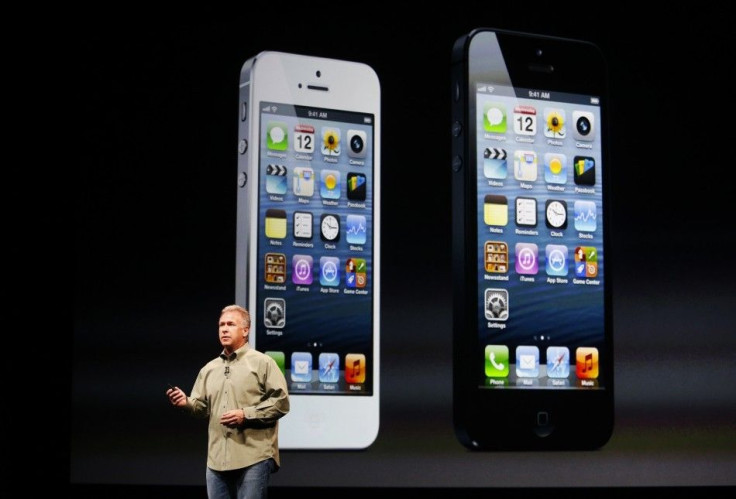 Apple's iPhone 5 has been called one the most anticipated smartphone launch in history, and the device's pre-order numbers have proven this to be true. After completely selling out in just one hour on Sept. 14, the iPhone 5 set a new pre-order record for both AT&T and Apple. Apple fans ordered more sixth-generation iPhones from AT&T than any other previous model during its first day of sales and over the weekend.
AT&T announced the news on Monday, stating Apple's iPhone 5 is now the "fastest-selling iPhone the company has ever offered."
The Cupertino, Calif.-based computer design company also shared its sales numbers on Monday, noting that more than two million iPhone 5 devices were pre-ordered within the first hour of availability. This figure more than doubled the pre-launch sales of Apple iPhone 4S, which was released nearly one year ago.
"iPhone 5 pre-orders have shattered the previous record held by iPhone 4S and the customer response to iPhone 5 has been phenomenal," Philip Schiller, Apple's senior vice president of Worldwide Marketing, said in a statement. "iPhone 5 is the best iPhone yet, the most beautiful product we've ever made, and we hope customers love it as much as we do."
The official retail release date for Apple's iPhone 5 is Sept. 21, but customers that pre-ordered the device for delivery shouldn't expect to snag their shiny new Retina Display smartphone on launch day. Phones ordered online aren't expected to arrive until Oct. 5, as Apple's website says, and iPhone 5 handsets are expected to be sold out by Sunday following its retail launch.
Piper Jaffray analyst Gene Munster examined Apple's launch history with other long-awaited products, arriving at the conclusion that the iPhone 5 may not be back in stock for at least two weeks.
"For the iPhone 4 and iPad 2, they were gone after the first weekend, and there were lines for weeks afterwards," he said to USA Today.
When Apple unveiled the iPhone 5 to the public for the first time on Sept. 12, it was received with some lackluster reviews via Twitter, where the masses voiced their opinions on the next-generation smartphone. However, according to the Piper Jaffray analyst, who has made iPhone 5 predictions in the past, the iPhone 4S successor will not fail to please.
"We believe that while the media bubble around the iPhone 5 has met the phone launch with mixed opinion, the reality is that when actual consumers have the product in hand, we believe they will be impressed," Munster said in a research note, according to ZDNet.
The superior materials that went into creating the iPhone 5 puts Apple's new device ahead of other competitors in the market, Munster said.
"We view the iPhone 5 as the Rolex of smartphones in terms of quality and build, while the majority of other phones are dominated by lesser quality plastic and feel more like Timexes," the analyst added. "Why would someone buy a Timex when they can have a Rolex for the same price?"
Customers are already lining up in front of the Apple store at Fifth Avenue in New York City, and Munster has predicted that the arrival of the iPhone 5 will herald in the largest lines in Apple history-comparable to those of the original smartphone's launch in 2007.
"It will be a madhouse," Munster said according to USA Today.
Apple's Natalie Kerris told the publication that the company is "blown away" by the iPhone 5's pre-order numbers, and tech analyst Richard Doherty said that this quick sellout could have created a chaotic launch scenario.
"Apple expected the pre-orders to be a one-day cycle, and they were shocked that it was just one hour," Doherty of Envisioning Engineering Group said to USA Today. "They clearly were caught by surprise by the size of the orders. [Had they continued fulfilling online orders] they might have only had two phones available at stores on Friday."
Apple's iPhone 5 features a longer and sleeker 4-inch display, a brand new 8-pin "Lightning" dock connector for charging and syncing, full console quality-gaming graphics, an 8-megapixel sapphire crystal lens camera, and an improved battery life, along with other new additions. The release date for iOS 6, Apple's next-generation mobile operating system, is this Wednesday, Sept. 19.
© Copyright IBTimes 2023. All rights reserved.