Apple's New iPhones: Everything You Need To Know About iPhone 6, iPhone 6 Plus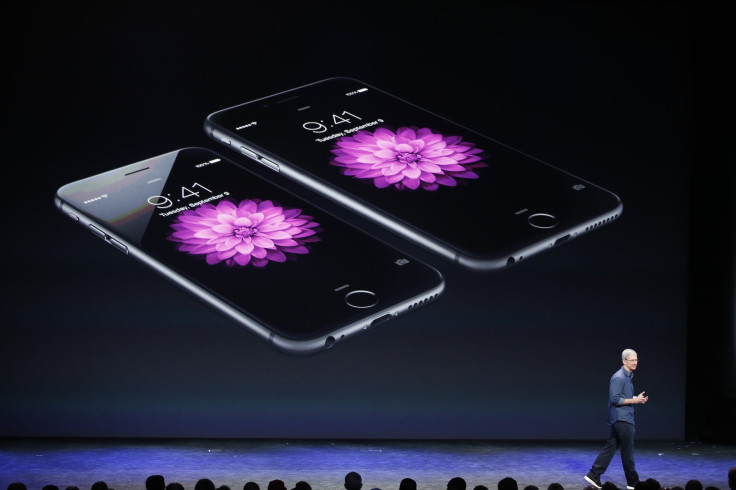 With typical Apple Inc. (NASDAQ:AAPL) stagecraft, CEO Tim Cook attempted to show the world that it can still innovate with two bigger, thinner and faster iPhones designed to breathe new life into Apple's smartphone business.
The new phones include an iPhone 6 with a 4.7-inch diagonal screen and an iPhone 6 Plus, a big-screen, 5.5-inch model that challenges Apple's iPad Mini in size as well as popular "phablets" from manufacturers like Samsung, LG and HTC.
Each phone comes in three storage sizes -- 16 GB, 64 GB and 128 GB. The iPhone 6 costs $199, $299, and $399, respectively, at each of these points. For the bigger-screen iPhone 6 Plus, it's an additional $100 at each price point.
"These are the best phones ever made," Senior VP and head of Worldwide Marketing Phil Schiller said with typical Apple understatement. "They are packed with incredible innovations ... and yes, they are bigger," he said, in a nod to the widespread leaks of component parts, including screen size.
The phones mark the advent of a new generation of high-resolution displays called Retina HD displays (older apps designed for smaller screens will automatically adjust to the new screen size). The smaller iPhone 6 is capable of displaying 1 million pixels. The iPhone 6 Plus has a screen that can output 2 million pixels. Despite these impressive resolutions, both phones are thinner than the current top-of-the-line iPhone, the iPhone 5S.
The larger screen means there are some new usability features built in -- there is now a landscape view for the home screen, and a special one-handed mode to enable going forward and backward on websites inside Safari with a swipe of the finger. A new internal motion sensor and barometer will work with fitness apps to track your elevation as you jog and cycle.
Apple is boasting the implementation of a new technology called "carrier aggregation" to boost your wireless LTE speeds. The iPhone 6 family will also support voice calls over Wi-Fi if you're connected to a wireless network. If you leave a Wi-Fi area, your device will revert to its standard data connection. This feature will only work on T-Mobile phones in the U.S. to start.
Aside from screen size, the iPhone 6 models are the same, with one exception. iPhone 6 Plus gets optical image stabilization in addition to digital image stabilization to compensate for a shaky hand or to allow sharper low-light photos.
The iPhone's camera has also been tricked out with a feature called Focus Pixels, to enable the phones to focus twice as fast as the previous generation of iPhone. Apple SVP of Worldwide Marketing Phil Schiller says that this is the same type of technology used in high-end DSLR cameras.
Apple has also built in its NFC payments system called Apple Pay which stores encrypted credit card information, either the card connected with an iTunes account or one photographed and stored in the phone. The company emphasizes that Apple Pay is easy and secure — your card number is never stored or shared, and Apple doesn't know what you buy or how much you spend. Apple has gotten 22,000 retailers on board to support Apple Pay, including Macy's, Bloomingdales, Wallgreens, and Duane Reade. It's a serious effort to kill the wallet.
The devices come as Apple is attempting to hold the line against market-share losses to devices powered by Google's Andoid operating system, broadly, and Samsung. The iPhone 5s is still the top-selling single smartphone in the U.S., but Samsung is the overall leader in smartphone sales, and Apple has lost the market share battle against Google-powered Android devices in the U.S. and around the world.
In August 2014, Android-powered devices captured 62.9 percent of the U.S. market compared to 30.9 percent for iOS-powered devices, according to Kantar Worldpanel ComTech. Around the world, the disparity gets more stark: In China, where homegrown competition from Xiaomi, Huawei, Lenovo and others is eating into the market, Android has 84.6 percent share. Apple is a distant second with 13.2 percent.
The Yankee Group estimates that nearly 1.45 billion Android-powered smartphones will be sold around the world in 2014, compared to 386 million iOS-powered devices and 123 million Blackberrys and 107 million windows phones.
In tablets, Apple is also rapidly losing market share. In 2012, Apple-powered devices had 52.8 percent of the global market, according to Gartner. By 2013 that dropped to 36 percent as sales of Android tablets from the likes of Samsung, Lenovo, ASUS and others surged.
Apple has long resisted bigger-screen iPhones in part to protect its iPad tablet business. But while the iPhone 6 Plus challenges the iPad Mini in size, it beats the top-of-the-line iPad Air's A7 processor with a new A8 processor, which Schiller said is 50 times more powerful than the processor included in the original iPhone.
Apple begins taking pre-orders for the phones Sept. 12 and they go on sale Sept. 19.
© Copyright IBTimes 2023. All rights reserved.