'Aquarius' Star Chance Kelly Talks About Ed Culter And What's Ahead for Season 1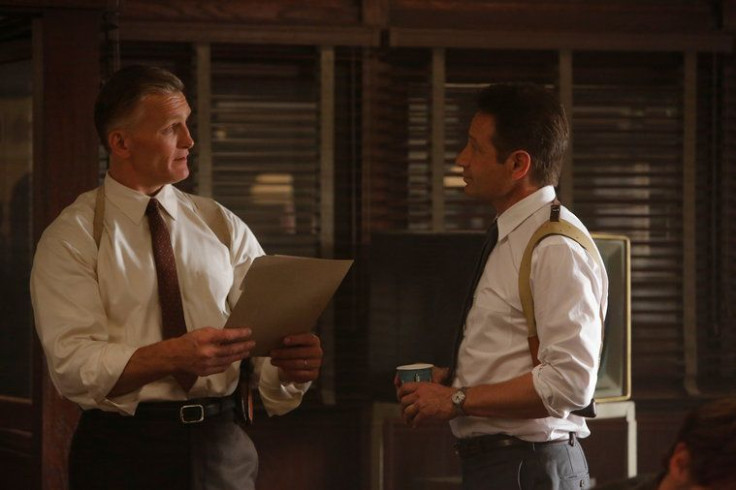 With nearly half of the first season of NBC's new show "Aquarius" behind us, all of the major players in the Charlie Manson-inspired cop drama are starting to fall into their respective roles. One in particular is the LAPD's new curmudgeonly homicide lieutenant Ed Cutler (Chance Kelly).
Many may remember actor Chance Kelly from his role in the oscar-nominated film "American Sniper," where he took a role very similar to his previous part on the hit HBO miniseries "Generation Kill." Now, he's investigating crimes for the LAPD in 1967 on "Aquarius."
In a show about the 1960s and the cavalcade of changes that came with it, Detective Ed Cutler acts as the show's resident voice from the past. This ends up bumping heads with Sam Hodiak (David Duchovny) and his investigation into the strange world of sex, drugs and free love with Charles Manson (Gethin Anthony) at its head. Luckily for Cutler, actor Chance Kelly feels that the past has made him tough enough to get by.
"Cutler kinda looks at all these kids the same. To him it looks like they're all trying to take over and it's his job to beat em down and make sure they don't," Kelly told the International Business Times. "It's emblematic of the change that's coming through the 60s. The whole show is about change and a lot of people that are resistant to -- and scared of -- it."
While fighting for the past is his character's principal purpose, his practical one is to move up the political ladder in the department. The most recent episode of "Aquarius" that aired live on NBC saw Cutler take over as acting Lieutenant following the near death of the real one. Unfortunately, as viewers will find (and some of the binge-watching viewers already found out), Cutler's desire to be at the top doesn't exactly rub the people around him the right way.
"He's a little one-dimensional when it comes to his approach to things. It's his way or the highway and that's not always the way things work."
Luckily, for the character's around him, Cutler's also got his vices. His highly intriguing relationship with Hodiak's ex-wife, Opal (Jodi Harris), for example. The relationship was presented to the viewers when Hodiak dropped by the house only to have Cutler pull a gun on him in his underwear. No one ended up murdered, but it sure made things awkward between the two former partners. This begs the question, was it all worth it?
"I think it's something that works for Cutler and Opal. I think it's something that works for them at the time," he said. "They're not madly in love with each other and I don't think they ever were. It happens a lot with divorces, they find what's working out and then sometimes move on to the next best thing."
Kelly offered IBTimes a little insight into what's really motivating the characters behind-the-scenes -- booze. Savvy fans will note that Hodiak has his troubles with both booze and ex-wives. As it turns out, those two things are related. That's right, Opal has a bit of a drinking problem and so does Cutler… But, like, by 1960s standards.
"That's essentially what the relationship is about," Kelly said. "It's just another indulgence. I don't think there's any level of true intimacy or anything like that."
For those watching the show live on NBC Thursday nights, Kelly said that he thinks the episodes continue to get better from here on out. Meanwhile, those who have been watching ahead will understand exactly how pivotal a role Cutler becomes.
© Copyright IBTimes 2023. All rights reserved.