Are Legacy Preferences Affirmative Action For White Students? How Supreme Court Case Could Influence College Admissions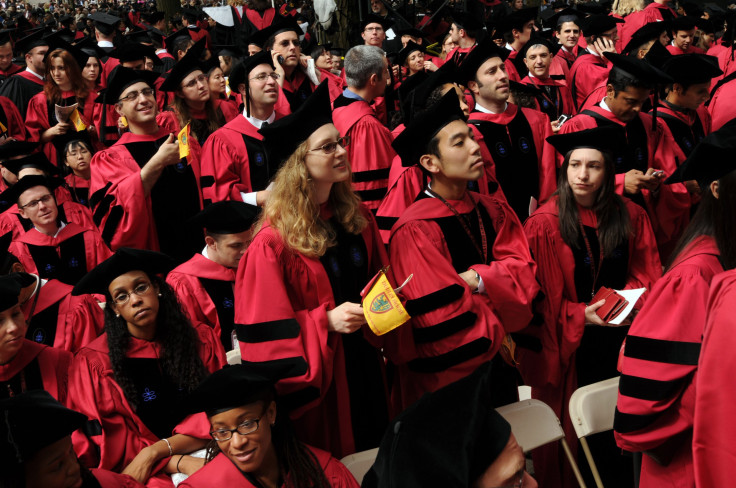 If it's black and orange, Archana Pradhan has it in her home.
She may have graduated more than two decades ago, but her love for Princeton University and its merchandise just keeps growing. Pradhan lives three miles away from the New Jersey campus, attends class reunions every five years and does alumni interviews with Princeton applicants. So when her daughter Ashlyn decided to become a Tiger herself, Pradhan was overjoyed — and not completely surprised.
"From a very early age, I always imagined that my daughter would go to Princeton," said Pradhan, an associate professor in the department of obstetrics, gynecology and reproductive sciences at Rutgers Robert Wood Johnson Medical Group in New Jersey. "It's funny, you don't even think about how competitive it is and your child may not get in."
Ashlyn had her legacy status in her favor, and her mom supports the admission practice favoring children, grandchildren and siblings of alums to a degree. It's similar to how she feels about affirmative action in college admissions — race can be a factor in the evaluation process, just not the only one.
"If there are two students who are equally capable and will add to the Princeton community, and one of them is a legacy and one of them is not, I would hope they would take the legacy," Pradhan said.
The United States Supreme Court is expected to rule soon on affirmative action in admissions in the case of Abigail Fisher vs. the University of Texas at Austin. If the justices decide to ban the policy, higher education institutions could be forced to explore other ways of diversifying their student bodies. They could also find themselves under new public scrutiny for legacy preferences that reward the often white, upper-class relatives of alumni and in turn encourage donations and connections that can bolster an elite school's reputation.
"I think legacy preferences are very hard to justify, and when you take away race-based affirmative action, it becomes yet even more difficult to defend," said Richard Kahlenberg, a senior fellow at the progressive Century Foundation in Washington, D.C. "This is just kind of a very blatant form of discrimination based on who your daddy is ... I think in our society that can't last forever."
The pending Supreme Court case revolves around Fisher, a white woman who alleges unfair affirmative action admissions practices caused her to be rejected by the University of Texas at Austin in 2008. After Fisher's grades didn't make the cut under a state program where the top 10 percent of high school students were automatically admitted, she went into a general pool of applications evaluated holistically. Ultimately she wasn't accepted — but she said her minority peers with lesser accomplishments were, leading her lawyers to argue that considering race in admissions violates the equal protection clause of the Fourteenth Amendment.
Fisher was a legacy because her sister and dad were Longhorns. But she wasn't upset by the school's lack of a legacy admissions policy. Instead, she accused the system of giving blacks and Hispanics, some of the most underprivileged students in Texas' public schools, special treatment.
Affirmative action policies were enacted during the civil rights era to promote equal opportunity for students of color. They have been credited in part with helping the college population become increasingly diverse after years of both direct and de facto segregation. A 2005 study found that applying to a highly selective university as an underrepresented minority increased a person's chances of being admitted by about 28 percentage points.
There are more students of color on college campuses these days than ever before. In 1976, white students made up 84 percent of the postsecondary student population, Hispanic students made up 4 percent, black students made up 10 percent and Asian/Pacific Islander students made up 2 percent. As of 2012, the most recent year for which data is available, 60 percent were white, 15 percent were Hispanic, 15 percent were black and 6 percent were Asian/Pacific Islander.
Because the Supreme Court chose last year to take up the Fisher case for the second time, some have speculated a ruling that could come as soon as this week will strike the practice down. In the meantime, however, the public has turned against the use of race in admissions. A 2013 Gallup poll found that 67 percent of American adults said students should be admitted to college based solely on merit, even if that means diversity suffers.
But a majority of Americans also disapprove of legacy preferences. About 75 percent of people oppose the practice of giving the offspring of alumni a boost in the application process, according to the Chronicle of Higher Education. Despite its unpopularity, however, more than 80 percent of the most selective institutions consider applicants' alumni ties in the admissions process. That includes the Ivy League schools, some of which started using legacy preferences in the 1920s as a way to curb climbing Jewish enrollment.
"No group experiences more affirmative action than white people," liberal magazine the American Prospect reported in 2014, adding that "legacy admissions amount to an eternal parade of white pride."
U.S. Universities - Average Acceptance Rate Over Time by State | StartClass
Supporters of the policy argue that legacy preferences are aimed at building an intergenerational foundation. They develop a community that cares about the longevity of an institution and encourages school spirit — think grandparents attending big football games with their grandkids, pointing out historical spots and helping students connect even more with the campus.
"It provides a level of support, loyalty and continuity that's part of a school's legacy, for lack of a better expression," said José Román, an admissions counselor with the New Haven, Connecticut, startup InGenius Prep.
Stanford University graduate Ivan Maisel wrote in the Stanford alumni magazine a few years ago that having his daughter, Sarah, attend the same school was a gift because it "rekindled [his] love of the university and revived memories long dormant, both good and bad." Maisel said he automatically remembered his favorite routes and the taste of the beer at the Dutch Goose, a nearby bar, when he made campus visits.
Legacy preferences make the good vibes possible, according to Román, also a former assistant director of undergraduate admissions at Yale University in New Haven.
"The consideration of legacy ... it's part of the fabric of an institution. It goes to the point of continuing to foster bigger sense of family," he added. "The schools try very hard to keep those bonds very strong."
Children of alumni have a relatively easy time getting into top-notch schools in the U.S. The Chronicle reported in 2011 that being a legacy increased a student's chances of being accepted to a highly selective college by up to 45 percent. Another study found that, on a 1600-point SAT scale, being a legacy was worth an extra 160 points. William Fitzsimmons, the admissions dean at Harvard University in Cambridge, Massachusetts, told the Wall Street Journal in 2003 that he personally read every single legacy application.
Román cautioned that legacy status doesn't automatically equal acceptance, but legacy admit numbers often end up being much higher than the college's general acceptance rate. At Harvard in 2011, for example, the legacy acceptance rate was about 30 percent, the Harvard Crimson reported. That same year, the overall acceptance rate was 6.2 percent. Yale told the New York Times in 2011 it admitted about a quarter of legacy applicants and about 7.35 percent of all applicants overall.
Legacy admissions don't do much for campus diversity, according to Kahlenberg, who also edited the book "Affirmative Action for the Rich: Legacy Preferences in College Admissions." He referenced a 2005 study that found underrepresented minorities made up 28.2 percent of the U.S. population but only 12.5 percent of the applicant pool to the choosiest colleges. They comprise roughly 6.7 percent of the legacy application pool. At Duke University in Durham, North Carolina, specifically, a black student is 80 percent less likely to be a legacy than a white one.
Essentially, Kahlenberg said, it's "heaping extra advantages on to students who have already been given a lot."
Data backs this theory up. More than 70 percent of students at the most competitive universities are from families with income in the upper 25 percent, according to a study from January. Meanwhile, the median family income for all families in 2014 was about $67,000. For white families, it was about $77,000; for Hispanic families, it was about $45,000; and for black families, it was about $43,000, according to the College Board.
"I don't think there's any question that the majority of beneficiaries come from already privileged backgrounds, particularly privileged white backgrounds," said David Hawkins, the executive director for educational content and policy at the National Association for College Admission Counseling, a professional organization based in Arlington, Virginia.
Institutions say they use legacy preferences for financial reasons — basic logic suggests that if an alumnus' kid gets into his old school, he's more likely to donate. But that's not necessarily the reality. A study published in 2010 found no definitive link between alumni giving and legacy admissions. Schools with legacy preferences got only about $15 more per alumnus than ones without — a statistically insignificant amount.
Despite this, Hawkins said the legacy tradition won't disappear any time soon because the departments and officials that ultimately control the admissions process wouldn't want to risk upsetting alumni. For example, a university's board of trustees might shoot down a legacy ban because it's afraid of alienating the alumni network that hires students and thus increases the school's post-graduation employment rates.
"It would take a commitment on large and very politically diverse audience of stakeholders in order for the college to be able to step forward in some degree of consensus and unison," Hawkins said.
Joelle Laginess, a senior at Eastern Michigan University in Ypsilanti, said she can see both sides of the legacy argument. Laginess is a legacy herself — her parents met at the institution in the 80s, and while she was growing up, they wore T-shirts proclaiming "Once a Huron, always a Huron," after the former mascot.
Laginess suggested that if an admissions practice is unfair to students in certain socioeconomic classes, it shouldn't be used. But she also understands why it might be tough for administrators to distance themselves from alumni. In those scenarios, she said a school should try to broker a compromise, like maybe "get rid of the admissions advantage but create some more legacy scholarship opportunities."
That might be what happens, depending on the Supreme Court ruling in the Fisher case. At the heart of the issue is diversity in higher education, which supporters of affirmative action say is accomplished by considering students' race. They suggest it helps minority populations not only access college and kick-start successful careers, but also improves learning for all students, according to the National Conference of State Legislatures. Opponents, however, decry the practice as an outdated method that can make students feel stigmatized by their peers and employers for landing seemingly unearned opportunities.
Going forward, Hawkins predicted that the public's tolerance of practices like legacy preference will decrease over time — or, at the very least, raise questions about why colleges are continuing to use rules that help already advantaged students.
People will start asking, "If we're saying we can't consider certain factors on this end of the scale, why are we continuing to do it on that end?" he said.
© Copyright IBTimes 2023. All rights reserved.