Are There Benefits To Acne? Study Shows Those With Pimples Can Actually Live Longer And Delay Wrinkles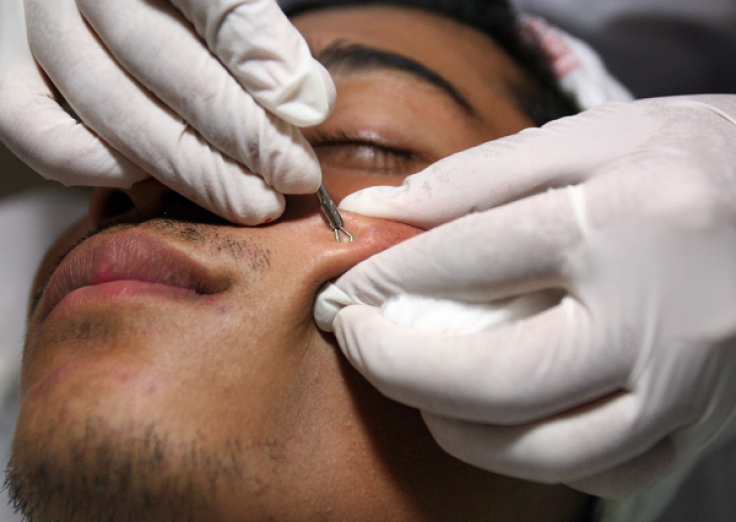 Teens with flawless skin may be the envy of their peers, but those who are prone to acne may actually have the upper hand. In a cruel irony, acne-inflicted skin cells have a better built-in defense against aging that may lead to longer lasting skin, according to a study published Wednesday in the Journal of Investigative Dermatology.
A team of researchers from King's College London analyzed blood samples from 1,205 female twins, 25 percent of whom said they had experienced acne. Doctors tested white blood cells from acne affected areas and discovered the cells had longer protective caps on the end of their chromosomes. Those cells with longer protective caps are called telomeres, and they aid in preventing chromosomes from deteriorating and combining with other chromosomes during cell divisions. Over time, telomeres shrink, which causes people with longer telomeres to show aging in their skin at a slower rate than those with shorter telomeres.
The new research revealed people with acne have significantly longer telomeres. Telomeres have been linked to aging in other studies, however, scientists have yet to determine what specific signs of aging, like gray hair or wrinkled skin, are associated with telomeres.
Longer telomeres can help with more than just slowing down signs of aging, too. During a study of people 60 years and older, doctors found that those suffering from shorter telomeres were also more prone to dying from heart disease and infectious disease.
Dermatologists have long said oily skin, considered among the top causes of acne, is the leading crusader against the effects of aging skin. During a 2015 study on facial eye wrinkles, doctors found that people with higher sebaceous gland density, which are the glands in the skin that secrete oil, had shallower wrinkles than those who lacked in sebaceous glands around their eyes.
© Copyright IBTimes 2023. All rights reserved.