Argentina Finalizes $5B Loan From 7 Wall Street Banks To Bolster Flagging Cash Reserves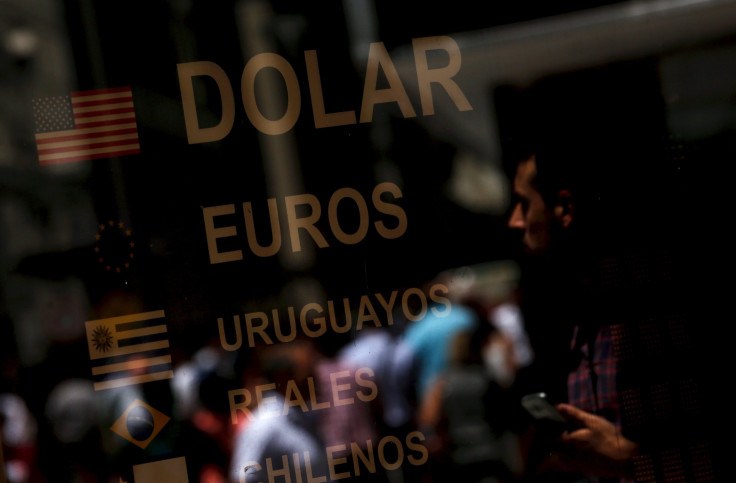 Argentina's central bank reached a deal with seven Wall Street banks to extend a $5 billion one-year loan Friday after the country's cash reserves hit a nine-year low last month.
The South American country is looking to bolster its cash reserves as it has been shut out of most global credit markets over a long-running legal dispute over unpaid debts since 2002. Argentinean officials are set to conduct talks with the country's creditors in the next week to seek an extension on payment of old debts.
Argentinean President Mauricio Macri reportedly said that he hopes to reach an agreement early this year, enabling Argentina to re-gain access to capital markets. In the meantime, he said the government has secured alternative financing, according to Reuters.
The one year loan finalized Friday will be backed by sovereign bonds and would "facilitate the central bank's capacity to confront external shocks and thereby avoid disruption in the local market," Argentina's central bank said in a statement.
According to multiple media reports HSBC, JPMorgan Chase & Co and Banco Santander SA have agreed to provide $1 billion each while Deutsche Bank AG, Banco Bilbao Vizcaya Argentaria SA, Citigroup Inc. and UBS Group AG will each provide $500 million of the $5 billion loan.
Meanwhile, Argentina's foreign reserves rose to $30.071 billion on Friday from $25.241 billion, a central bank statement said.
Argentina is expected to announce a plan to settle its earlier debts to the U.S. court-appointed mediator Daniel Pollack as its creditors pressure the country to comply with a court order to repay their debts before accepting any new lines of credit.
At the World Economic Forum in Davos, Macri told Bloomberg that he aims for "realistic, reasonable settlement" with Argentina's creditors."We want to finish all our conflicts of the past," he added.
© Copyright IBTimes 2023. All rights reserved.
FOLLOW MORE IBT NEWS ON THE BELOW CHANNELS