Ariana Grande Attends Gwen Stefani's Las Vegas Show To Singer's Surprise
Ariana Grande flew to Las Vegas to surprise Gwen Stefani as she closed out her Las Vegas residency show Saturday. The final concert took place at the Zappos Theater in Nevada City and included the No Doubt vocalist's sweet duet with her husband Blake Shelton.
The concert series opened in June 2018 and comprised 57 shows. It was supposed to end in May 2020 but the last eight shows had to be postponed due to the COVID-19 pandemic.
"I just finished show no. 57 — that was a wrap, guys," Stefani can be heard in the clip she shared via Instagram Stories after the concert ended.
"I did a Vegas residency, and it is done. So I just wanted to say thank you so much to everybody that came out. It was absolutely so incredible, and I'm so grateful, and I love you guys," she added.
Stefani also took to Instagram on Nov. 7 to share clips and images from her final show, including a video of Grande, who also attended the show. The "7 Rings" singer shared the clip to her Instagram Stories as well, captioning her post, "brilliant @gwenstefani congratulations on completing this incredible run love you so much."
Grande, who co-stars on "The Voice" with Shelton, also posted a clip of the singer joining Stefani on stage to sing their 2020 duet "Happy Anywhere." In the caption, she wrote, "that's my grandpa @blakeshelton I'm so f---in' proud. I love this song and you both @gwenstefani."
In another clip, Stefani seemed to be taken aback to know that Grande actually had clips from her show.
"ummmm @arianagrande u came to my show?! Yay love u thank you," Stefani wrote as she reposted Grande's footage.
It turned out Grande went to the show with her husband Dalton Gomez. Photos of the couple spread like wildfire on the internet right after the concert.
The "Thank U, Nxt" singer also shared a clip of Mao Kawakami, who joined her during her Sweetener World Tour in 2019, dancing on stage as Stefani belted out No Doubt's "Bathwater" during her Las Vegas show. The singer showed her support for the dancer by writing in her caption, "queens."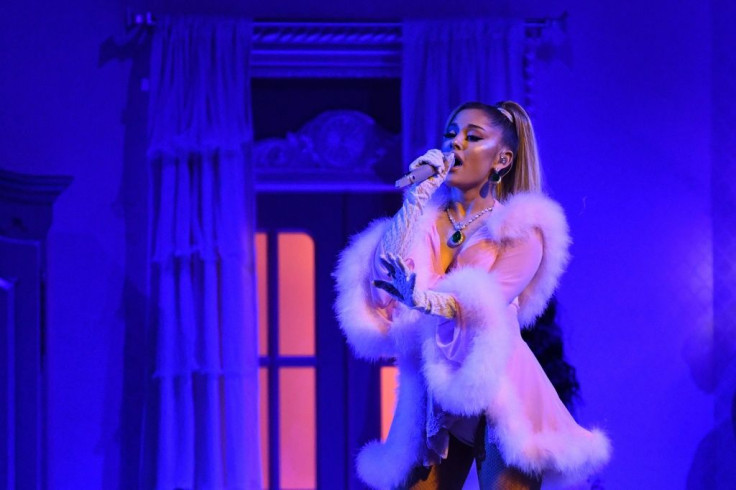 © Copyright IBTimes 2023. All rights reserved.