'Arrested Development' Season 4 Episode 5: 9 Of Tobias' Funniest Quotes From 'A New Start'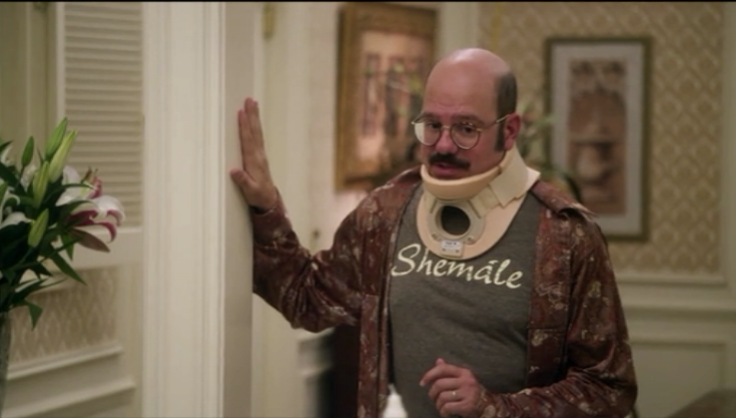 Tobias' sexuality has always been called into question, and in episode five of "Arrested Development's" season four, the Bluths finally confront him about it.
"Everyone thinks I'm gay?" he asks his wife. Lindsay responds that it's kind of the running joke in the family.
In "A New Start," Tobias "searches for meaning after splitting with Lindsay, only to find that old habits die hard." Check out the nine funniest (some wildly inappropriate) things that Tobias said in episode five:
1. "Anustart" – Looking for a new start, Tobias goes all out with a brand new license plate that says "Anustart" – which appears more like "anus tart" instead of the intended "a new start."
2. "Is this cause I want to be an actor and all the leading men in Hollywood are gay?" – Tobias asks Lindsay this after failing to understand why the Bluth family thinks he's gay.
3. "I look like one of those hot guys from 'Spartacus.'" – On his way to India, Tobias buys "Indian garb" (really a sheet) from a helpful Indian Bed Bath & Beyond worker. Taking it off to clean it, Tobias can't figure out how to get it back on and ends up tying it to look like Marilyn Monroe's famous white dress.
4. "Shemále" – Tobias is wearing a shirt that everyone sees as saying "she male."
5. "I got a stick up my bunghole" – At a family gathering at Lucille's apartment, Tobias says that he's got a "stick up my bunghole" about the family's running gay joke.
6. "For 2,000 rupees we'd both go down on Matthew McConaughey. Right, Michael?" – At the time 2,000 rupees was equal to $36 … and Michael's answer was no.
7. "I assure you, there is nothing ambiguous about me." – Tobias says this in response to a man who thinks that he and DeBre are dressed as the "ambiguously gay duo," not the "Fantastic Four."
8. "Is there a little girl here all by herself? Daddy needs to get his rocks off." – Tobias went into the old model home looking for Maeby, not knowing that the show had been rented out by a show – "John Beard's to Entrap a Local Predator Orange County Edition: Super Creeps."
9. "I'm here to see my little girl. I wanted to show her daddy's thing." – Dressed as The Thing from "Fantastic Four," Tobias has no idea what kind of trouble he is into when John Beard comes to meet him in the house. Telling him that he's there to see his daughter, John Beard asks how old she is, to which Tobias responds, "I want to say 19, but I like to think of her as 15."
© Copyright IBTimes 2023. All rights reserved.