'Arrow,' 'The Flash,' 'Supergirl' And 'Legends Of Tomorrow' Second Crossover Event Already In The Works?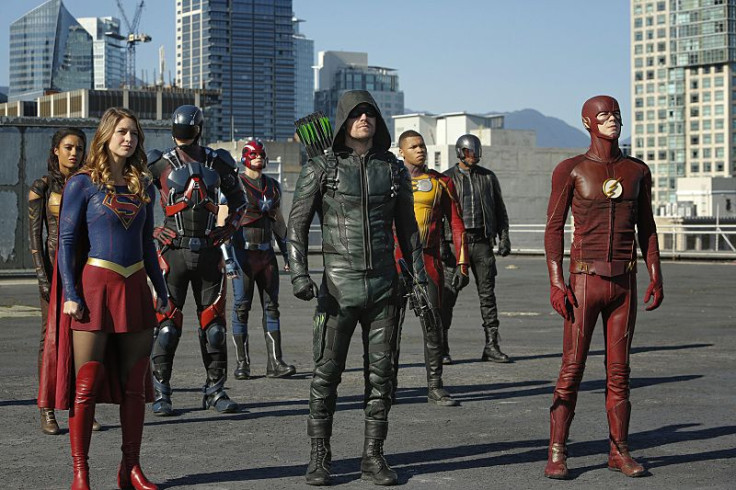 This week's "Invasion!" may not be CW's last crossover event between "Arrow," "The Flash," "Supergirl" and "Legends of Tomorrow."
In an interview with Variety, "Arrow" and "Legends of Tomorrow" executive producer Marc Guggenheim said that a 2017 crossover event between the four shows is possible, but it's "something that is more up to the network and the audience."
"If there's an appetite for it from the fans and from the network, I would think that next year we could do a proper four-part crossover," Guggenheim added.
Although "Invasion!" is being promoted as a four-part crossover, fans know by now that the CBS-turned-CW series "Supergirl" isn't really that involved in the special event. While the Girl of Steel herself (Melissa Benoist) is appearing on all four shows, the whole story of "Invasion!" has nothing to do with the events that happened in last night's episode of "Supergirl."
During a Q&A after a screening of the crossover event, "Supergirl" executive producer Andrew Kreisberg explained that the major reason "Supergirl" Season 2, episode 8 focused on "Supergirl" storylines instead of the crossover is because the episode served as the show's fall finale.
"Part of what made it a little bit difficult was all the other shows — 'Flash,' 'Arrow' and 'Legends' — all have a subsequent episode to the crossovers, but with 'Supergirl,' it was our midseason finale," he said (via IGN). "We wanted to make sure that episode 8 of 'Supergirl' spoke to what had been happening on the first seven episodes of 'Supergirl' and not just as a tie in."
And although the crossover only kicked off in the final two minutes of the "Supergirl" crossover episode, the show greatly benefited from the special event in terms of viewership. According to Deadline, the episode pulled in a 1.1 rating in the 18-49 demographic and 3.51 million viewers, a 34 percent rise from last week.
"Invasion!" continues in this week's episode of "Arrow" (Wednesday, Nov. 30) and "Legends of Tomorrow" (Thursday, Dec. 1). Both shows air at 8 p.m. EST on The CW.
© Copyright IBTimes 2023. All rights reserved.