'Arrow' Season 4 Spoilers: Episode 13 May Have Revealed New Information On Who Dies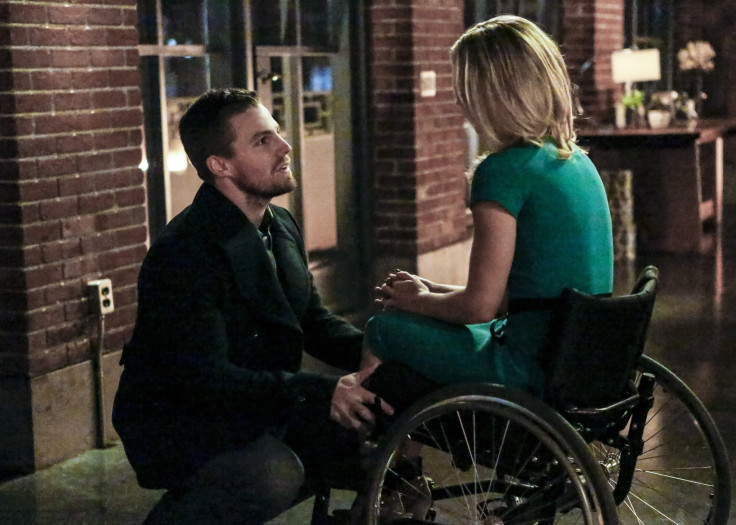 All throughout Season 4 of the CW's "Arrow," fans have been wondering which member of the lead hero's life will die by the end of the year. After teasing Oliver Queen (Stephen Amell) at a funeral in a flash forward to the end of the season, episode 13 gave viewers a major clue as to what brings him to the cemetery and what fans can expect going forward.
Those who tuned into the latest episode of "Arrow," titled "Sins of the Father," know that [SPOILER ALERT] Oliver finally took down his Season 1 villain Malcolm Merlyn (John Barrowman) by cutting off his hand and dethroning him as the leader of the League of Assassins. As a result, the Dark Archer sought vengeance on Queen by going to his new nemesis, Damien Darhk (Neal McDonough), and telling him about the Green Arrow's estranged son in Central City — William (Jack Moore).
Not much is known about the funeral scene other than Barry Allen (Grant Gustin) from "The Flash" attends the funeral, as well as Felicity Smoak (Emily Bett Rickards). Oliver is so distraught by the death that he vows to kill the unnamed man responsible. As the season progresses, theories on who is in the grave have included Felicity, Thea (Willa Holland) and even Diggle (David Ramsey). However, with the total number of episodes dwindling and episode 13 making such a dramatic move against the hero, the real picture of who dies is starting to come together.
As previously reported, many fans believed that the person Oliver vows to kill is Damien Darhk, since he's been the principal bad guy all season. However, thanks to his negative involvement in the team's lives thus far, it's possible that the hero's ire is for Merlyn. As for whose blood is on the villain's hands, it seems now that the evidence is leaning toward Oliver's son, or, more likely, the kid's mother, Samantha Clayton (Anna Hopkins).
For starters, Barry is at the funeral. While the speedster can pretty much jog anywhere in the world with ease, it's possible the funeral may take place in Central City, where Samantha and William live. In the midseason return of "Arrow," it was revealed that Oliver's fiancée, Felicity, is not the person who dies, but Stephen Amell got fans talking when he shared a bit of a visual Easter egg with the crowd at Heroes and Villains Fest in Secaucus, New Jersey, in January.
"The fact is, Felicity is not wearing her ring in that flash forward scene, and that was not a mistake," he told fans (via ComicBook). "Spoiler alert, I probably mess it up."
After episode 13, Oliver and Felicity are on solid ground in their relationship. The only thing that could rock its foundation would be the reveal that he's agreed to Samantha's terms to keep William's existence a secret. Felicity just gave her own estranged father the boot for not being trustworthy so total detachment is kind of her method of operating when she's lied to.
All that evidence supports either William or Samantha meeting an untimely end in a coming episode. However, as TV Line notes, the loss of Samantha is a much more likely scenario. For starters, killing a small child is a bit much for even the darkest of the CW's shows. In addition, Oliver Queen had a son in the DC Comics source material that grew up to take his father's mantle once he got too old. If this theory is correct, that would mean a potential Season 5 plotline would see a newly single Oliver adapt to life as a single father.
Sadly, fans will just have to wait until the end of Season 4 to have the big mystery revealed in full. What are your thoughts on the big grave mystery? Comment below or tweet your thoughts to @TylerMcCarthy.
© Copyright IBTimes 2023. All rights reserved.