'Arrow' Season 4 Spoilers: Episode 19 Synopsis Released; What Will Happen In 'Canary Cry'?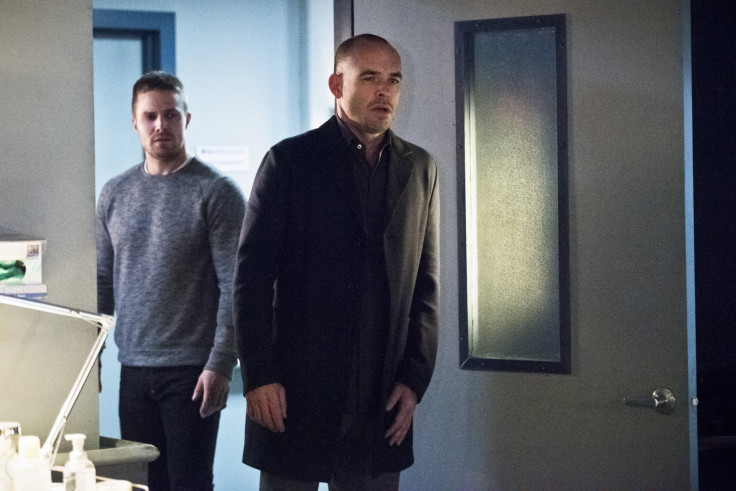 "Arrow" is taking a small break until April 27, which is bad news for fans that are dying to know what happens next after the previous episode of Season 4 left off on a colossal cliffhanger ending. Fortunately for fans of the CW superhero series, the network has released the synopsis and teaser for episode 19 ahead of its premiere, giving clues about what to expect in the aftermath of that shocking moment.
[SPOILER ALERT: The remainder of this article will discuss "Arrow" Season 4, through episode 18.]
Malcolm Merlyn (John Barrowman) took it upon himself to bust the villain Damien Darhk (Neal McDonough) out of prison. Team Arrow attempted to stop him, but failed when he regained his magical powers. To punish the team for the headache they caused, as well as Captain Lance (Paul Blackthorne) for testifying against him, Darhk stabbed Laurel Lance (Katie Cassidy) with an arrow. Although there's still some mystery surrounding the moment in question, the end result appears to be death of a character that's been with the show since episode 1, Laurel Lance (A.K.A. The Black Canary).
Episode 19, titled "Canary Cry," will pick up with the immediate consequences of that moment, including a funeral where every guilt-ridden member of the team gets a chance to voice their particular concerns that they're responsible. However, the one man whose got a legitimate reason to believe he messed up, John Diggle (David Ramsey), appears to take it the hardest. In the teaser clip for the episode, posted below, Spartan goes on the hunt for justice in the wake of Laurel's untimely death. This takes him to Ruvé Adams (Janet Kidder), the super-secret wife of Damien Darhk, who just so happens to have been elected mayor of Star City in the previous episode. It's unclear what he's got planned for Adams when he gets her at the business end of his gun barrel, but the teaser hints that he may cross a line there's no going back from. Apparently he's still a little bitter that his brother, Andy Diggle (Eugene Byrd), betrayed him in favor of Darhk.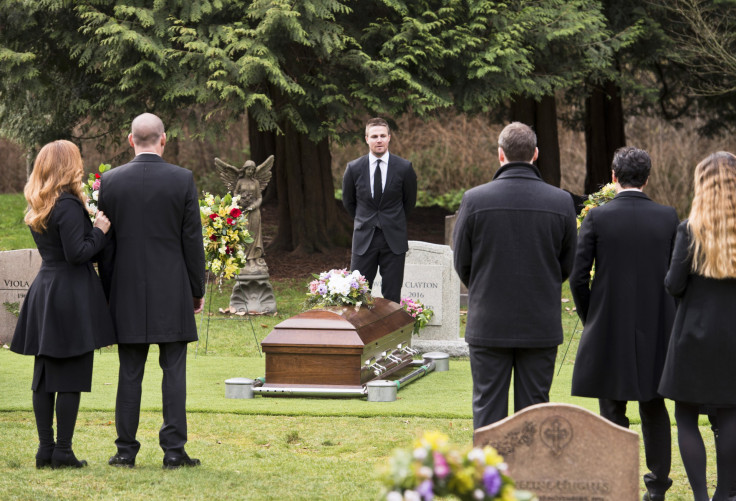 Meanwhile, according to the episode's plot synopsis from the CW, Captain Lance will be on a bit of a mission of his own regarding the loss of his daughter. It was a highly emotional moment to see him react to her death in the latest episode, but he's not done with the grieving process. Episode 19 will see him in the familiar phase known as bargaining.
Lance is no stranger to thinking his daughters are dead, having buried his other daughter, "Legends of Tomorrow" character Sara Lance (Caity Lotz), twice. Apparently, all of this death and resurrection has led him to, reasonably, believe that there's something he can do to bring Laurel back from the dead. To do this, he enlists the help of Nyssa al Ghul (Katrina Law), to see if perhaps she can use any non-earthly means to get Laurel back. His efforts are further ramped up by the fact that there appears to have been a Black Canary sighting after Laurel had already died.
As previously mentioned, there's a chance that Laurel's final wish to Oliver (Stephen Amell) may hold the secret to her return, but fans reportedly won't learn the answer to that question until the show finishes Season 4 and returns at a yet undisclosed date for Season 5. This means that Lance's quest to bring his daughter back will, more than likely, prove fruitless.
"Arrow" Season 4, episode 19 airs Sunday, April 27 at 8 p.m. EDT on the CW. What do you think will happen in the wake of Laurel's death? Comment below or tweet your thoughts to @TylerMcCarthy.
© Copyright IBTimes 2023. All rights reserved.