'Arrow' Season 4 Spoilers: Is Felicity Alive? EP Addresses Set Photos Of Emily Bett Rickards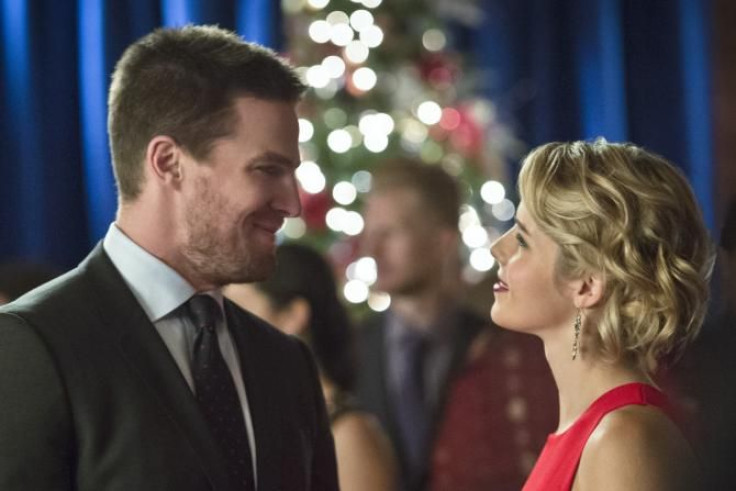 "Arrow" Season 4 left fans with a massive cliffhanger last month that put Felicity's (Emily Bett Rickards) life in danger. When photographs of the character on set surfaced last week, some viewers believed they meant she survived, but executive producer Marc Guggenheim has advised followers that her life still hangs in the balance.
The photos show Felicity looking very much alive. It appears as if she survived being shot by Damien Darhk's (Neal McDonough) assassins in the "Arrow" midseason finale. However, she is in a wheelchair, which makes it seem as though she didn't escape unscathed.
A new Australian commercial for the show also shows Felicity will be in a wheelchair. The promo features Felicity's mother, Donna (Charlotte Ross), telling Oliver (Stephen Amell) that Felicity will never walk again.
Yet, Guggenheim quickly stepped in to say that fans don't know as much as they think.
It appears this version of Felicity could be a hallucination (although it's worth noting that Guggenheim didn't say the photos were definitely from the hallucination episode). Is Oliver so distraught that he starts seeing things? Is Darhk having a twisted fantasy? Is Felicity considering what life will be like if she survives surgery? It isn't clear who is having the hallucination, but this means that the real Felicity could be dead or alive. Executive producers have acknowledged how torturous this cliffhanger is for longtime "Arrow" viewers.
"I realize we're being especially cruel this year, and for that I apologize, but there's some great stuff coming up on that show," executive producer Andrew Kreisberg told Entertainment Weekly. "Midseason finales are incredibly hard, but I think even harder is the one after Christmas, the one where you come back. I will say both 'The Flash' and the 'Arrow' episodes are two of our best come-back-from-the-long-Christmas-break episodes. They're not placeholder episodes before the good stuff gets going. So much happens in both of these shows."
"Arrow" Season 4 returns to the CW Wednesday, Jan. 20, at 8 p.m. EST.
© Copyright IBTimes 2023. All rights reserved.