'Arrow' Season 4 Spoilers: Will Oliver And Felicity Break Up? Emily Bett Rickards Hints At Trouble For Olicity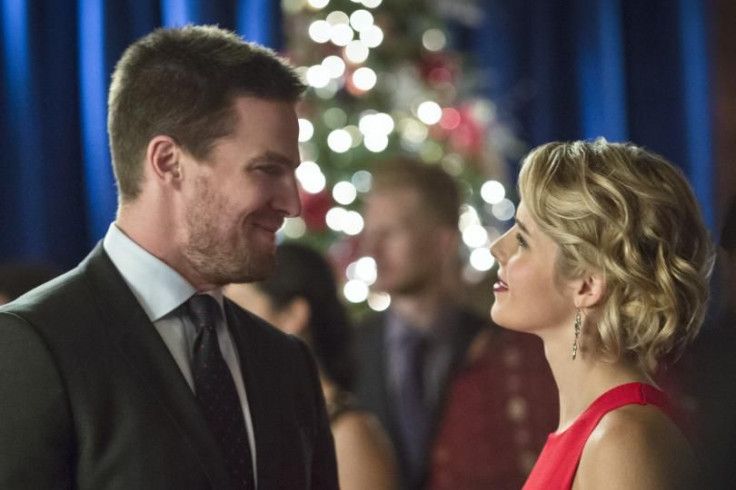 Star City's cutest couple might be doomed. In the "Arrow" Season 4 winter premiere, Felicity (Emily Bett Rickards) was revealed to be alive, despite the December cliffhanger that left her life in danger. She's paralyzed, but it seemed like Olicity fans didn't have to worry about their favorite couple anymore. However, even though both Oliver (Stephen Amell) and Felicity are alive, that doesn't mean their relationship is safe.
Rickards hinted that the couple probably can't stay together forever. "I don't feel like Olicity is going to be happily ever after," she tells People. "Because of the city, there's no happily anything in Starling, but I have high hopes for them as long as they stay communicative. I really believe that's what they're doing right now. They have this deep connection and that's what they're working toward and what we're trying to put on television."
Considering the couple hasn't broken up since they got together in the Season 3 finale, they're probably due for a break. After all, this is a CW drama and the midseason premiere may have already revealed that a split is on the way. The episode ended with a flash-forward that showed Oliver and Felicity four months from now. The good news: Felicity isn't in the grave! The bad news: Felicity was not wearing her engagement ring. Showrunner Wendy Mericle implied that she didn't just forget it on the bathroom sink.
"I definitely think there is some tension," Mericle told TVLine about the flash-forward scene. "And we're actually very intrigued to see if fans pick up on a very big clue about where they are at that point in their relationship. It's in the scene, and it's a visual clue." Of course, Olicity shippers noticed Felicity's missing ring right away.
It isn't clear what could cause the potential breakup, however, viewers can cross one thing off the list. It isn't related to Felicity's diagnosis. Oliver will handle Felicity's paralysis with optimism, but it'll be tougher for the computer wiz to handle. "We're going to be taking her on a little bit of a dark journey of her own as she tries to grapple with the reality of this new situation," Mericle teased to Entertainment Weekly. "It's a huge game-changer, obviously, for her. How is it going to affect her life and role on the team? Not really her relationship with Oliver, that doesn't come into question, but certainly how she perceives her future and her role on the team is definitely coming into question."
Viewers will have to keep watching to find out exactly why Felicity ditched her ring. "Arrow" Season 4 airs Wednesdays at 8 p.m. EST on the CW.
© Copyright IBTimes 2022. All rights reserved.
FOLLOW MORE IBT NEWS ON THE BELOW CHANNELS