Arsenal Transfer News: Higuain And Suarez Plot Thickens; Fabregas And Fellaini Also Linked In Recent Rumors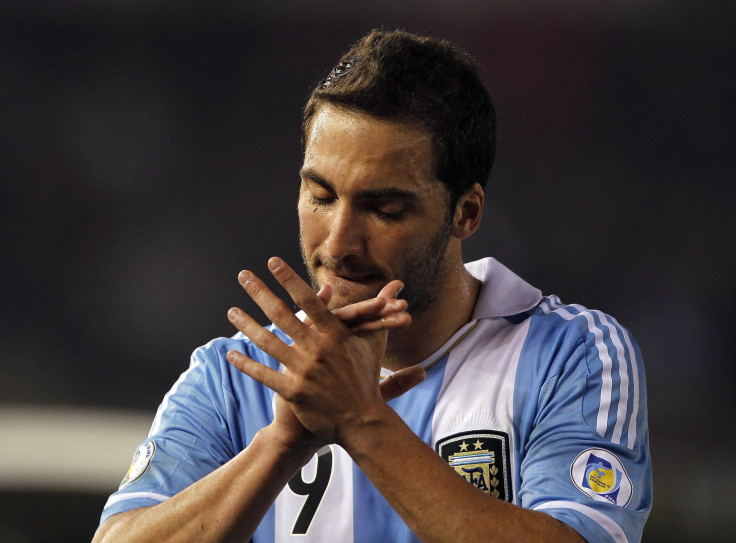 Arsenal may be facing make-or-break time over the transfer of Gonzalo Higuain, with Napoli said to be preparing an offer for the Real Madrid striker. Having pursued Higuain for much of the summer, a deal was believed to have been struck when the player's father claimed they had been given permission to discuss personal terms. That was almost two weeks ago.
There are varying reports over the source of the hold up, with one theory being that there is still a disagreement over the fee. Arsenal are believed to have offered £23 million, while Spanish sports daily AS states that Madrid are holding out for €35 million (£30.4m). Another notion put forward is that Arsenal are delaying pushing though a deal because they have become aware of the possibility of securing Liverpool's Luis Suarez.
But, either way, news of Napoli's interest could force Arsenal's hand. The Serie A side, which can, like Arsenal, offer Champions League action, is poised to bank a huge windfall from the sale of striker Edinson Cavani and will seek to quickly replace the prolific Uruguayan. Italian publication TuttoSport reports that it is Higuain who is top of manager Rafael Benitez's wish list and the club are prepared to back him with a bid of €30 million (£26.1m) on top of offering the player a contract worth €4 million (£3.5m) a year. The appeal of following in the footsteps of fellow Argentinian great Diego Maradona, still deified in Napoli, may prove a tempting one for Higuain.
Arsenal are expected to imminently make an improved bid for Suarez, who perhaps not coincidentally is also a target for Real Madrid. Raising the stakes further, the Spanish giants are set to offer Higuain and £10 million to Liverpool to try and pry Suarez away, reports the Daily Mirror. Even if true, such a proposal has little to no chance of being accepted by Liverpool, or indeed Higuain. Liverpool are thought to be holding out for a minimum of £40 million for their Uruguayan star.
Following the news of Manchester United's offer for Cesc Fabregas on Monday, Arsenal have been alerted to the possibility of bringing their former captain back to the Emirates, according to Sky Sports. As has been widely reported, the Gunners have a clause giving them first refusal should Barcelona decide to sell the midfielder.
That, though, does not appear likely. Barcelona have just lost one midfielder in Tito Vilanova, while boss Tito Vilanova has revealed that Fabregas is not looking for a move. "There have been offers for him from other clubs, but I spoke with Cesc and he told me that he was still determined to stay here and be successful, so I'm not worried," he said, according to ESPN.
Arsenal are believed to be seeking a more physical central midfielder this summer and have been strongly linked with Everton's Marouane Fellaini. The Belgian, who is also thought to be interesting Manchester United, has a clause in his contract allowing him to join a side in the Champions League for around £23 million. However, according to the London Evening Standard, should both clubs make a bid, Fellaini will opt to reunite with his former manager David Moyes at Old Trafford.
© Copyright IBTimes 2023. All rights reserved.