Ashley Williams, Kimberly Williams-Paisley's Hallmark Duology: Latest Update On Christmas Movies
Kimberly Williams-Paisley joined the Hallmark family in 2001 with the Hall of Fame premiere of "Follow the Stars Home," and her sister, Ashley Williams, joined over a decade later, in 2015, with "October Kiss." Since then, Hallmarkies have been wanting to see the real-life sisters play onscreen sisters in a Hallmark movie.
Last year, it seemed fans were finally going to get that wish when Williams-Paisley revealed to International Business Times that she and Ashley were developing a pair of connected Hallmark Christmas movies.
The "Christmas Train" star said they hoped fans would get to see the films "at some point in the next couple of years," adding that "it's just so funny that we haven't yet [made a Hallmark movie together], and it's strange, but I bet once we start, we won't be able to stop."
It's now a year and a half later, and Hallmark has yet to officially greenlight the films.
There's still hope, though. When IBT caught up with Ashley at Christmas Con 2019 last month, she shared an update on the duology her sister had previously mentioned.
"Here's the deal: we have this amazing idea, we have the scripts. The idea is a little outside the box," the "Holiday Hearts" actress said. "It's a pair of movies that can be shown standalone, [and] they can also be viewed back to back, binge style. They're overlapping storylines, and [Kimberly's] the lead in one movie, and I'm the lead in the second, and we play best friends and sisters."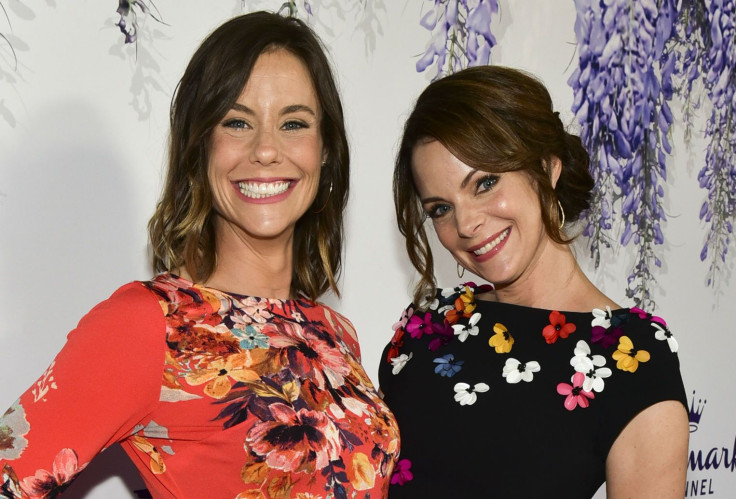 She continued: "It's just a different concept, and I think [Hallmark's] a little nervous about it because it's breaking the mold. I think it's cool that it's breaking the mold. It's a really cool idea, and it's totally still a Hallmark movie. And, also, these particular movies are Christmas, but we could also do a sisters wedding movie, we could do a Valentines movie, we could do a Halloween movie together, but it's the idea of a pair of movies every time, and that's the [franchise] wheel."
While still featuring the sweet romances viewers have come to expect from Hallmark movies, these ones would also carry the theme of sisterhood and "how sisters are always looking out for each other and having each other's back," the "How I Met Your Mother" alum said.
Ashley realizes Hallmark might be a bit worried about trying something new like this, but she feels the movies are a great fit and remains active in her quest to bring them to life. "I'm literally emailing and calling [SVP of Original Programming for Crown Media] Randy Pope every day and sending gifts, like, 'Are we doing this thing? Did you read it? What's happening? All I need is a yes.'"
While he tells her they're working on it and that he likes the idea, she's ready for them to go all in, saying it's time to get that green light on the movies; Especially since Hallmark premieres dozens of new Christmas movies every year, and "we just need two," she said.
Fans wanting to help Ashley and Kimberly on their quest can do so by letting Hallmark know on social media that they'd love to see these Christmas movies get made and come to life on their TV screens.
Until that day hopefully arrives, fans can next see Ashley in a reairing of her new 2019 Hallmark Christmas movie, "Holiday Hearts," on Hallmark Movies & Mysteries on Thursday at 9 p.m. EST. Kimberly's 2017 holiday movie, "The Christmas Train," next airs on Hallmark Movies & Mysteries on Dec. 19 at 5 a.m. EST.
© Copyright IBTimes 2022. All rights reserved.
FOLLOW MORE IBT NEWS ON THE BELOW CHANNELS