Christmas Con 2019 Recap: Biggest News Hallmark, Lifetime Stars Revealed During Panels
For the first time ever, TV Christmas movie fans got the chance to see and interact with their favorite stars in person and all in one place, thanks to Christmas Con 2019.
The Hallmark-sponsored event took place in New Jersey from Nov. 8-10 and featured a tree lighting by headliner Lacey Chabert and host Jonathan Bennett, a concert with Paul Greene and Alicia Witt and two days of panels with everyone's favorite Christmas movie actors and moderated by Hallmark Channels' Bubbly Sesh podcast hosts, Jacks & Shawl.
Don't worry, though, if you weren't able to attend the sold-out event this year because not only will Christmas Con be back in 2020 with events in both California and New Jersey but also International Business Times was onsite at the 2019 stop and we've put together a recap of all the fun news shared during the star-powered panels.
A lot of great tidbits and news came out of the panels (they even led to actresses Rachel Boston and Danica McKellar and screenwriter Nina Weinman Swift tweeting about wanting to do a Hallmark movie together!), and fans can read all of the most noteworthy quotes from each below.
Cameron Mathison ("The Christmas Club") and Melissa Claire Egan ("Holiday for Heroes") Panel
Will there be any more "Murder, She Baked" mystery movies?
Mathison: I hope so. There aren't any more planned right now. Allison [Sweeney] has sort of created her own mysteries series, and, me, being on "Home & Family," it really only allows me to do hopefully one, maybe two movies a year. So, for all that timing to work out, the stars would have to align in the perfect way. We want to, but things just kind of shift and change, and people are working on different things. So, if the stars align, it'll happen. I think this will happen, I just don't know when.
Will Egan star in more Hallmark movies?
Egan: My first movie aired [in November]. I had the best experience. I loved working with Hallmark. So, I hope so.
Has Hallmark ever thought of doing an all-star movie with its superstars?
Mathison: I've got an idea for the movie. So, let's just say, logistically — the storyline, we'd let the writers come up with, but the logistics would be the issue with that. So, logistically, you have these little, mini storylines, with whatever Hallmark stars you guys like in the movie, and, then, in order to get them all together — because you gotta have that one scene`where they're all together, to bring it all in — you shoot that in [Los Angeles]. So you gotta go out, and you shoot the little, mini storylines in Canada or wherever you gotta do it, but then you have the big, three-day Christmas scene in LA, so everybody can make it, and it could happen.
Egan: Or what if we shot it at Christmas Con next year? Then [the fans] can be in it.
Lacey Chabert ("Christmas in Rome"), Jonathan Bennett ("Holiday Wars") and Daniel Franzese Panel
What's your best advice for someone who wants to pursue a career in acting?
Franzese: One thing I'd like to say to any young person that wants to be an actor, anything that they make fun of you for is the reason you'll cash your check later.
Chabert: My voice, still is, but when I was younger, it was incredibly high-pitched, and I went through a time in my life when everyone made fun of me. Let me tell you, I've done a lot of voiceover work.
Nikki Deloach ("Two Turtle Doves"), Holly Robinson Peete ("A Family Christmas Gift", Alicia Witt ("Our Christmas Love Song") and Chad Michael Murray ("Write Before Christmas") Panel
Would Murray every want to do more horror movies, after doing 2005's "House of Wax"
Murray: I actually wrote and will be directing a horror film. Telling stories has been a passion of mine, it always has been...This story I've been working on for some time, and my wife finally gave me the courage to dig it back up and bring it out and start shopping it. Because I'd been discouraged so many times in the past, and here it is. And it's become this incredible story and incredible script, and I had a bunch of great actors read it and say, "Yup, I'm in. Let's do it. Let's make it." So, for me, it's about storytelling and taking a genre that sometimes they don't do enough character development, or they don't do enough mythology, and making sure that it's built so you're gonna care when people die. I want to tug at your heartstrings every time it happens. That's something that will be coming quite soon.
Are there any other movies Murray is working on now?
Murray: I'm actually working on something right now because I realized these [movies] make me happy. I've got two kids, I've got a wife, I'm a God and family first man, and putting out good content in the world, that's not gratuitous, is a beautiful thing. And Hallmark's been doing a great job with that. So, I thought, "What am I doing? It's time to start writing some of my own." So, I am working on creating one right now that I've been writing and breaking down that would be kind of a gift from me to you guys because it's a lot of winks and nods to things over the course of the last 20 years of my career with other actors that I've worked with to bring into the mix. So, it's like...winks and nods, with Christmas. It's charming. It's cute. It's exactly what it's supposed to be. And I love it and hope to be able to bring it to you guys.
Melissa Joan Hart ("Christmas Reservations") and Jackée Harry ("Christmas on my Mind") Panel
Is there any hope for a "Sister Sister" or "Sabrina the Teenage Witch" revival, and did Hart and Harry take anything from the sets of their shows?
Harry: I stole my apron that had "Lisa" on it from "Sister, Sister," and I stole a piece of a car we had, from when I was teaching the girls how to drive. I got a fender in my garage. They're talking about a reboot. It hasn't happened because my girls, Tia and Tamera [Mowry], they're so successful, they have great husbands, great kids. I see them all the time...So, we're talking about it. As long as we're living, anything's possible.
Hart: "Sabrina" can't happen because they did the other one for Netflix. The "Sabrina" franchise was owned by my mother and I for the time we were doing the show, and then the rights somewhere a while back reverted back to Archie Comics. So, Archie owns them now and it's up to them what they do, and, apparently, they want to do sexy, scary "Sabrina." So, that's what they're doing.
…I stole a lot. On "Sabrina," there was a coat rack by the back door. I don't even know how I got this thing to Connecticut, but it's this huge, umbrella stand coat rack with a mirror. And I think we used the mirror a lot. And that is in my garage. There were red candle holders in the living room that my makeup artist stole, and then she gave them to me when she was done with them. I have a sign that says "Witches Brew" from when we did a Salem, crucible episode of "Sabrina." That hangs in my kitchen. And, then, from "Melissa & Joey," I stole a ton of stuff. Like, everything you see in the kitchen, including the dishes, I have the dishes in my house. And then my last show, "No Good Nick," it kind of ended unexpectedly and the showrunner stole for me the golden spatula.
Will there be a Season 2 of "No Good Nick"?
Hart: No, it got canceled. Netflix, I think, the way it was explained to me, is a lot of people are tuning in for first seasons of things but not second seasons of things. It was sad, too, because we had our sets, everyone was ready to go, we were supposed to start [early November].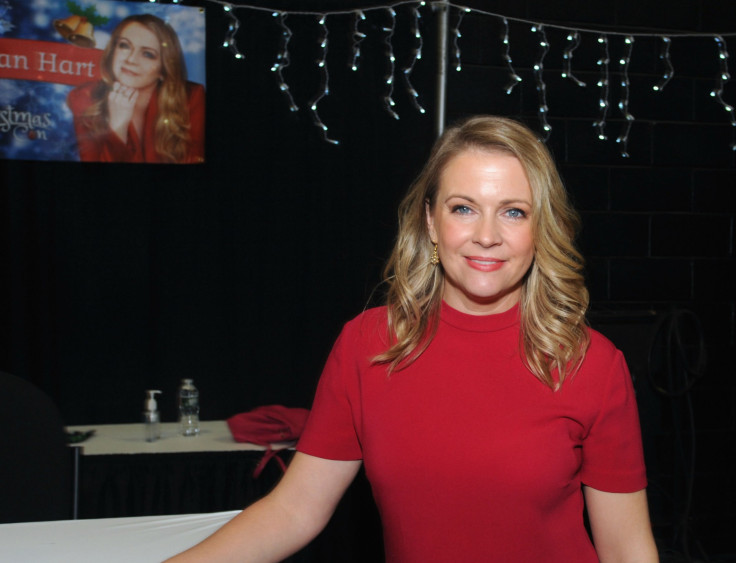 Danica McKellar ("Christmas at Dollywood") and Rachel Boston ("Check iNn to Christmas") Panel
Did Boston actually learn how to ice sculpt for "Ice Sculpture Christmas"?
Boston: I did, I cannot say I am a fabulous ice sculptor, but I did have lessons. I mean, that's one of the really fun parts of making movies and television, there are all of these skills that maybe I'd be curious about. I mean, that's something I could so see myself just walking down the street and being like, "I want to sign up for an ice sculpture class." That is so something I would do but just maybe not take the time to, so that gave me an opportunity. They had someone come out, and it's so beautiful.
What was their favorite place they filmed at?
Boston: I recently shot a movie called "The Last Bridesmaid" on Vancouver Island, and that place just took my breath away. It is one of the most glorious locations I have ever filmed.
McKellar: I just got back from Dollywood yesterday, and Dollywood is a magical place. I mean, I love Disneyland as much as the next gal, but Dollywood? There's something special about it, and I think it's Dolly. Her spirit is everywhere. There's inspirational quotes all around. It's just got so much heart in it. And every detail has been paid attention to. I'm on high on Dolly right now. Dollywood is probably my favorite place that I've shot, and I can't wait for you guys to see it.
Creating Christmas Screenwriter Panel (feat. Julie Sherman Wolfe, Alys Murray, Joany Kane and Joanna Wilson and moderated by Alonso Duralde)
Are there specific things that have to go into these Christmas movies?
Wolfe: You cannot have anyone [just] talking, something has to be happening Christmas behind you. My challenge, I'm now writing my sixth and seventh Hallmark Christmas movies for next year, [and] there has to be playing in the snow, there has to be a tree lighting. The challenge for me is to do it in a way that I haven't done it yet or it hasn't been seen yet.
Murray: I think it's also trying to make it not only original but not feel like checklist. So, how do you make it engaging? ...Once you find those moments, that's kind of where the magic happens as a writer.
Kane: "The Christmas Card" I actually wrote in 1999, and it made it onto Hallmark in 2006, and I remember writing it and saying, "I have to have a sleigh ride and I have to have them dancing." And every film now has to have the sleigh ride.
Erin Krakow, Jack Wagner and Paul Greene "When Calls the Heart" Panel
What's going on with the "Wedding March" franchise?
Wagner: We will be doing "Wedding March 6" in the spring.
Which of Greene's Hallmark movies would he like to make a sequel to?
Greene: "Christmas Detour" because Candace Cameron [Bure] and I...we spend this whole movie getting to know each other, and she overcomes the fiancé in the city that works too much, and she falls for me...and we don't have a chance to have our relationship develop. It's just this beautiful kiss at the end.
[Also], Maggie Lawson and I, in the very last minute of "My Favorite Wedding," kiss and got together, so I'd love to see a sequel of that one, too.
Would the cast of "When Calls the Heart" want to do a musical episode?
Greene: Yeah, totally. We're all excited about it, and I think there's a little more to it. I know we've talked [about maybe] a live one — which is what I would want to do — where you go into the saloon and there's a scene going on, and people are singing and acting, and then you go across the street to Lee's office and there's a scene and they're singing. The camera moves with all of that... A Christmas live musical.
Jesse Metcalfe ("Christmas Under the Stars") and Andrew Walker ("Christmas on my Mind") Panel
Is country music something Metcalfe does in real life and not just on "Chesapeake Shores"?
Metcalfe: Yes, it's something I really love to do... There's only so many hours in the day. I mean, I've just been on back-to-back-to-back projects, basically, towards the end of the year, but it's something I'm diligently pursuing behind the scenes. And, hopefully, we can get these "Chesapeake Shores" songs out to you guys and make them available for you to download.
Are Trace & Abby going to get back together on "Chesapeake Shores"?
Metcalfe: I mean, they kissed in the season finale. That was a pretty passionate kiss. So, it's looking good, but that's all I can tell you.
When are Walker and longtime friend and fellow actor Emily van Camp going to do a movie or TV series together?
Walker: She's working on that. So, Emily van Camp is a best friend of ours, she's one of the leads of the show — she was on "Revenge" back in the day, she does "The Resident" now. But, yeah, she's been working on that. The thing is, every time they want to bring on a new character, it's a love interest or somebody that she's going to be in a relationship with, so she's like, "There's no way I'm kissing you," and I'm like, "There's no way I'm kissing you." If there's an opportunity that we can just be working together, that'd be great.
Metcalfe: You wouldn't kiss her? You could be a series regular on "The Resident" but you gotta kiss Emily, you're not taking it?
Walker: Yes, okay, I'll take it. I'll kiss her, fine.
Follow Christmas Con on Instagram to be the first one to know about 2020 tickets. Tune into Hallmark Channel, Hallmark Movies & Mysteries, Lifetime and OWN throughout December to see Christmas movies featuring the Christmas Con 2019 celebrity guests.
FOR FREE to continue reading
✔️ Unlock the full content of International Business Times UK for free
offer available for a limited time only
✔️ Easily manage your Newsletters subscriptions and save your favourite articles
✔️ No payment method required
Already have an account?
Log in
© Copyright IBTimes 2023. All rights reserved.