Asian Stocks Mixed, With Japan Lower Amid Warning Oil Prices Could 'Drown'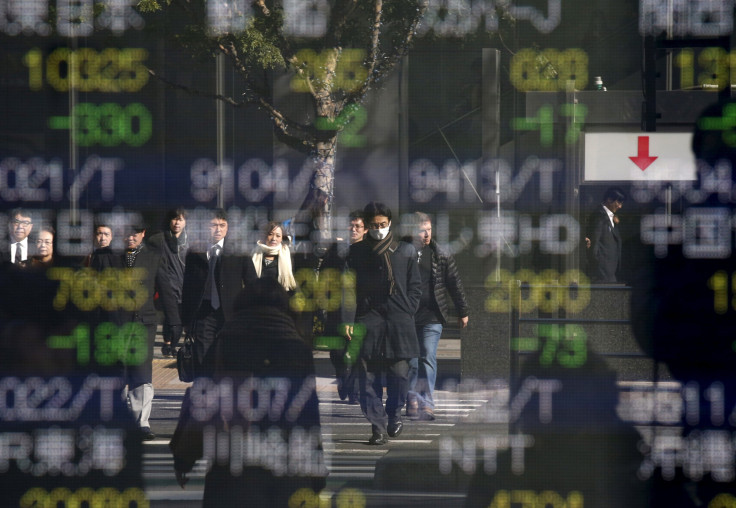 Asian stocks opened mixed on Tuesday, with Japan and South Korea lower after a warning that oil prices could "drown in oversupply" and the IMF cut its global growth forecast anew. Markets are still weighing the impact of China's GDP report on Monday, which met expectations but was the slowest in 25 years.
Japan's Nikkei 225 and Korea's KOSPI both fell 0.6 percent. Singapore's STI gained 1.8 percent and shares in Shenzhen rose 3.6 percent.
U.S. crude prices fell 96 cents or 3.3 percent to $28.46 a barrel after the International Energy Agency said "unless something changes, the oil market could drown in oversupply," Reuters reported. The agency made the statement days after Iran said it would boost production by 500,000 barrels a day after economic sanctions were loosened on Sunday and could eventually raise that to 1 million barrels. That put more pressure on oil prices that have come down from more that $100 a barrel in mid-2014 amid China's slowdown, rising U.S. production and Saudi Arabia's refusal to cut output. This has weighed on oil producing companies and countries — even Saudi Arabia is cutting government spending — and the businesses that supply them.
"At the root of the selling we've seen this year has been the imbalance of oil supply and demand, so until the oil price moves calm down, the stock market will struggle," Bloomberg reported Chihiro Ohta, general manager of investment information at SMBC Nikko Securities Inc. as saying.
On Tuesday, the International Monetary Fund cut its global growth forecast for the third time in a year, this time to 3.4 percent for this year, saying governments should take steps to boost demand. It said growth in China, the world's second biggest economy, would slow to 6.3 percent this year and 6 percent next year. Earlier in the day, China reported 2015 growth of 6.9 percent, from 7.3 percent in 2014.
Speculation that this would prod China to boost stimulus helped lift Asian markets on Tuesday but didn't appear to help stocks in the U.S., where the Dow Jones Industrial Average rose 0.2 percent but the S&P 500 actually gained just 1 point and the Nasdaq Composite fell 0.3 percent.
"You have a tremendous amount of fear and uncertainty in the markets and we'll need to see more than one good economic data point to overcome that," said David Carter, the chief investment officer at Lenox Wealth Advisors in New York, as reported by Reuters.
© Copyright IBTimes 2023. All rights reserved.