Asian Stocks Rise As EU Summit Optimism Persists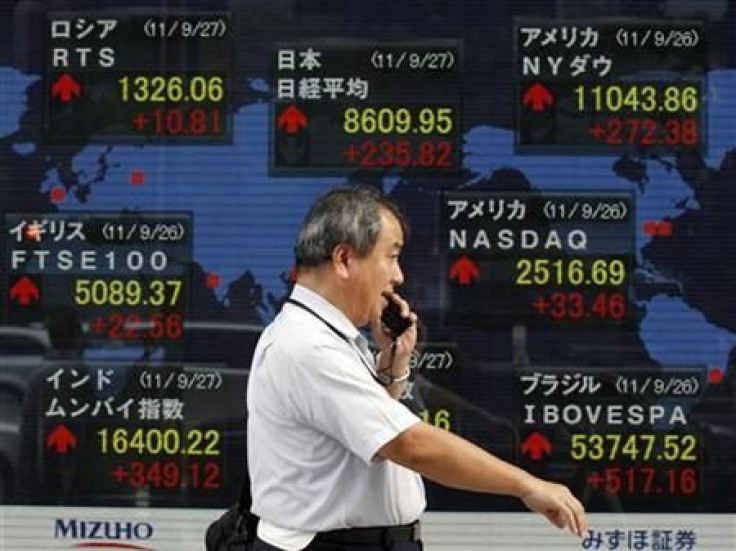 Most Asian markets rose Friday as investors remained hopeful that policymakers would reach an agreement on bold steps to save the euro zone at the EU summit.
The Chinese Shanghai Composite rose 0.64 percent or 14.12 points to 2209.97. Hong Kong's Hang Seng rose 2.09 percent or 398 points to 19,423.27. Major gainers were Bank of China Ltd (1.74 percent) and Bank of East Asia Ltd (3.74 percent).
South Korea's KOSPI Composite Index rose 0.71 percent or 12.85 points to 1832.03. Shares of Samsung Electronics Co. Ltd climbed 0.43 percent, and those of LG Electronics Inc. rose 0.17 percent.
India's BSE Sensex rose 1.41 percent or 239.42 points to 17230.18. Major gainers were State Bank of India (1.70 percent), Suzlon Energy Ltd. (1.39 percent) and HDFC Bank (1.10 percent).
Japan's Nikkei Stock Average rose 1.28 percent or 113.54 points to 8987.65. Among major gainers were Nomura Holdings Inc. (4.95 percent), Mazda Motor Corp. (3.88 percent) and Yamaha Corp (3.68 percent). Japan's industrial production declined in May from the previous month, according to the data released by the Trade Ministry Friday. The data reported that industrial output fell 3.1 percent in May down from a decrease of 0.2 percent in April.
Investors are keeping an eye on the two-day European Union summit in Brussels that began Thursday, where a whole host of measures are reportedly on the agenda. The pre-summit report prepared by EU President Van Rompuy implored leaders to take necessary steps to create a genuine economic and monetary union, including the development of an integrated budgetary and economic framework for the fiscal union.
Rompuy announced that a 120-billion euro ($149 billion) plan had been approved by the EU leaders to sestore growth in the euro zone. The growth agenda is a sign of our unrelenting commitment, he said at a press conference in Brussels Thursday.
Meanwhile, investors still await drastic measures from EU leaders to tackle the economic crisis once and for all. Investors are concerned because Germany appears to have different ideas than France about which steps should to be taken to solve the crisis.
© Copyright IBTimes 2023. All rights reserved.