Asians Stocks Mostly Lower; Chinese Shares Gain On Easing Hopes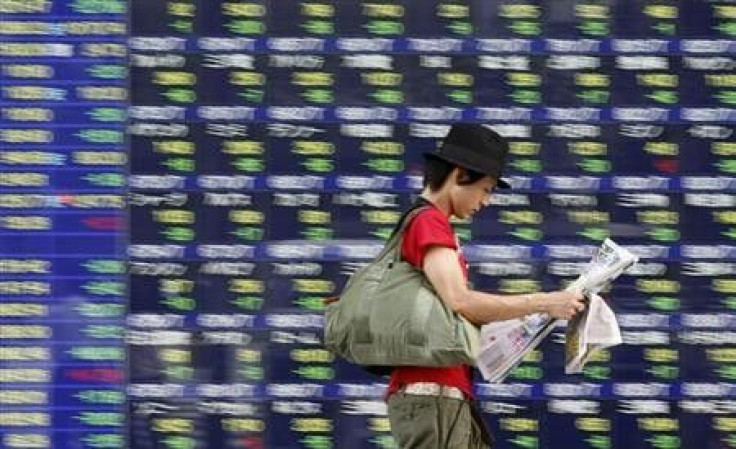 Asian stock markets were mostly lower Friday as weak US economic data and fears over European debt crisis weighed on the sentiment.
Sentiment turned negative Thursday as a slew of weaker-than-expected US economic data suggested that the strength of economic recovery in the world's biggest economy losing a little steam at the close of the first quarter.
Data on housing disappointed with sales of previously owned homes in the US declined for the second straight month and missed expectations. The Philadelphia Federal Reserve Bank also said that factory activity in the Mid-Atlantic region slowed sharply in April. Meanwhile, the Labour Department data showed that more Americans than expected filed for unemployment benefits last week, a sign of lost momentum in the labor market.
In an auction, Spain sold EUR2.54 billion or $3.3 billion of two- and 10-year bonds Thursday but the yields on the 10-year bond came in higher than the past comparable auctions. However, the results failed to ease concerns that the Europe's fifth-biggest economy could be the next country in need of a bailout.
Japanese stock markets ended lower, led by declines from exporter companies' shares on US economic data. Benchmark Nikkei declined 0.28 declined 0.28 percent or 27.02 points to 9,561.36.
Canon Inc declined 0.53 percent and Honda Motor fell 1.04 percent while Toyota Motor slipped 1.93 percent.
Indian stocks ended lower after gaining more than 400 points in this week. The benchmark BSE Sensex fell 0.74 percent or 129.87 points to 17,373.84. Heavy weight Reliance Industries declined 1.39 percent and Tata Motors fell 0.83 percent while Maruti Suzuki India advanced 0.11 percent.
Meanwhile, Chinese shares gained on hopes that the government will ease monetary policy to bolster economic growth in the worlds' second biggest economy, which is expected to slow to around 8.4 percent this year.
Hong Kong's Hang Seng gained 0.07 percent or 15.63 points to 21,010.64 and Chinese Shanghai surged 1.19 percent.
Citing an unidentified central bank official, the official Xinhua news agency reported earlier this week that the China would increase liquidity both through open market operations and by cutting banks' reserve requirements to steer the economy towards a soft landing, Reuters reported.
Among the stocks, rail car makers CSR Corp. and China CNR Corp. gained 3 percent, while Poly Real Estate ended lower after announcing that its first quarter net profit plunged 24 percent.
© Copyright IBTimes 2023. All rights reserved.