ATP World Tour Finals: Nadal Absent As Federer And Djokovic Battle For No. 1 Ranking In London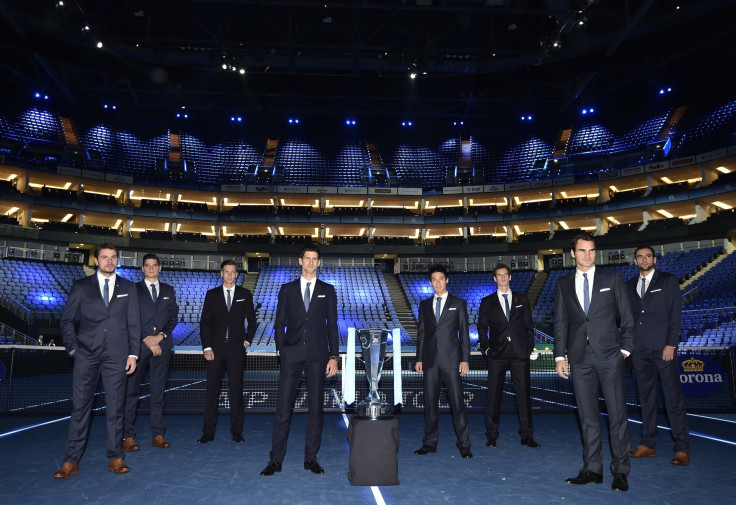 Novak Djokovic is an overwhelming favorite to end the year on top of the tennis world once more heading into the ATP World Tour Finals at London's O2 Arena starting Sunday. Not only does Djokovic have a sizable lead in the rankings over his only challenger Roger Federer as he seeks to claim the year-end No. 1 ranking for the third time in four seasons, but he has form strongly on his side.
Djokovic has won for the past two years at the showpiece event in London, beating Federer in the final in 2012 and then 12 months ago Rafael Nadal, who misses this year's event after undergoing appendix surgery. Those two wins have been just a part of the Serbian's recent dominance on the indoor surface. Last month's triumph at the Masters 1000 Event in Paris means he has now won his last four events indoors stretching back two years.
Victory in the French capital, coupled with Federer's quarterfinal loss, all but assured Djokovic of the coveted No. 1 ranking at the end of the year. Federer now needs to enjoy a clean sweep in London -- winning all three of his round-robin matches and then in the semifinals and final, while hoping that Djokovic fails to win his three group matches. Federer could then have a chance to get to top spot if he wins both his singles matches in the Davis Cup final later this month, when Switzerland take on France.
Also counting against Federer is that he has, on paper, been thrown into the tougher group. Federer has .500 records against Kei Nishikori and home favorite Andy Murray, while his final Group B opponent, Milos Raonic, was the man who just ended his run in Paris. Djokovic, meanwhile, holds a 41-5 combined record over his Group A rivals -- Tomas Berdych, Stan Wawrinka and Marin Cilic.
Still, the fact that there is the rare potential for the No.1 ranking coming right down to the wire is a reflection of a season in which no one player has reigned supreme. That is a marked difference from recent times, when Djokovic, Nadal and Federer have all enjoyed extraordinary seasons that set them apart as the year's clear dominant performer.
Djokovic has hardly had a shabby 2014, triumphing at Wimbledon and winning four of the nine Masters 1000 events. Yet he suffered disappointment as he again lost out to Nadal in his attempts to lift a first French Open crown while also suffering surprising losses at the Australian and U.S. Opens. He also had his focus drawn away from the court at times in the second half of his year when getting married and becoming a father for the first time.
Federer can look back on 2014, with much pleasure, too. Certainly he has had a year that many thought was beyond him this time 12 months ago. After a terrible 2013 that only heightened talk of retirement, the 33-year-old has shown that he can still compete with the best, winning five titles. Yet it may also be a year tinged with frustration. As he seeks to add to his record 17 Grand Slam titles, Federer lost an agonizing five-set final to Djokovic at Wimbledon before going down in the semifinals of the U.S. Open, with only the relative Grand Slam novices Cilic and Nishikori standing between him and the trophy.
After his extraordinary comeback year in 2013, and despite winning an unprecedented ninth title at Roland Garros, Nadal's hopes of holding onto his No. 1 ranking have been compromised by various injuries. The problems began in Australia when he was unable to play anywhere near his best in a losing final effort, and struck again post-Wimbledon, before appendicitis left the Spaniard with and extended spell on the sidelines to look ahead to 2015.
As for the final member of what was so long men's tennis's "Big Four," Murray, he has struggled to consistently find his best form ever since achieving his dream of winning Wimbledon last year and soon after undergoing back surgery.
As those four have all had their disappointments, others have stepped up. Stan Wawrinka's defeats of Djokovic and Nadal en route to winning his first Grand Slam title at the Australian Open turned out to be the catalyst for a far more unpredictable season. That promise truly came to fruition when Cilic defeated Nishikori in the final of the U.S. Open.
While Djokovic is set to sit on top of the world, perhaps the biggest takeaway from 2014 will prove to be that it was the year in which the dominance of three of the greatest players of all time in an extraordinary era for men's tennis came to an end.
© Copyright IBTimes 2023. All rights reserved.