Attachmate To Buy Novell In $2.2B Deal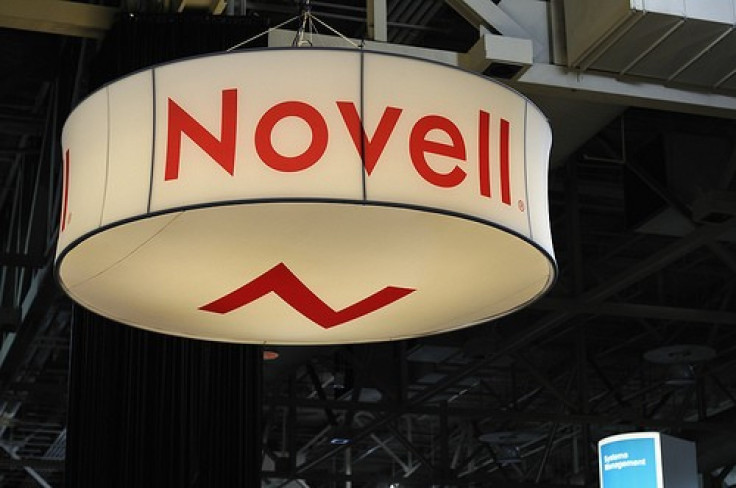 Attachmate Corp, an investment group owned by Francisco Partners, Golden Gate Capital and Thoma Bravo, said it will buy networking solutions company Novell, Inc for about $2.2 billion.
Attachmate will pay $6.10 in cash per Novell share, representing a 28 percent premium to the $5.75 per share offered by investment fund Elliot Associates and 9 percent premium to Novell's closing stock price on Nov. 19.
Shares of Novell were up 34 cents, or 6 percent, at $5.93 in Monday morning trade on Nasdaq.
Massachusetts-based Novell makes network server operating systems that connect desktop computers to corporate networks, apart from providing integrating directories, storage systems, printers, servers, and databases.
Novell also provides a version of the Linux operating system, and applications including network management software, collaborative tools, and directory services products.
Analysts say Attachmate would benefit from Novell's virtualization software products that helps running multiple operating systems on the same computer.
Through virtualization, time consuming tasks like monitoring, upgrading, and software configuration can be conveniently and quickly handled. Software developers make use of virtualization by testing their programs across different platforms through virtual machine.
Deutsche Bank analysts have said in a recent note that the sectors most prone to consolidation as those that accelerate the adoption of cloud or data center computer product lines, remove cost overheads from legacy categories in slowing-growth segments, both hardware and software.
Analysts believe the ability to provide networked computing systems are the core driver prompting consolidation in the sector.
Novell has been in the takeover fray since March 2010, when Elliott Associates, a fund managed by Elliott Management, made a $2 billion unsolicited offer for Novell, which rejected it citing the offer as inadequate.
In September, Wall Street Journal said Novel is in advanced talks with at least two buyers to sell the company in separate parts. The report said that the one of the buyers is virtualization solutions provider VMware Inc. (VMW), which intends to acquire Novell's open source Suse Linux operating system business.
VMware was touted as the most potential strategic purchaser for Novell's Linux SuSE systems portion. Market observers believed such a combination would make sense, and would provide VMware with a better entry into the public and hybrid cloud market. Meanwhile, if VMware would have bought SuSe it would have created a direct rival to Red Hat.
After a thorough review of a broad range of alternatives to enhance stockholder value, our Board of Directors concluded that the best available alternative was the combination of a merger with Attachmate Corporation and a sale of certain intellectual property assets to the consortium, said Ron Hovsepian, president and CEO of Novell.
Meanwhile, Attachmate plans to operate Novell as two business units: Novell and SUSE; and will join them with its other holdings, Attachmate and NetIQ.
Separately, Novell said it agreed to sell certain intellectual property assets to CPTN Holdings LLC, a consortium of technology companies organized by Microsoft Corp (MSFT), for $450 million in cash.
The Attachmate deal is conditioned upon the closing of the proposed sale of certain intellectual property assets by Novell to CPTN Holdings LLC and other customary closing conditions. Novell currently expects these transactions to close in the first quarter of 2011.
J.P. Morgan is serving as financial advisor and Skadden, Arps, Slate, Meagher & Flom LLP is acting as legal advisor to Novell.
On the other hand, Credit Suisse and RBC Capital Markets are serving as financial advisors and Jones Day is acting as legal advisor to Attachmate Corp.
Leveraged Buyouts (LBO)
Meanwhile, there have been flurry of technology companies being snapped by private equity firms. The deal volume among private equity firms is increasing after the credit crisis in 2008 limited access to debt financing. But the improvement in financing markets and cheap corporate debt is driving the recovery of the private equity business.
Buyout firms, which are under pressure to invest billions of dollars of capital raised in the past few years, have made deals worth $173 billion this year, an increase of 95 percent from last year, according to data from Thomson Reuters.
Carlyle has been the most active. Late October, Washington-based Carlyle announced a $2.6 billion deal for voice and data services provider Syniverse Technologies, only a day after its $3.9 billion deal to buy CommScope, a maker of telecommunications equipment.
We expect an increased level of LBO activity in the market over the next few quarters and we think Semiconductor Equipment companies screen as attractive candidates for an LBO, Credit Suisse analysts wrote in a recent note to clients.
Last month, Seagate confirmed in a statement it has been approached by an unnamed party to take it private. Reports from Bloomberg said private equity firms TPG, Kohlberg Kravis Roberts and Bain Capital are among those interested for the hard disk drive maker. Seagate said it hired Morgan Stanley and Perella Weinberg Partners to advise them on the deal.
Meanwhile, Phoenix Technologies Ltd. got an increased offer from private equity firm Gores Group to take the company private, in an ongoing bidding war for the California company.
Credit Suisse analysts said Novellus Systems (NVLS), Teradyne (TER) and Verigy (VRGY) as the most likely LBO takeover candidates from a valuation perspective.
These three stocks show 22 percent to 56 percent upside in an LBO event under a stressed and base line capex scenario, and yet return 20% internal rate of return to potential private equity buyers, Credit Suisse analysts wrote.
The analysts said Verigy and Applied Materials may also be of interest from a strategy change perspective - in both cases, focusing on profitable product divisions by exiting unprofitable ones, optimizing operating costs to stream line R&D.
© Copyright IBTimes 2023. All rights reserved.